Easter Brunch for Kids: Cutest $10 Bunny Cake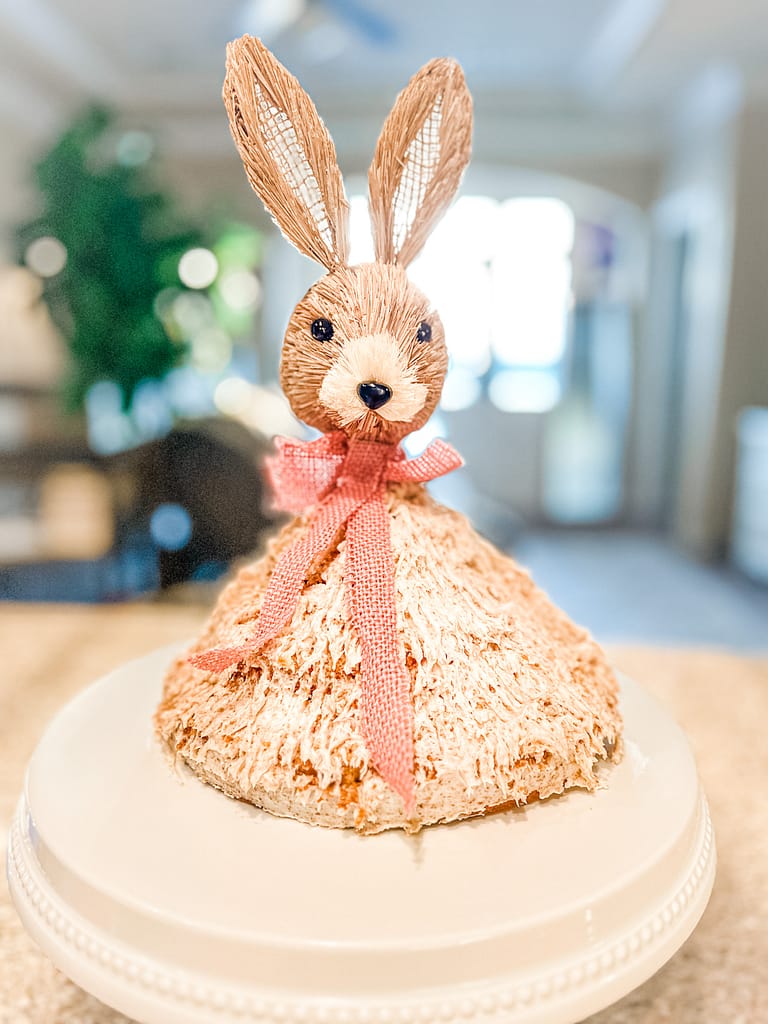 Looking for the perfect accompaniment to your Easter gatherings? Here is one of my all-time favorite, inexpensive, high-impact cakes I have EVER made! It is absolutely perfect for having an unforgetable Easter brunch with kids. You will definitely want this special menu addition on your list of go-to Easter Sunday brunch recipes! Once you try it, if you're like me, you'll make this easy cake an annual event.
I tend to go all out whenever the opportunity arises, but can't stand to break the bank when I do. My friends often describe me as having a caviar taste with a McDonald's budget. I can't say I disagree! That's where today's blog post comes in! Born out a desire for something budget friendly and impactful, I created this bunny cake. It has become one of the premier dishes of my annual Easter menu plans. I'm hoping it becomes one of your favorites for Easter brunch with your kids too!
Today, I'll be showing you the easy way to make this adorable cake with a few simple ingredients. If you're like me, you'll be shocked at what you can achieve with just $10. Want to know something even more amazing about it? This cake is INSANELY easy! In my list of Easter brunch ideas for kids, this one takes the cake! Let's dive in and I'll tell you everything!
What you'll need
All you'll need for this amazing cake is a few ingredients and a cake topper!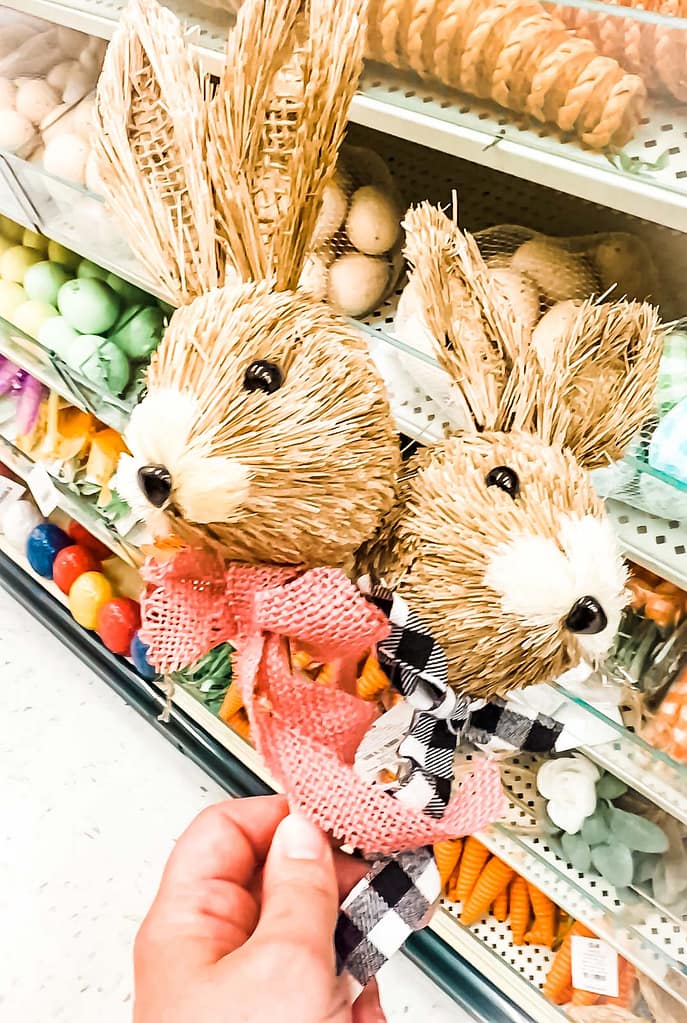 The Cake Topper
Now you can really go all out with this to make it your own with the cake topper. Just choose a supermarket, home goods, or craft store in the springtime and you'll find something you can use.
This specific topper I found at the local Hobby Lobby listed for $6.99. They are known for constantly running amazing sales on many categories in their stores. I've noticed that there is almost always some percent off of the seasonal holiday categories. That percentage does fluctuate though. Is the discount not too great when you go to Hobby Lobby? Just check back the next week if you have time to wait and the sale may be better! They update their discounts on different categories weekly. The great thing about the topper I chose is that the cost is only $6.99. Even if you can't find it on sale it isn't too bad of a price. I got mine for $3.50 with a 50% off sale!
Side note: Hobby Lobby is a great resource for decorating supplies for the holidays! You can find serving dishes, napkins, home and party decor, gifts and so many other things to add some flair to your set up. I like taking both my boys with me to help choose some of the supplies we use! It's the perfect compliment to making Easter brunch with my kids extra special!
CHOOSING YOUR Ingredients
I personally chose a Cinnamon Toast Crunch flavored box cake mix and store bought icing. I love these specifically for my Easter Bunny Cake because I wanted it to look like a natural bunny and wanted it to come together in a flash. You may be wanting to go for a more playful aesthetic for yours. If so, just choose a more bright and cheery bunny topper in a fun shade of pink, blue, yellow, or purple and dye your icing to match to bring it all together.
If you are on a tight budget, or if you are wanting something quick and easy to bake, I recommend going for a simple cake mix. Bake the cake according to your box mix instructions, or you can elevate the flavor and richness of your box cake mix by making a few simple substitutions from the recommendations found on the box.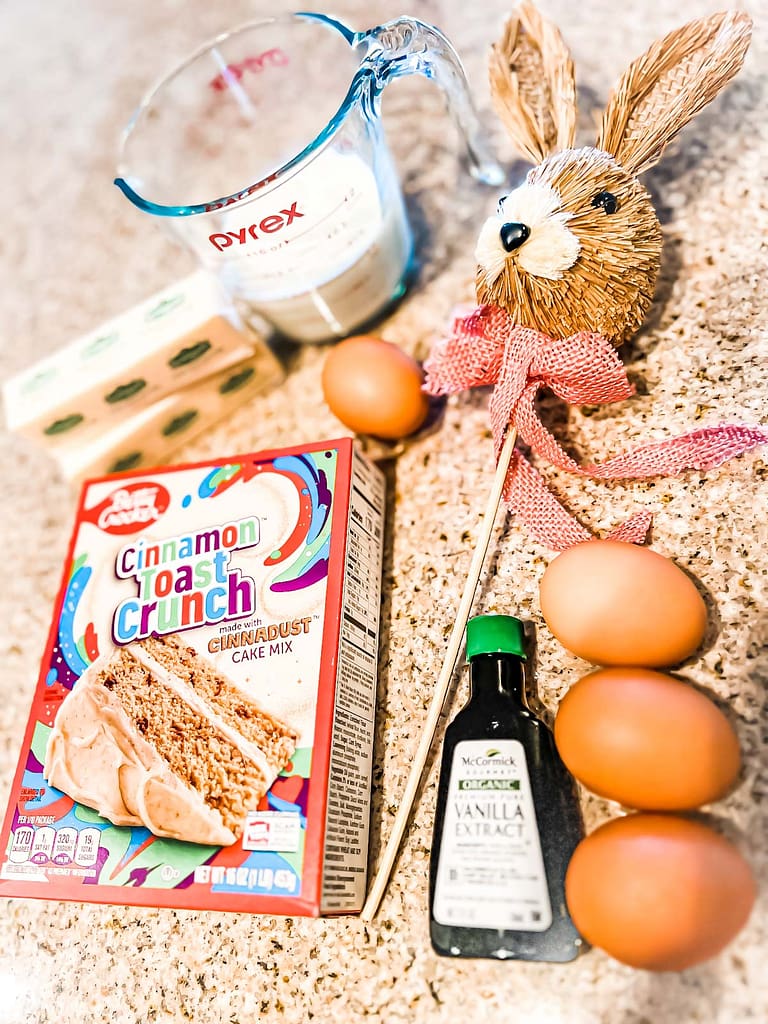 BUNNY CAKE: BOX CAKE TO HOMEMADE HACK
For my cake in our example pics, we did just that! You can find more details on how we did that on one of my other blog posts, BEST CAKE BAKING TIPS, where we cover some great substitutions and add-ins in more detail. It costs about $4 more to make it with the substitutions listed in that blog post, but they make a world of difference in the flavor! You can see from my pic here that I personally made the substitutions but the cheapest version of this recipe is made just by following the exact directions on the box.
Here's a breakdown of the difference in costs (before tax) to make this cute bunny cake:
Following Box Directions ($8.92)
Cinnamon Toast Crunch Cake Mix $2.34
Cinnamon Toast Crunch Frosting $2.38
2 Eggs $.40
Bunny Cake Topper $3.50
Vegetable Oil $.30
Following Box Mix to Homemade Directions ($13.25)
Cinnamon Toast Crunch Cake Mix $2.34
Cinnamon Toast Crunch Frosting $2.38
4 Eggs $.80
Bunny Cake Topper $3.50
2 Sticks of Butter $1.99
Milk $.26
Vanilla $1.98
Make the cake
Baking the Cake
Once you've gathered the necessary ingredients and supplies, you're ready to start! Make sure you grease your pans well so the cakes come out with ease!
My favorite version of this cake involves splitting the cake mix between three 6-inch round pans. This time I chose to use two 6-inch round pans and one 9-inch to create a wider base. In previous years I used three 6-inch round pans. You can choose whichever version of mine you like best and just go with it. Here's a pic of last year's cake made of three 6-inch round pans. Slightly different, but both are absolutely adorable!
Now you're ready to bake the cake mix according to your boxed cake mix directions. I like to start checking my cake for doneness at the lowest time suggestion based on my pan size. After that, I check every two minutes until my knife comes out completely clean.
Handle the cake with care when removing it from the oven and set it out to cool. It is crucial to let the cake cool to completion before you handle it too much. I like to let mine sit until the center feels the same temperature as the edges. You'll notice that once this occurs the cake will have most likely shrunken in from the edges. This means it should come off the pan with little fuss if you greased it well on the bottom.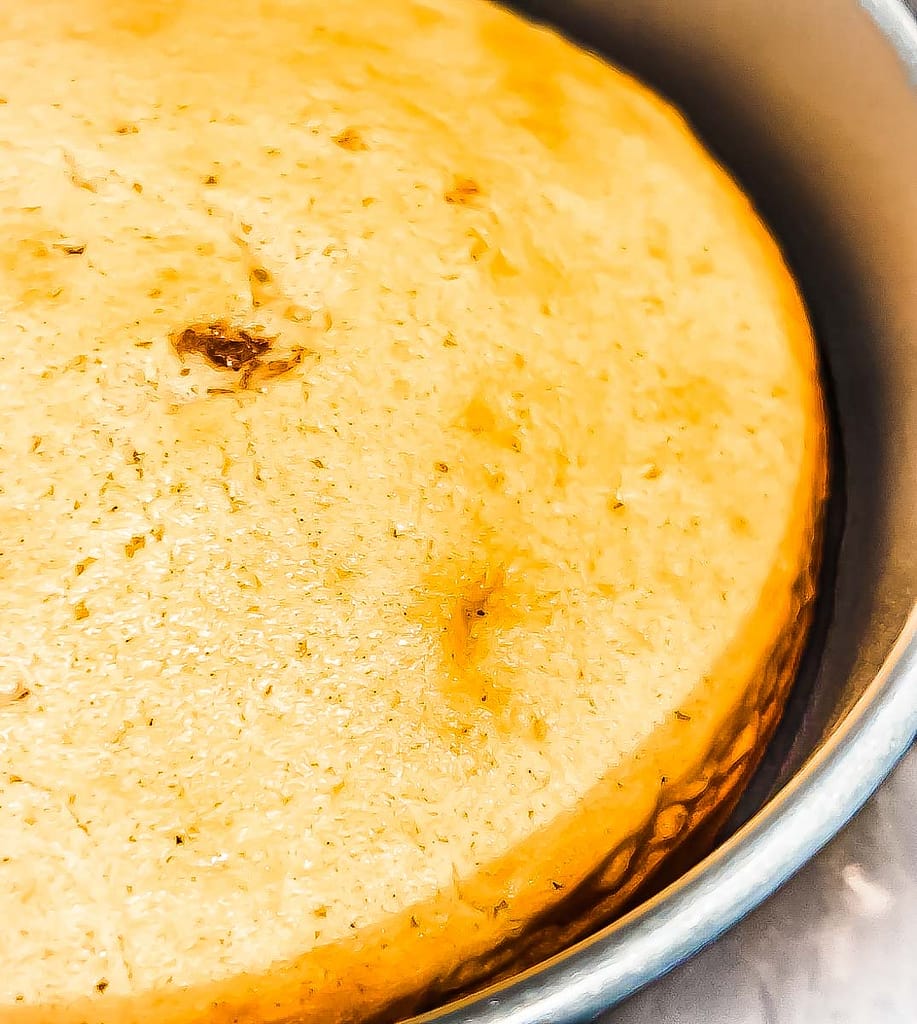 Building the Cake
Once your cakes have cooled it's time to stack them. I like to put a very thin layer of my icing between each layer of cake as I stack it. It works like glue to hold it together.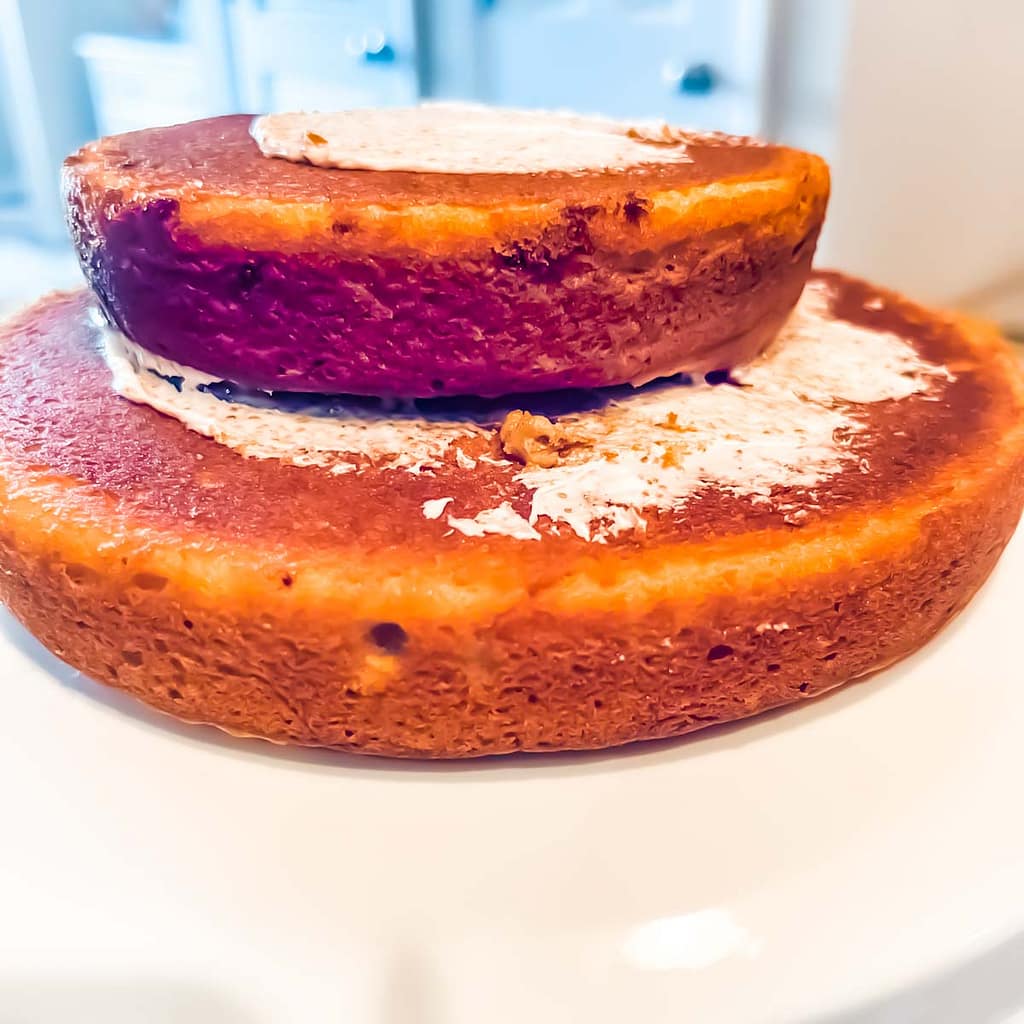 This isn't one of those cakes that has to be perfect or it shows. If your cake crumbles on an edge or cake bits get mixed into the icing later, it won't ruin It. That's one of the BEST things about this cake! This makes It kid-friendly! Even the youngest bakers can approach decorating this cake with the confidence that it will still turn out looking great! If you're still worried about messing it up, here's a tip for you. Grab a cake and icing with texture in it. The Cinnamon Toast Crunch cake and icing I chose hides most of the imperfections.
Check out the pics of this year's cake using the 9-inch and two 6-inch rounds. I cut the sides off one of my 6-in rounds. Then I used two of those cut sides to add some height up top. Next, I used a few chunks of the other two sides I removed to fill openings in the cake. Using a small drop of icing, I placed the cake chunks in the holes throughout the stacked cake. This meant the empty spaces would be filled with cake instead of a giant icing blob. If more icing is your jam, then you can totally achieve the same filler with more icing. You'll just need to add one more container of icing to your cart when you buy your ingredients.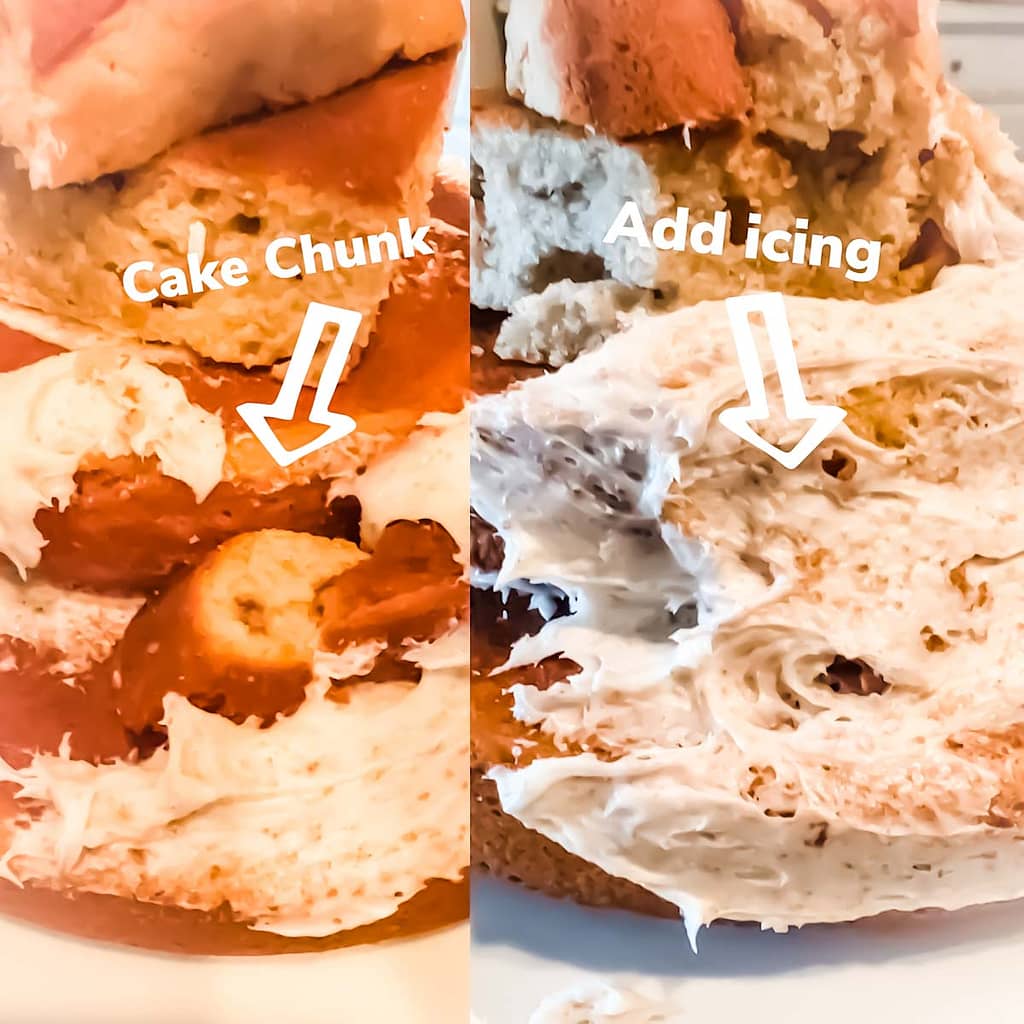 Side note: I will say that the cake we made for last year's Easter brunch with the kids was less messy overall. We used three 6-in rounds. The one tub of icing went further on the smaller base of 6-in instead of 9-in also! Just something to keep in mind when deciding how to make yours!
ICING the Cake
I mentioned that this cake is a fun way to get the kids involved, and it's user friendly all around. You absolutely do not need to be a perfectionist to achieve a beautiful result. This is the perfect opportunity to really get the kids involved and let them help make your bunny masterpiece.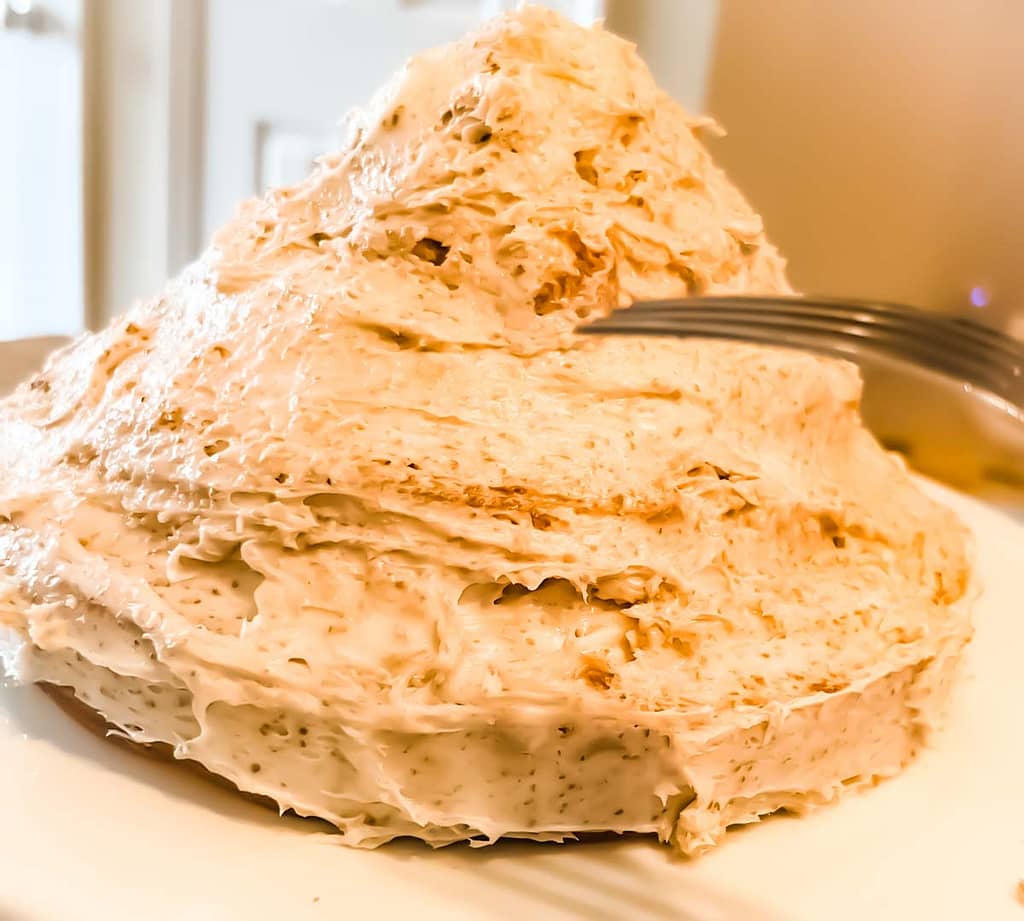 Once you build the structure of the cake, slather all the icing around the entire thing. I like to put small blobs of icing all over the cake. Then I make sure to leave a few decent sized tablespoons to the side to use later. Smooth out the icing blobs, but don't be too concerned if you have a few trouble spots. That's what you saved the few tablespoons of icing for! Fill your holes then pull out a long tined fork. I like to hand a couple forks to my boys and let them take some turns making the rabbit's fur. It's so simple to do. Remember, it doesn't have to be perfect.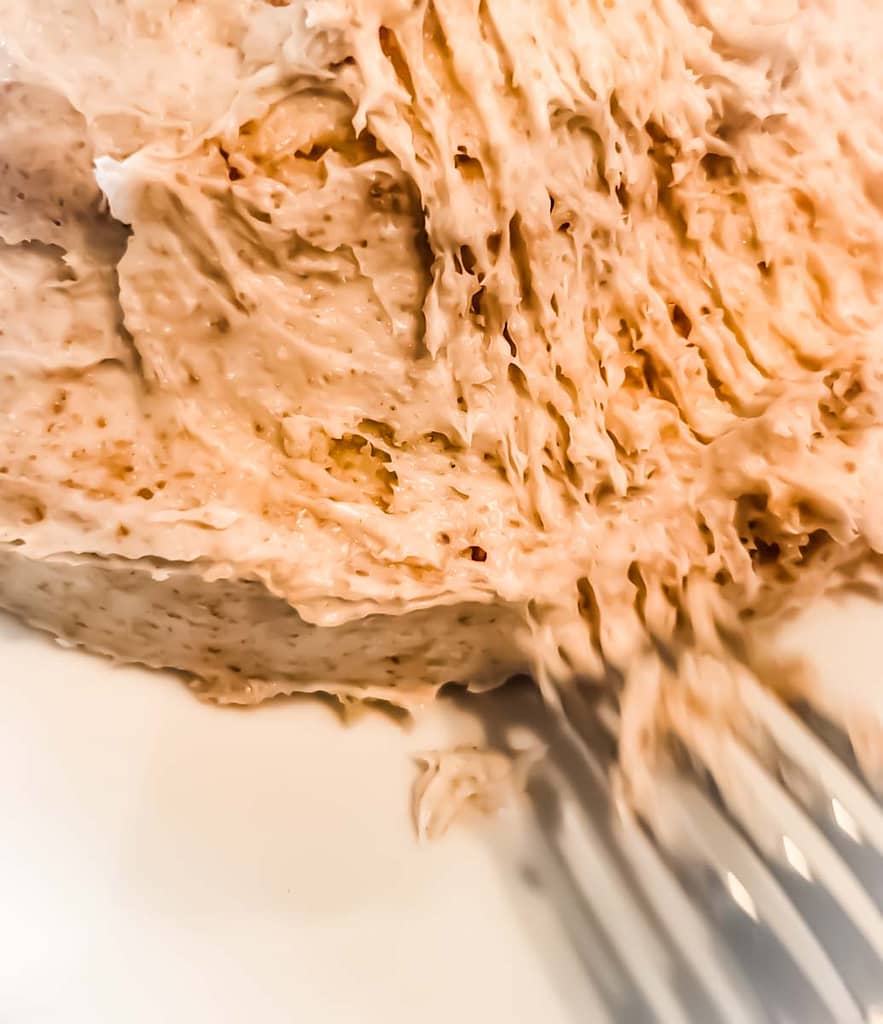 add texture to the icing
To give your bunny some fur, put the tongs of your fork directly onto the icing. Then push in, down, then out with a little pressure. The result is indents from the fork in the icing with a swoop near the bottom. This gives the icing fur some dimension. It's therapeutic really! Do this same motion over the entire cake. Before you know it, you'll have a slightly messy looking dome shape.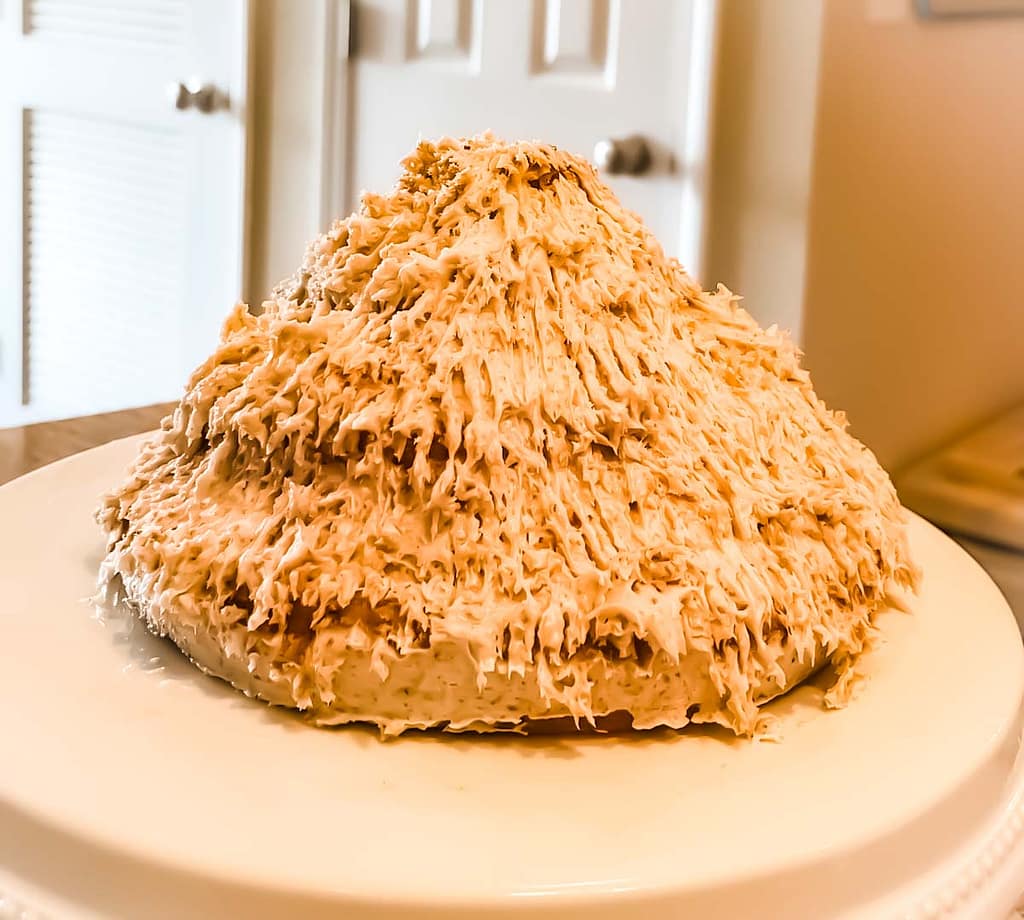 Have some leftover icing? Add this cute bunny tail detail! Make a ball of icing with a spoon. Stick it on the cake where you want the bunny's tail to be. Then softly poke the icing ball with the fork the same way you did the rest of the cake. Now your bunny will have a cute little bunny tail! My boys think it's such a cute addition!
Add the topper
Depending on the height of your cake, you may have to trim down the length of your topper. Make sure you have whatever tools around that you want to use for that. I honestly just used some super sharp kitchen scissors.
The next part is the easiest out of all the steps! Just slowly put the topper in until the stick disappears. If you go with the topper I used, hold the ribbons up during insertion to keep them icing free. This gives you total control to put the ribbons exactly where you want them. Then you'll have a moment to place the bunny pic where you want it without messing up the icing.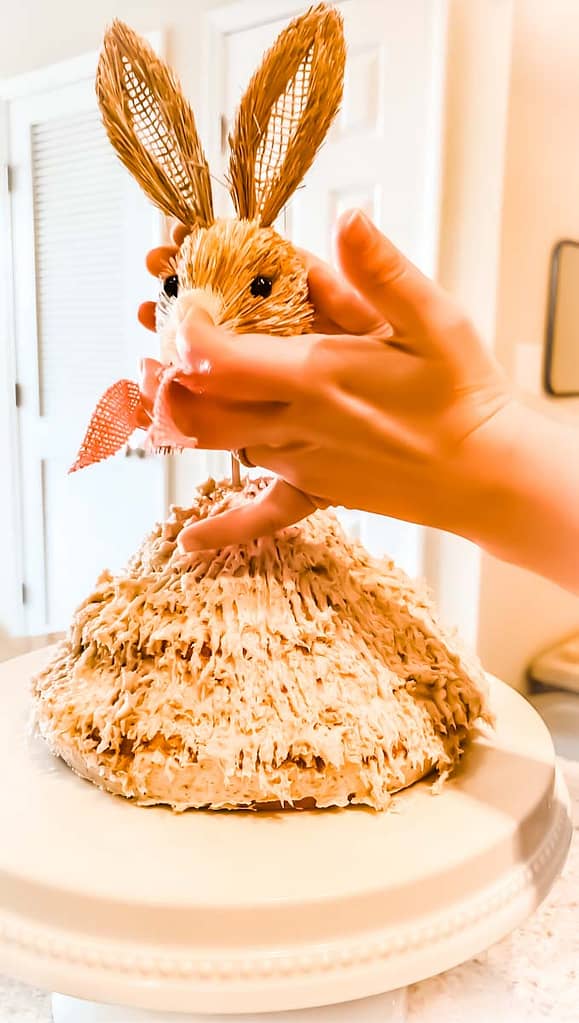 EXTRAS TO CONSIDER
Another thing to add to the fun ideas already mentioned, use some tasty Easter candy around the bottom. It would be so cute to add some candy grass with jelly beans, or even those melt-in-your-mouth chocolate eggs. Got a sweet tooth or hosting for kids that love all the sweet treats? This could be place for you to put your own creative spin on it. You could even let the kids help with the extra decorating too!
That's it! Now, wasn't that super easy?! Making this $10 bunny brunch cake has become a wonderful family tradition for us when we do Easter brunch with our kids! It is a wonderful way to have the Easter Bunny make a special appearance during any Easter party! Another thing to love about this dessert is that it can be made in advance! Just add your cake topper that day. It can set out all day through Easter morning, your Easter egg hunt, and even through Easter dinner! It makes a great addition to any Easter meal and party.
If you made this cake to use at Easter brunch with your kids or any other Easter celebration, let me know! If you put your own fun twist on it, I would LOVE to hear how it went for you! Make sure you let me know in the comments!
more easter brunch for kids ideas
Thanks so much for reading my blog! If you're looking for more adorable Easter ideas, check out this blog post EASTER: ULTIMATE GUIDE OF FAMILY FAVES. We keep it updated with any new Easter fun that we find.
You can also find some of my family's other favorite holiday recipes and activities to try on my PINTEREST BOARDS.
Save this post for when you're ready to bake!