Best Cake Baking Tips: Substitute Butter for Oil
My grandma used to bake cakes for me on the regular. It was almost always a basic vanilla box cake mix with a store bought milk chocolate icing. Despite the kit style of the ingredients, I loved the taste so much! I'm pretty sure my granny also mixed in love which is what made all the difference.
These days, I prefer making cakes homemade if I can. When I'm in a hurry though, which is usually to be honest, I head straight for a premade cake mix. Then the memories of my childhood come rushing back all over again. That original box may still be the same but the way it's made has changed in my house. Today, I'm sharing with you the super easy steps I follow these days. They steps make boxed cake mixes taste like I made them from an old family recipe every single time.
Now I don't know who originally invented this hack. But wherever you are in the world please know that you are my baking hero! During a social media scroll session a few years ago, I stumbled across the most amazing post! It was a little note sharing a boxed cake mix hack perfect for home bakers. There were some ingredient substitutions and add-ins that seemed simple enough. Being the curious meal-making momma that I am, I decided to save a screenshot on the camera roll of my phone, vowing to give it a try sometime. After using these same great substitute ingredients in my cake baking recipes, I'm a true believer! You will find that your finished product will have an improved, strong flavor. It may very well become your best option when baking in your own kitchen moving forward.
Choosing the Cake Mix
To start, choose your favorite boxed cake mix.
It really doesn't matter which flavor or brand you pick. These incredibly simple changes to the original recipe will make any store mix better! Check out the pic I've shared to see what the back of mine looks like below. Most will have similar instructions and add-ins like eggs, oil, and water. But we're going to change up a few of these with some other good options as you'll see below.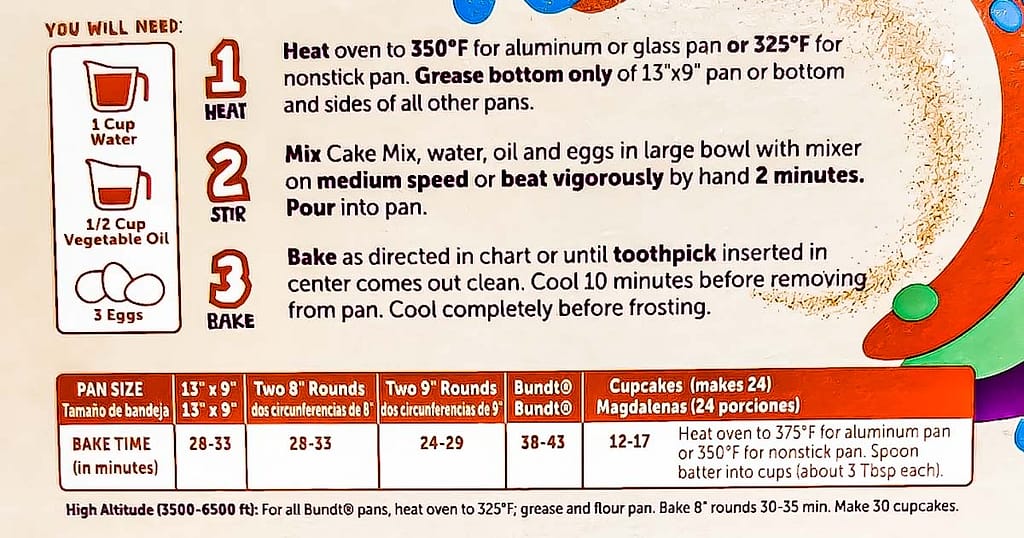 Ingredients Quick Guide – Substitutions and Add-Ins
Add one additional egg, or two if you want it to be very rich.
The boxed cake mix I'm using here calls for two eggs. For this hack, I will add one or two more eggs. After adding all the eggs I will have three or four total eggs. The final decision should depend on how rich I want the final product to be. Personally, I love using two extra eggs most of the time. I mean, if you're eating cake you might as well go all out right?
Substitute oil. Use butter instead and double the amount.
A better substitute for oil in this instance is butter! This is by far one of my favorite changes to the traditional instructions on the cake mix. Growing up in the south, butter has always been a kitchen staple and it's no surprise why! This one simple change really adds so much richness and moisture to the final product.
So what are the measurements when you substitute butter for oil? Check to see how much oil your box cake mix recipe calls for. Let's say it calls for 1/2 cup of oil. How much butter should you use instead? Remember, you'll double the amount of butter. That means you'll need 1 cup of butter. If you are measuring by a stick of butter, you will need two in this instance.
Should you use unsalted butter or regular? Short answer, in my opinion it doesn't matter. It all comes down to personal taste. Try it with salted one time and unsalted another to see if you prefer one over the other.
Will you add the butter to the recipe at room temperature, cold, or melted? I like to melt mine on the stove top over high heat until it's just melted. Remove it from the burner quickly so it doesn't brown and change the flavor. You could also melt it at lower temperatures on your stove top if you're worried about it browning too fast.
If you want to make it even easier, just throw your butter in a glass bowl covered in the microwave. Check it every 20-30 seconds. I like to grab the bowl firmly and sort of swish it around. I do that to get the temperature to spread throughout the butter. It melts more evenly and prevents it from popping. After a few times doing that 20-30 seconds and swish, the butter will be melted and ready to use. Important note about adding melted butter though – take extra care. When melting your butter, do not add it to your bowl of ingredients until it has cooled down significantly. Adding the butter when it is too warm risks you actually scrambling the eggs in the bowl.
Use milk instead of water
The amount you use will stay the same! Does your boxed cake mix call for 1 cup of water content in your mixing bowl? Then use 1 cup of milk to get the best results! Easy, peasy!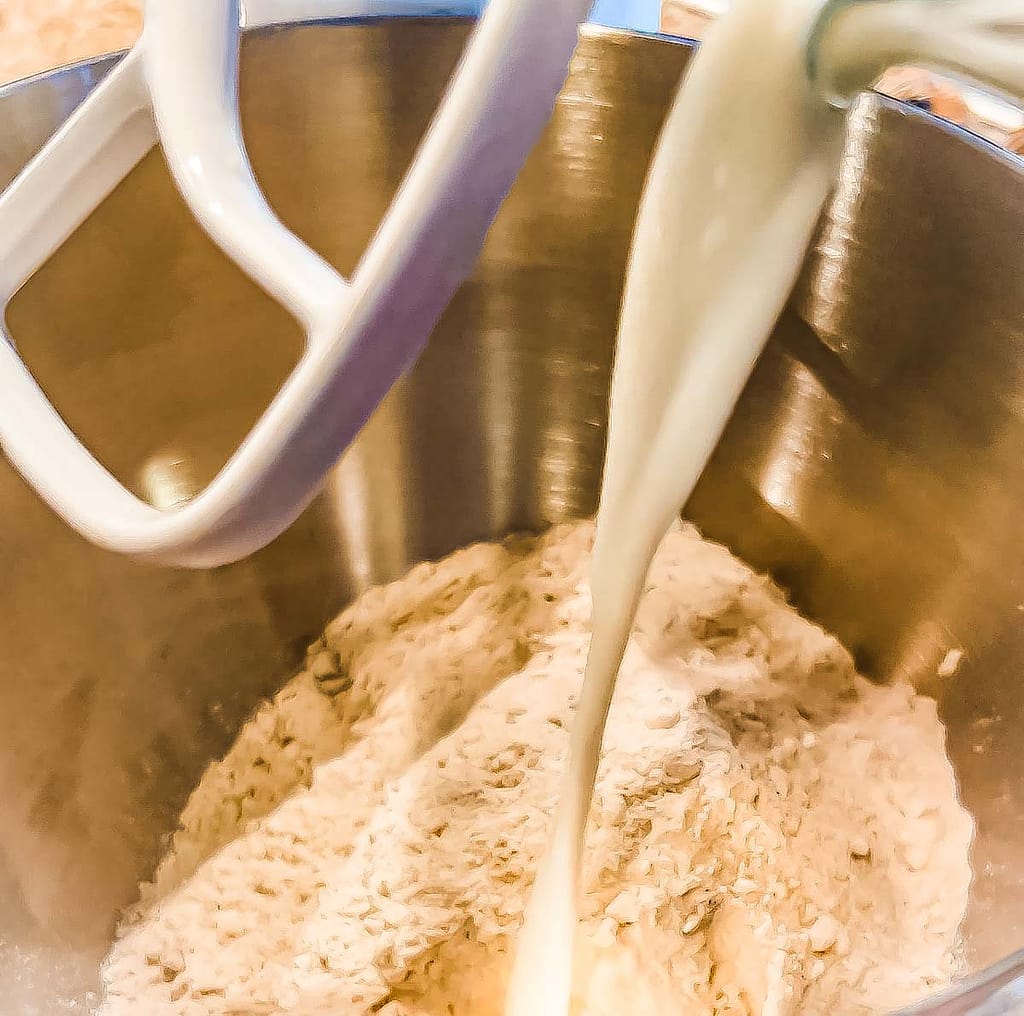 Add two tablespoons of vanilla
I may be biased, but I think vanilla makes almost all baked goods taste way better. Imitation vanilla is fine if that's all you've got. I'd love to challenge you to use some real vanilla instead though. Yes, the cost is higher. In my opinion, it is one of those ingredients that is well worth the splurge.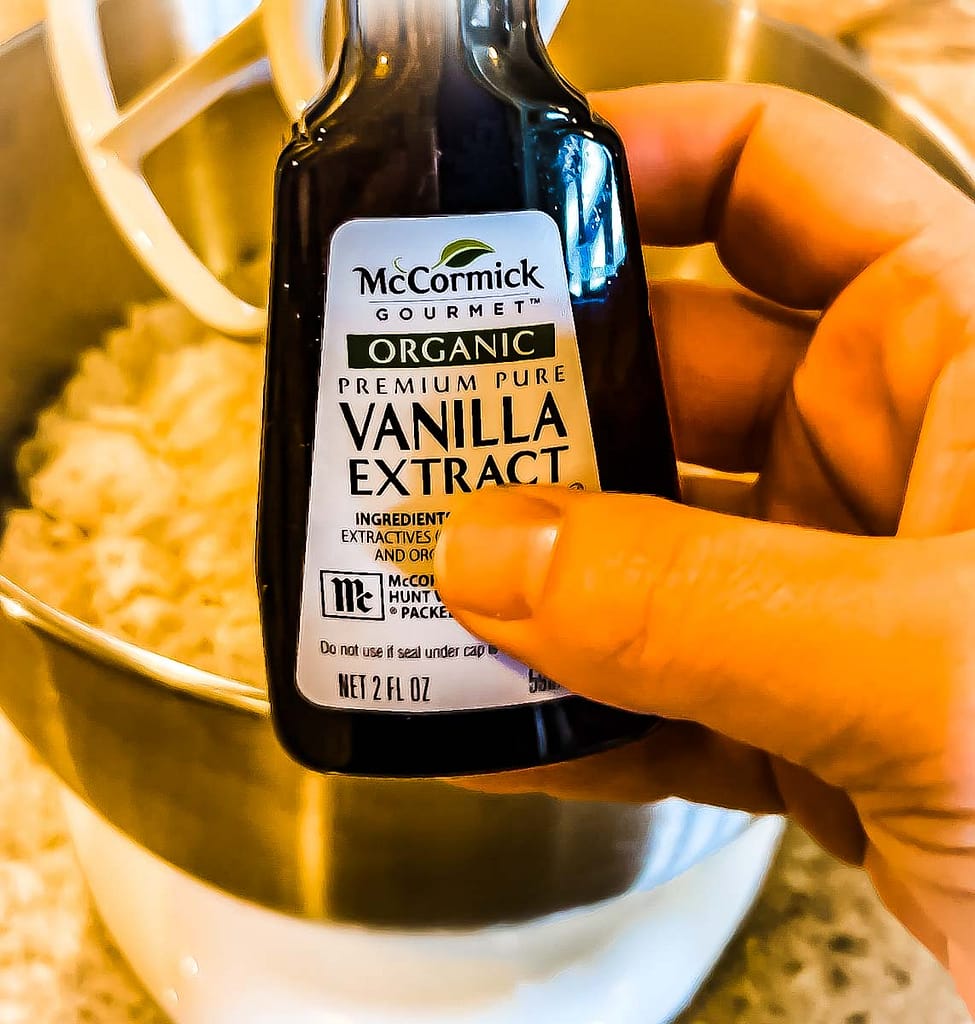 Bake as recommended on the box
Some boxes may say something different for the time and the temperature. Take this advice with a grain of salt. Oh, and always make sure you grease your pan well. Otherwise, your cake will come out in clumps instead of in one beautiful piece!
Want to know the best way to tell when a cake is done? Try sticking a toothpick or butter knife right in the middle to see if it comes out "clean."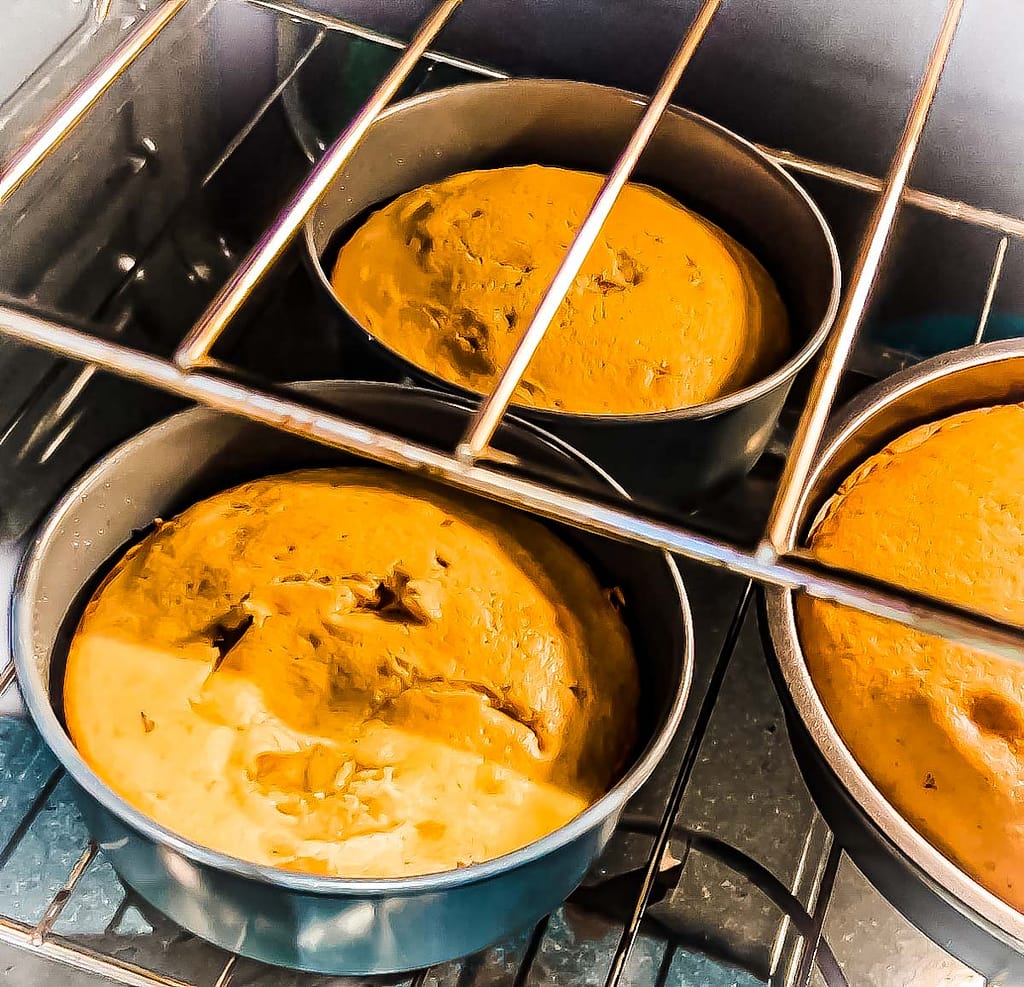 I'm sure lots of you probably already know how to check for a cake's doneness. If you are new to baking, this tip is one of the basics that you'll use over and over again. I personally like to set my timer for the lowest amount of time recommended on the box. Then just start checking it every couple of minutes from there.
For the pan sizes I chose, my boxed cake mix recommended a 20-24 minute baking time. Next, set the timer for 20 minutes and check the cake when the timer goes off. I had a little bit of mix come off on my butter knife with a slightly wet look. If this happens, put it back, close the oven, and let it bake for another couple of minutes before checking again. It's a good thing to check often once nearing the final stages of baking. At the 22 minute mark, my cake was good to go!
Finishing Touches
WAIT TIL IT COOLS
Hold your speedy icing spreader right there and don't make a move with it just yet! Wait until your cake is good and cool! I've learned this lesson the hard way. Trust me. I mean, nothing really beats a fresh warm slice of cake right out of the oven. The only way I'd recommend you just going for it? You're keeping it to yourself and don't mind your icing looking like you drizzled a thin syrup all over. Which will also affect the texture if your cake starts soaking up your now warm "icing syrup" like a sponge. Yikes!
Listen, I know it's hard to wait when your house smells like delicious cake. Just toss a slice of finished cake in the microwave for that melt in your mouth temperature later. Go watch an episode of something or fold a load of laundry. Come back in a bit and you'll be so happy you waited!
crumble free cake removal
You'll also want to give the cake some time to shrink away from the edges of your pan. This Is what happens as it cools. It makes it way easier to remove from the pan altogether. Greasing the pan before you bake also makes it come out in one whole piece instead of in clumps. I wait until the cake is the same temperature in the middle as it is on the edges. Then I take my cake out of the pan by flipping it upside down onto the cake platter. I learned this works the best for me. Multiple failed attempts at amateur baking from home over the years taught me a few tricks for sure!
Use whatever icing you like! You can choose to really make your cake taste homemade by adding your favorite self made icing recipe. Or you can totally use your favorite store bought icing of choice. Sometimes I will even whip my store bought icing with a hand mixer real quick! This can make it a little fluffier and easier to spread, but to each their own.
Last Tips
the most important ingredient
Honestly, it really doesn't matter if you choose to bake a cake recipe from scratch or use a mix. What's important to remember is that most people find whatever you make them tastes the best because you put your time, energy, and care into baking it for them. For me, it's a good idea to mix love into recipes as the main ingredient, just like my grandma did. With these better choices of ingredients though, I've now got a good way to bake something from the heart. When I don't have the energy to bake from scratch, my cakes can still have rich flavor with less effort. M
more ideas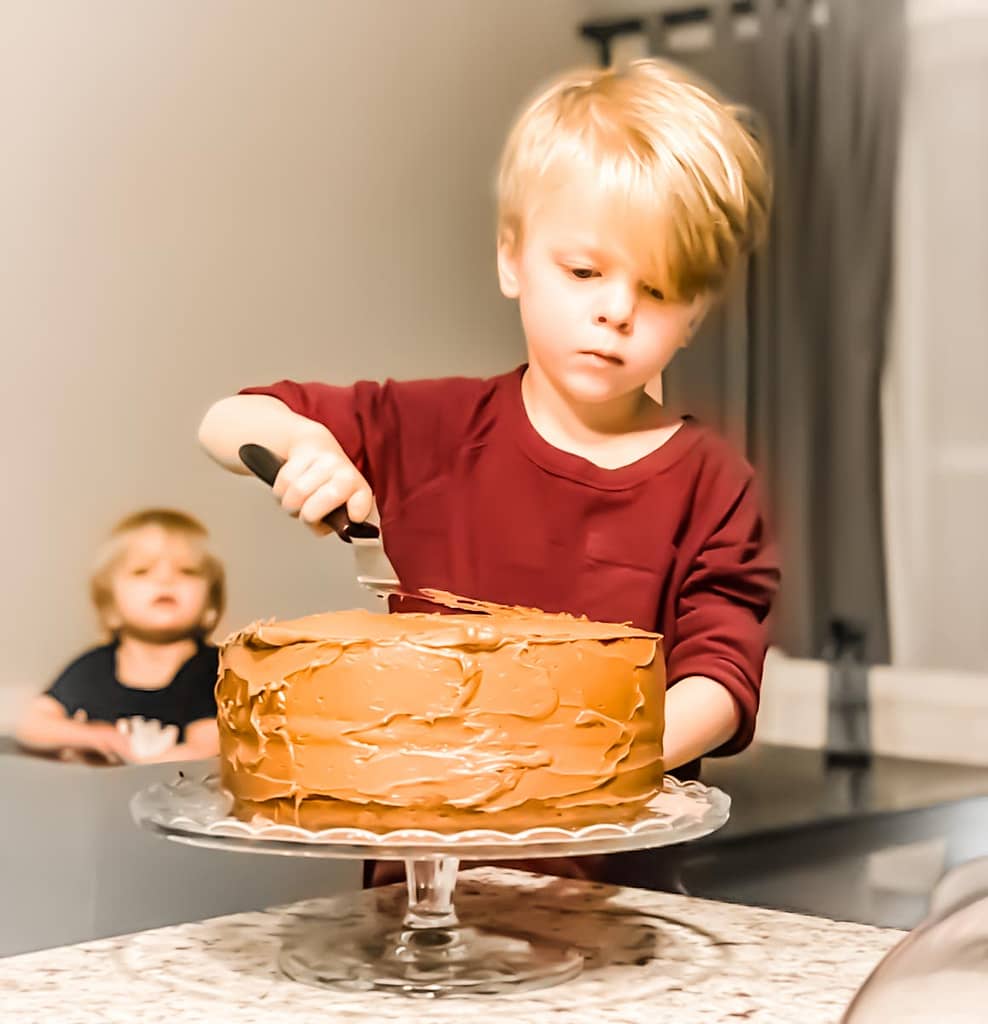 Hopefully you found this cake post as helpful as I did! These really are the best substitutes for creating different flavor and adding more richness to your box cake mix. I personally can't believe someone didn't share some of these tips with me sooner! Who would have known? When you substitute butter for oil or just add some vanilla, a box cake mix becomes a star! It's the type of recipe hack that is truly perfect for any level of baker!
One of the best things about these tips is that you can use it on any cake mix you want! My personal favorite is using these tricks to make my chocolate cake richer! Who doesn't love that in a chocolate cake?!
If you give any of these substitutions a try, be sure to let me know below how It went! If you've got any different tips you use when you bake, I'd love for you to share those too!
Thanks so much for reading my blog! If you loved this tip, make sure you also check out some of our other posts! We used these tips for many of our other cakes, like this CUTEST EASTER BUNNY CAKE FOR $10.
You can also follow us on Pinterest for more easy meals, family fun, travel inspiration, and more! Wishing you fun travels on all your life's adventures!
Save this foR when you're ready to try it!