Choosing the BEST Places to Stay Bocas del Toro Panama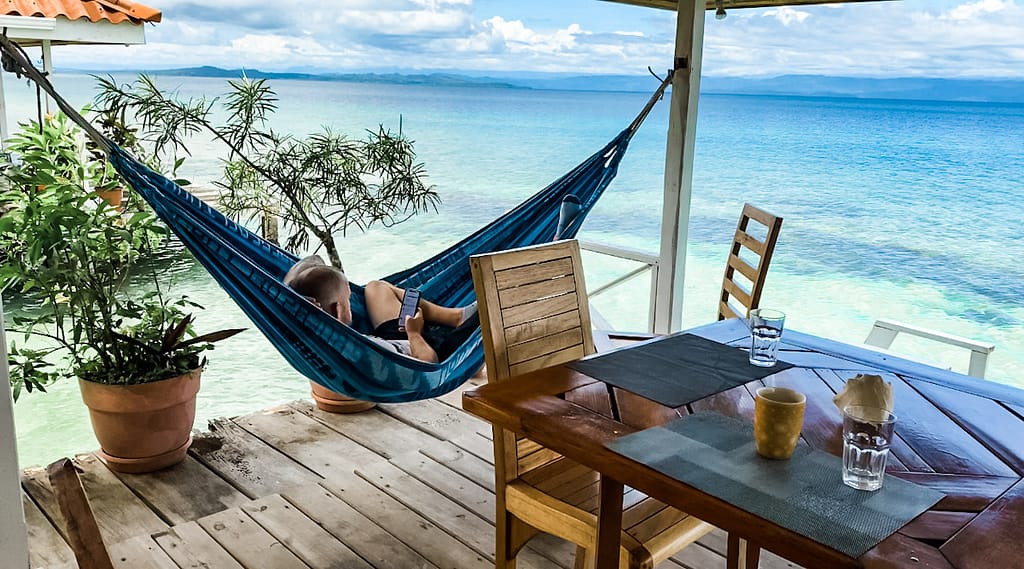 Welcome to our guide on the best places to stay in Bocas del Toro Panama! We'll navigate choosing what area to stay in and accommodation options so you can choose the perfect place. Spend more time having fun and less time making plans. Our best tips for doing just that are sprinkled throughout so get ready to make those vacation plans right now!
Feel free to go ahead and save this for later to your Pinterest board too!
Check out our other Bocas Del Toro posts and videos if you're looking for more ideas! Scroll to the bottom for all the links!
BONUS! FREE PACKING LIST sent to you in a flash! Just fill this out. I'll get it sent ASAP!
---
By submitting this form, you are consenting to receive marketing emails from: . You can revoke your consent to receive emails at any time by using the SafeUnsubscribe® link, found at the bottom of every email.
Emails are serviced by Constant Contact
BOCAS DEL TORO BASIC INFO
WHERE IS BOCAS DEL TORO
Bocas Del Toro, Panama is located in the Caribbean sea and part of Central America. The Bocas Del Toro archipelago, or group of islands, is made up of several larger islands and over 200 islets, or smaller islands.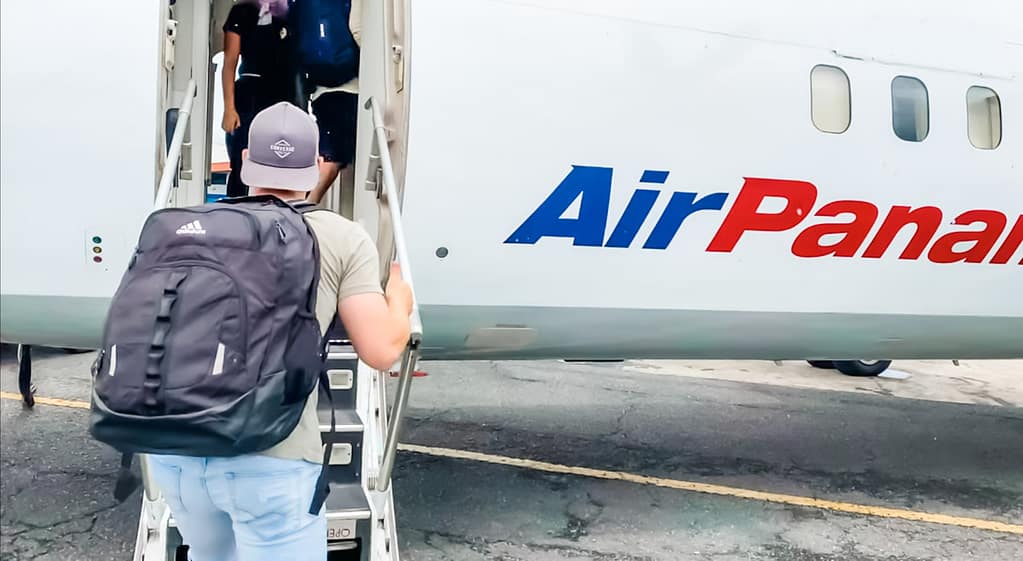 HOW TO GET TO BOCAS DEL TORO
There are a few options when choosing how to actually get to Bocas Del Toro. You can choose to fly from a nearby city like Panama City or San Jose, Costa Rica to Bocas Del Toro Airport (1 hour). Or you can travel by bus or rental car, plus a ferry ride over from the mainland (7-12 hours). We chose to fly to maximize the amount of time we had in Bocas Del Toro. I cover more on our experience flying out of Panama City right here.
WHICH ISLANDS MAKE UP BOCAS DEL TORO PANAMA?
There are many different islands you can visit. Some of the islets are privately owned. Looking to buy your own small island? You may be able to do that in Bocas Del Toro! Some of the island owners may have their own homes or rental properties where you can stay on these more remote islands.
Some of the most popular main islands to visit are: Isla Colon, Isla Bastimentos, Isla Carenero, and Isla Solarte. There are other great spots too! We'll dive into these more so keep reading!
WHEN SHOULD I GO TO BOCAS DEL TORO
The high season and busiest time to visit is January to mid-April. That's the dry season so you're more likely to find less challenges with the weather then. Locals also debate that September and October are also drier months. However, prime weather and peak season often means more crowds and higher prices so if you can go outside the January to mid-April time frame you may save yourself some money.
We traveled in June and had the BEST time. You're much more likely to find better deals on excursions and lodging during the non-peak months. The only thing you'll want to make sure you're prepared for is extra rain showers. Often we found that a rain shower would roll in and roll right out. There was only one day out of an almost two week stay that it rained constantly.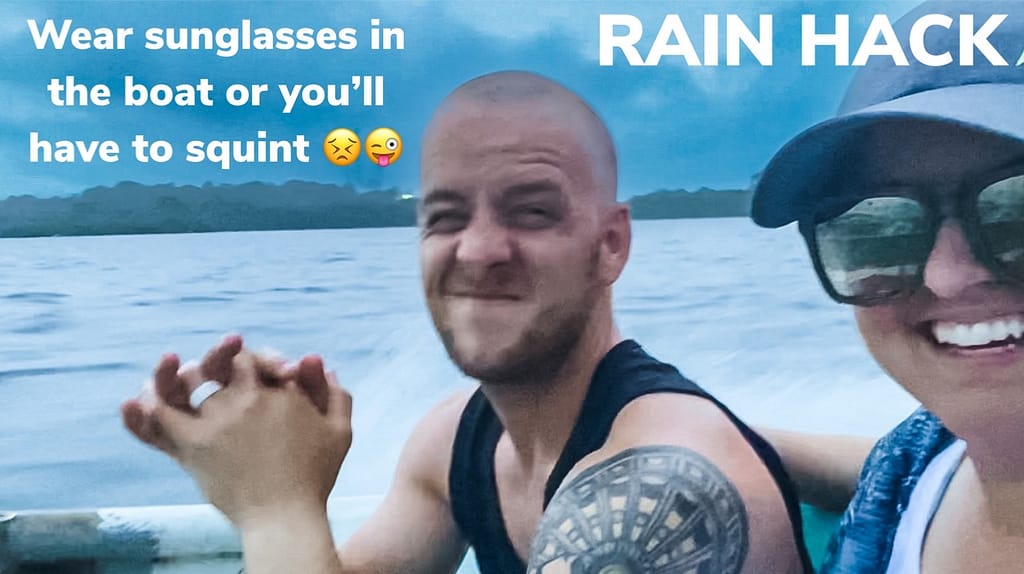 The weather in Bocas Del Toro seems to be able to change in a flash. No matter what time of year you decide to visit, make sure you come prepared for rain even when it wasn't in the forecast for the day. One thing to love about Bocas del Toro is that you can find things to enjoy even when it rains. Go dance in the rain, check out a new restaurant, take an afternoon nap in a covered hammock. Take a great attitude with your rain gear and you'll be all set!
HOW DO I CHOOSE WHERE TO STAY IN BOCAS DEL TORO?
There are loads of places to visit or stay on these Caribbean islands. You'll find low-budget to more luxury hotels and resorts, tree houses, over-water bungalows, and eco-friendly stays to name just a few. You can choose from places with amenities like room service, an outdoor pool, free wi-fi, or a fitness center. Or maybe you're trying to decide which island has the best resort, cheap hotels, or best hostels.
No matter what type of place you're looking for, this guide will help you determine which area could be right for your travels. If you find yourself struggling to decide between all the great choices, you may choose to pick more than one place to stay so you can experience more than one! This is actually popular with people traveling to Bocas Del Toro and it is encouraged if you want to shove the most experiences into your visit.
Here are some of the reasons, good and bad, on choosing which location would be best for you. We cover Isla Colon more in depth as that is the main island. Any additional things to note for the other islands are mentioned below.
ISLA COLON – MAIN ISLAND
TOWN OF BOCAS DEL TORO
The most popular and convenient place to stay is in the town of Bocas Del Toro located on Isla Colón. Being within the archipelago's largest town allows you a short walk outside your stay and right onto the streets of Bocas Town. Staying in the heart of Bocas Del Toro means you are only a 5-minute walk to many conveniences. You'll be just a short walking distance to groceries, shops, restaurants, and things to do. Many restaurants and hotels also offer free wifi so it's the perfect vacation spot for working remotely.
Transportation within the main island is also super inexpensive. We cover more about how to get around during your stay on some of our other posts linked at the bottom of this one. This could be the best place to stay if you want to maximize your time for a shorter trip. Staying in Bocas Town, you can walk or readily find water and car taxis as you wish. Finding a water taxi to other locations is easiest from the main town.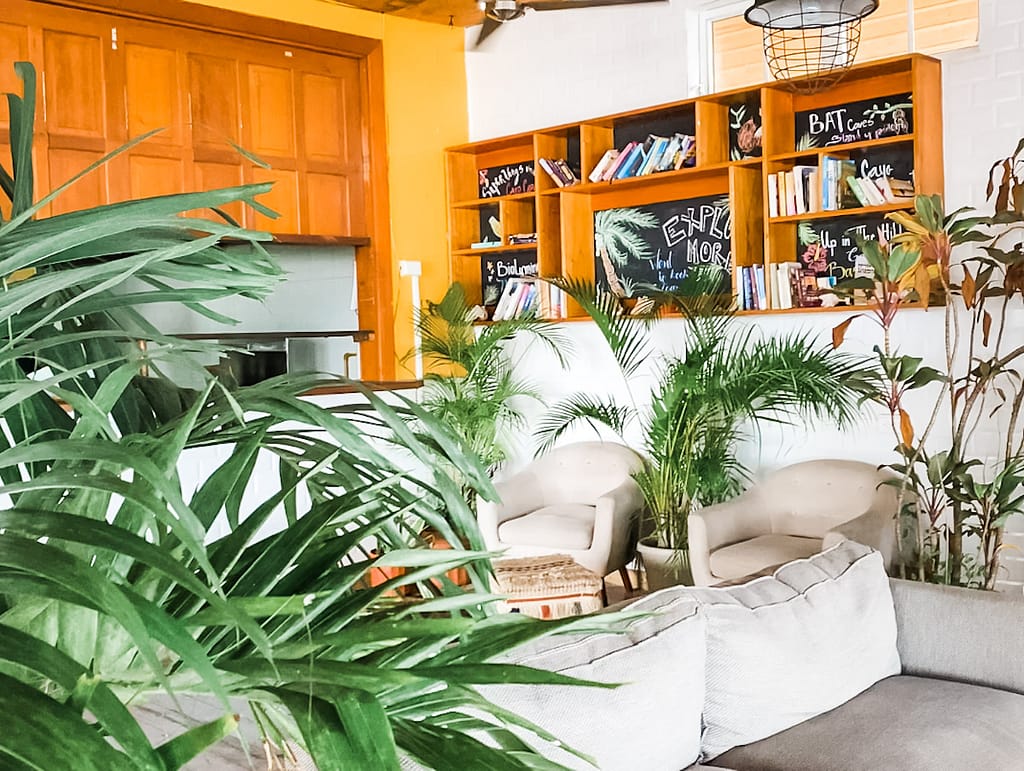 HIGHLIGHTS: STAYING IN BOCAS TOWN
The good stuff:
convenient
things to do in town
cost effective for local travel
The bad stuff:
PUNTA CARACOL
To the northwest of Bocas Town on Isla Colon you'll find Punta Caracol. This is the area we booked our stay when we made our trip to the area so we'll cover it in a little more detail. It looked close to Bocas Town on the map, yet also secluded so we thought it would be the best of both worlds. Although we absolutely LOVED staying in this area, there were definitely expectations that were exceeded and some that missed the mark so we'll share those here.
Transportation
I did a ton of research before and somehow missed just how difficult it would be to reach this area of Isla Colon. If you're looking at a map, it may look like this area could possibly be reachable by car or a very quick water taxi ride.
The main takeaway is that this area is accessible only by water taxi and it costs more than shorter water taxi rides. First we had to find a way to get to Saigon Bay (a 10 minute walk from the main part of town OR a $2 per person land taxi ride). Then we would hop on our boat we prescheduled and spent anywhere from $15-20 for a one-way trip. If you plan your groceries in advance and schedule your excursions well, you can reduce your trips into and out of town which will save you money. But travel when staying outside of the main town of Bocas del Toro can get expensive, especially if you're staying for multiple days.
Views
The best part of staying in Punta Caracol is the incredible views of the surrounding area. Just across the water, you can see Panama's mainland. I can't even begin to explain the beauty watching rain storms roll in over those mountains, colorful sunsets, and the boats passing by. There are often dolphins spotted in these waters too. They really love swimming behind boats! Something about those waves created in their wake gets them all giddy. Staying right on the edge of the rainforest meant great opportunities for bird watching too.
Snorkeling
Did I say the view was the best part? I lied. There are two best parts. Being able to step right out of our overwater bungalow and jump straight into the water to snorkel the coral reef was spectacular! There are great snorkeling spots all around the area but there's something extra special about being able to explore right out your own door. We saw multiple types of sea creatures but my favorite were the countless stingray sightings! We saw some really little ones and one the size of a person right next to our bungalow. Watching the underwater world of Bocas Del Toro through the crystal clear waters next to our lodging was a highlight for us both. It was an indescribable experience that we will cherish for the rest of our lives!
HIGHLIGHTS: STAYING IN PUNTA CARACOL
The good stuff:
secluded
mountain & water views
incredible sunsets
snorkeling
The bad stuff:
15-20 minute ($15-20+) water taxi ride from Saigon Bay + 10 min walk to town or $2 Land Taxi per person
inconvenient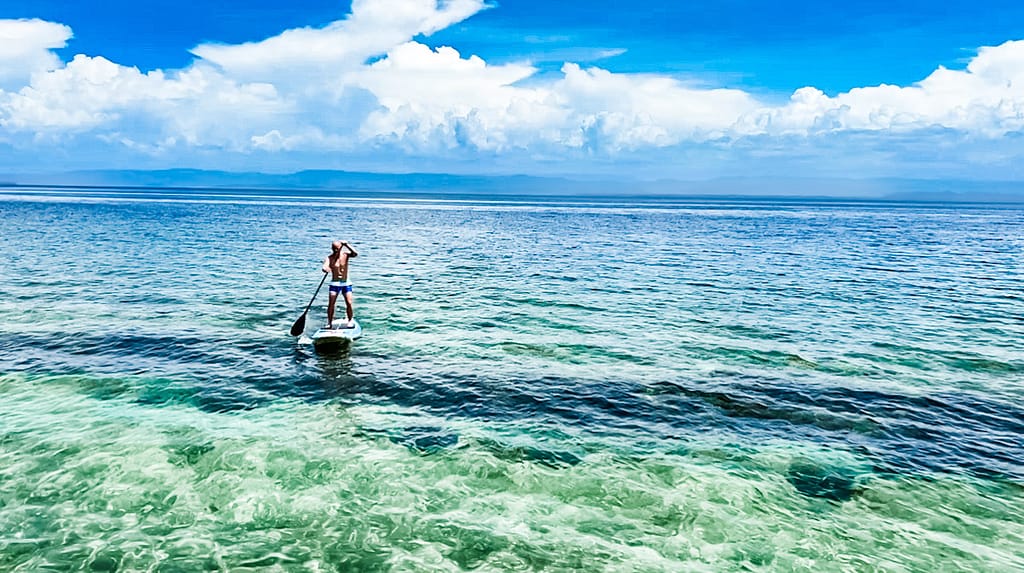 OTHER SPOTS ON ISLA COLON
If you go north from Bocas Town, along the east side of Isla Colon you'll find lots of lodging options all the way to Starfish Beach. Some will have more modern amenities and others will be more off the grid. You'll still find overwater bungalows, treehouses, hostels, and hotels just like in Bocas Town. These spots are semi-convenient. You can still get a taxi to drop you off and pick you up along the road that runs from Bocas Town to Boca Del Drago.
There are also rentals located more inland on Isla Colon but those may require more planning. Some require you to walk to them from the main road. You won't be as close to the beaches but you'll be in a good place for an up close look at nature in the tropical rainforest. Some boast great views from some of the higher points central to the island as well.
HIGHLIGHTS: STAYING IN OTHER SPOTS ON ISLA COLON
The good stuff:
semi-convenient access to town
most have access to land taxi
The bad stuff:
You're at the mercy of the land taxi to get anywhere unless you have access to a regular or ebike
ISLA CARENERO
This area is a favorite for surfers. It's a VERY quick and cheap one minute water taxi ride away from Bocas Town.
Carenero Island also offers a slight removal from the hustle and bustle of the main town. Even though you're across the water, you can still hear noise from the nightlife in Bocas del Toro if you stay on the southern end of the island so it's something to keep in mind. It does have a little action during the evening with it being so close to the main town. So if you're looking for a place that offers some quiet and relaxation in the evenings you may want to try a different spot.
Although this is a smaller island, it is popular enough to have a few great places to stay as well as a great local restaurant, Bibi's on the Beach. If you go, try their ceviche! It's delicious!
HIGHLIGHTS: STAYING IN ISLA CARENERO
The good stuff:
Semi-convenient – 1 minute water taxi to Bocas Town
Surfing
The bad stuff:
sometimes noisy
sometimes crowded
ISLA BASTIMENTOS
Another favorite for surfers, Bastimentos offers access to some great surfing at Wizard Beach. There is even access to some good restaurants here, although you'll still have to travel to Bocas Town for any groceries you may need. It's pretty easy to catch a water taxi from the Old Bank area since they are frequently running back and forth to Carenero and Bocas Town.
Historically there has been a trash problem since locals have recently been learning how to properly deal with single use plastics. Over time it has been getting better though. I would still highly recommend a visit to this area.
Another landmark of the Old Bank area is a local sustainable farm, Up in the Hill.  We visited when we went and had a great time!  We share more highlights from our experience in these two videos below.
If you choose to stay at Red Frog Beach or the Punta Vieja (Old Point) areas you will be committing yourself to at least thirty minutes of travel time. This means the possibility of lots of walking in addition to a water taxi to get to the other happenings in the Bocas Del Toro Archipelago. Most of the accommodations here offer their own restaurants or have food included in their pricing since it is so far removed from everything else going on in the area.  If you are solely looking for beach and water for your stay, you may really enjoy this part of Bastimentos. You may also get a great view of the sunrise here too! 
Red Frog Beach is known for the beautiful, and poisonous, spotted red frog that makes its home in the Bocas Del Toro Archipelago. Some places say you will only find these rare frogs in the Red Frog Beach area, but I am here to tell you that is simply not true. You can still find these red frogs, and their cousins in other colors, throughout the other islands as well. You just have to look hard to find them sometimes.
HIGHLIGHTS: STAYING IN ISLA BASTIMENTOS
The good stuff:
Semi-convenient – Old Bank to Bocas Town 5-10 minutes water taxi
Surfing – Old Bank
Secluded – Red Frog Beach / Punta Vieja (Old Point)
The bad stuff:
Inconvenient – Red Frog Beach / Punta Vieja (Old Point) 30 mins water taxi/on foot to Bocas Town
Sometimes noisy – Old Bank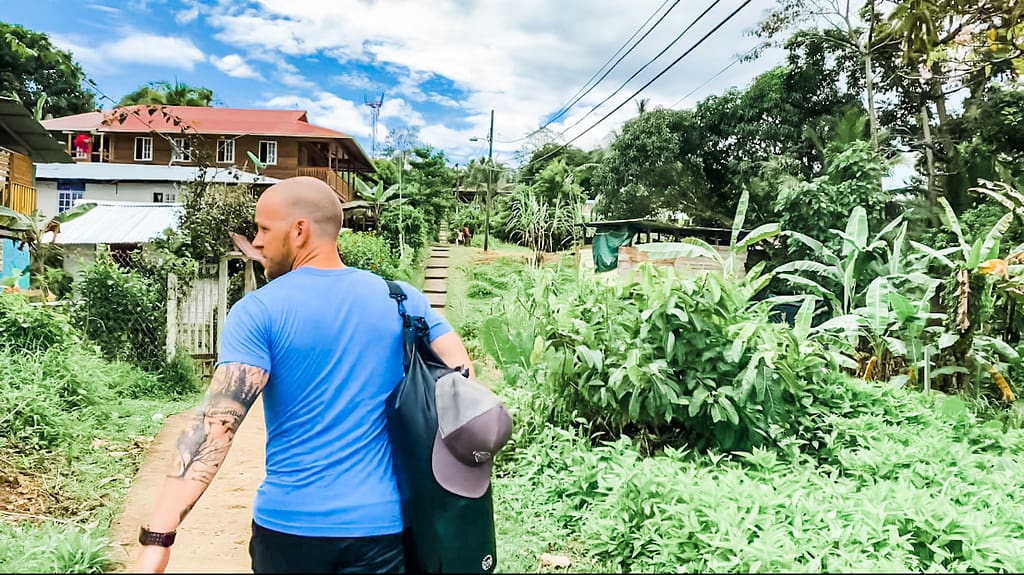 ISLA SOLARTE
This is a great place to visit if you're looking to be close with nature but completely away from the hustle and bustle of the main areas. There are still great lodging options despite that this island is a 5-20 minute boat ride away from Bocas Town. You'll have a shorter boat ride staying on the east side and longer if you stay on the west side. The longer your water taxi ride, the more expensive it costs and you pay both ways. You also must book those water taxis by appointment. This spot is a great one to consider if you wish to really disconnect and enjoy the peace of the rainforest and beach for the majority of your stay.
HIGHLIGHTS: STAYING IN ISLA SOLARTE
The good stuff:
Semi-convenient – West Side of Island is 5-10 minute boat ride to Bocas Town
Secluded
Calm waters and coral reefs – great for snorkeling and diving
The bad stuff:
Inconvenient – East side of island is 10-20+ minute boat ride to Bocas Town
Slight noise from Bocas Town – West side of island at night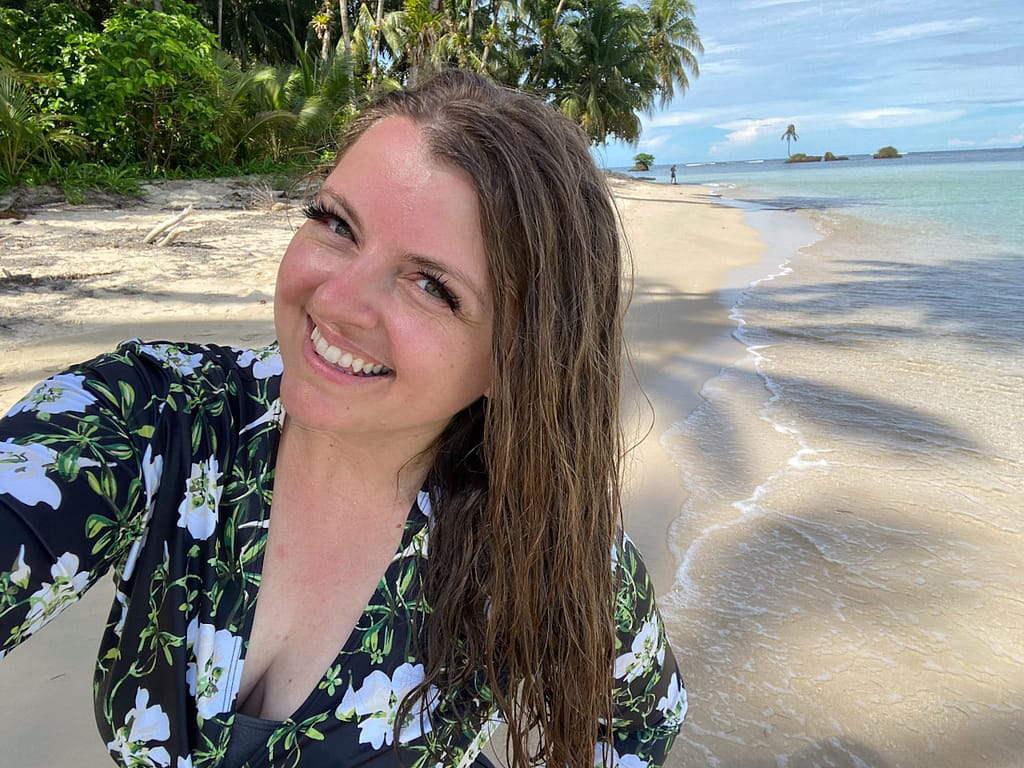 OUTER ISLANDS
The islands mentioned above are all the most popular spots for tourists when visiting the area. If you are open to having longer travel times, think anywhere from 20-30 minutes in a water taxi one way, you can absolutely find some amazing gems of places to stay. Many of these places are luxury style accommodations that offer restaurants or food is included in the pricing. This is because of the one hour round trip water taxi ride required just for you to go into town to get groceries. If you want to truly get away from it ALL, then look into these less sought after locations.
If you instead are interested in just visiting some of these lesser accessible locations, you may be able to visit them on an excursion in a day. A good example is the beautiful beaches of Zapatilla Islands. You can book an inexpensive tour that takes you to multiple stops including a few hours spent on these remote beaches known as some of the best in the area. [(If you want to read more about the beaches of Bocas Del Toro, go here.(post coming soon)]
OTHER IMPORTANT THINGS TO NOTE
Bocas Del Toro is thoroughly immersed in the surrounding tropical rainforest. No matter where you stay, you'll be not too far away from the nearby waters of the Caribbean sea. In case you aren't going into this fully prepared, I wanted to share with you a few takeaways from our experience staying in close proximity to the local wildlife.
SURROUNDED BY WILDLIFE & WHAT THAT MEANS FOR YOU
You might be reading this heading thinking I'm primarily going to talk about the beautiful dolphins and stingrays we encountered at our stay in Punta Caracol again. Or maybe I'll discuss our multiple bird watching opportunities from the comfort of our bungalow. Nah. This is the side of wildlife that you probably aren't imagining when planning your dream vacation to Bocas Del Toro.
This isn't just a public service announcement for the Punta Caracol area where we stayed. If you choose to stay in any type of treehouse, overwater bungalow, or other semi-open to nature type of stay, these are some things I really wish I knew earlier.
Bocas Del Toro is surrounded by tropical rainforest. It's easy to forget within the walls of your stay sometimes. Especially if it has a kitchen, running water, or other modern conveniences like a fully functioning bathroom.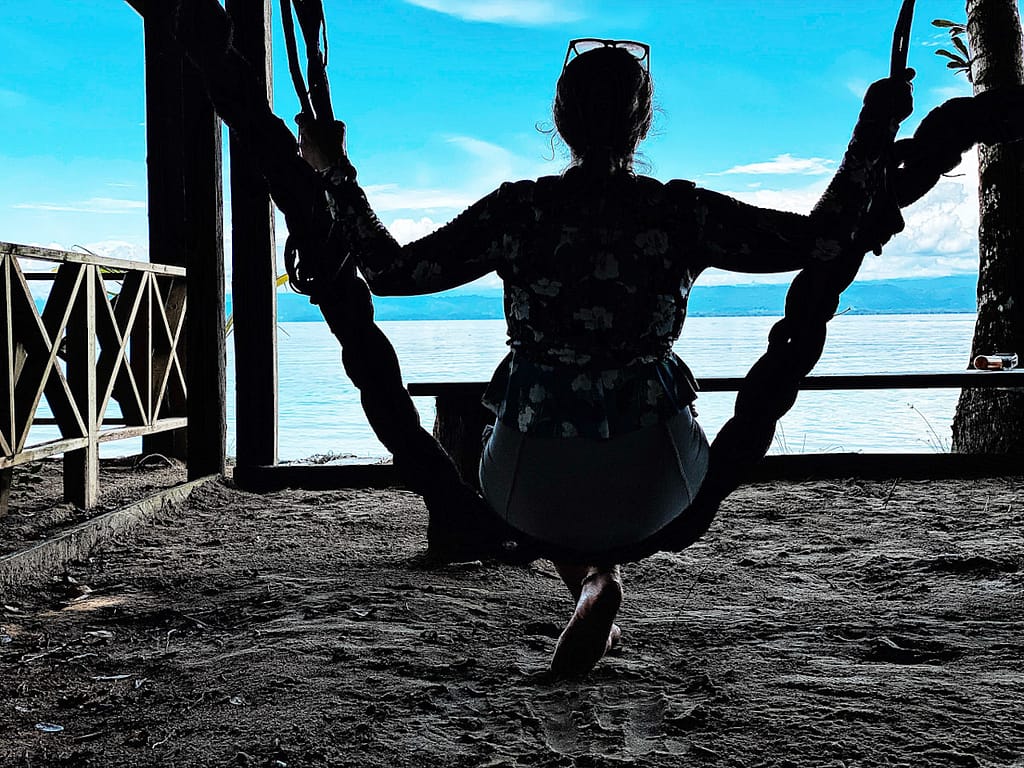 BUGS
There were nightly visits by roaches. Yep. They love to scurry around the wood floors and countertops once it gets dark. They are especially drawn to kitchens and bathrooms. I wish I would have brought an entire arsenal of clips for any of our food that was in bags. We ended up storing almost everything that was open in the fridge for extra safe keeping.
Our front deck area was also a favorite congregation area for wasps. They literally ran us off a couple of times. But that wasn't anything I didn't already experience back home in the southern part of the US during the warm summer months.
We also had a couple of lizards crawling on the couch and floors some nights. Honestly, we got used to it after a couple of days but it was an adjustment. It's more like a glamorous camping experience when you're in a semi-open to nature type of place. If that's not your jam, there are hotels and resorts with more amenities throughout the islands. Don't say you weren't warned is all I'm saying ok?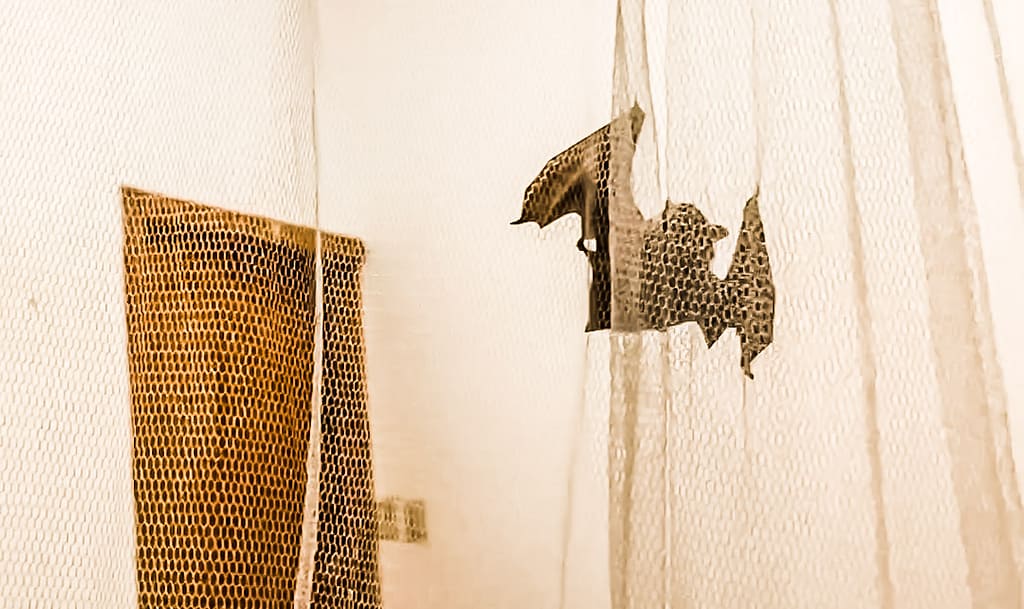 BATS
We had an unexpected visitor one night that gave us one HECK of a story for later that somehow we haven't shared with people much yet. Maybe we're still a little traumatized by it, I don't know… While you're scrolling through spots to rent for your visit, you may notice a mosquito net over the beds of a semi-open nature stay. We realized one night that it didn't just keep the bugs away.
We had a BAT fly into our room and cling on to the mosquito net for dear life. I woke up for some reason and felt like something was in the room. I grabbed my phone and shined the flashlight up toward the net to see the bat hanging right over me. I'm telling you, I died once right there and came back to life somehow in mere seconds. It took us about two hours of problem solving, cry-laughing, net moving, light switching, and running around at three in the morning to finally find peace in being alone in our room again. Even now it gives me anxiety but also smiles when I think back on it. Ah memories.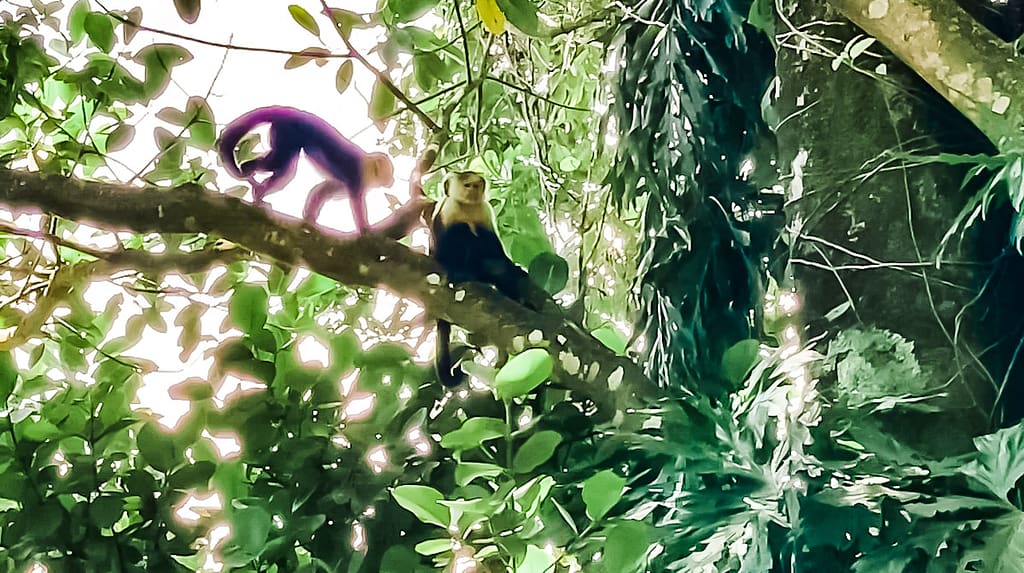 MONKEYS
We also heard monkeys calling from within the jungle behind our overwater bungalow on a couple of occasions. It's super fun most times but there were a couple times it happened right when the sun was coming up and we weren't ready to get up yet. They don't care what you want. They aren't on vacation with you. Consider yourself warned.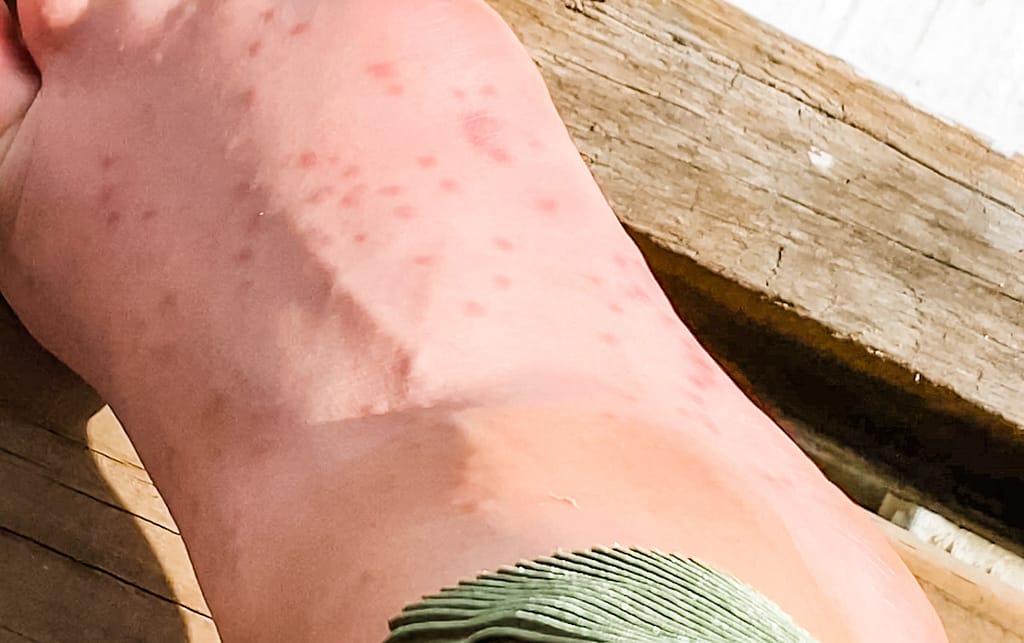 NO-SEE-UMS
There are also these tiny bugs people call no-see-ums. Why? Well that's because they are so small you literally don't even see them usually. You only realize you've encountered them after you start itching and noticing bumps. You'll usually encounter them after spending some time at the beach. Bug spray helps but if you're getting in the water it will just wash off. Be prepared to reapply or you'll end up like me!
FINAL THOUGHTS
ONE LAST HUGE MONEY SAVING TIP
Last word of advice, bring cash with you! Honestly, it was a major scare for us arriving to the island with only a little cash in hand after what happened to us.
The preferred method of payment on the islands is cash. Although there are a couple ATM's on the main island, if you have issues using them like we did you could be in for a rough few hours. It took us about two hours to get our credit card company to allow us to use our cards in Bocas Del Toro. And even then, the ATM did not like our card EVER so in order to pull out cash, we had to ask for cash back at one of the one zillion grocery stores in Bocas Town.

It was a HEFTY 10% FEE every single time we withdrew cash. So for every $100 cash we pulled out, we had to pay them $10. It was the biggest, most ridiculous expense we paid. If I had it to do over I would. And I'm making it my mission to warn any of you who may be traveling there soon.
Take as much cash as you are comfortable bringing with you JUST in case your card company doesn't communicate well with the local ATM machines. Over-communicate your travel plans with your card companies. Consider bringing multiple cards from different providers in case you have a major issue with one like we did.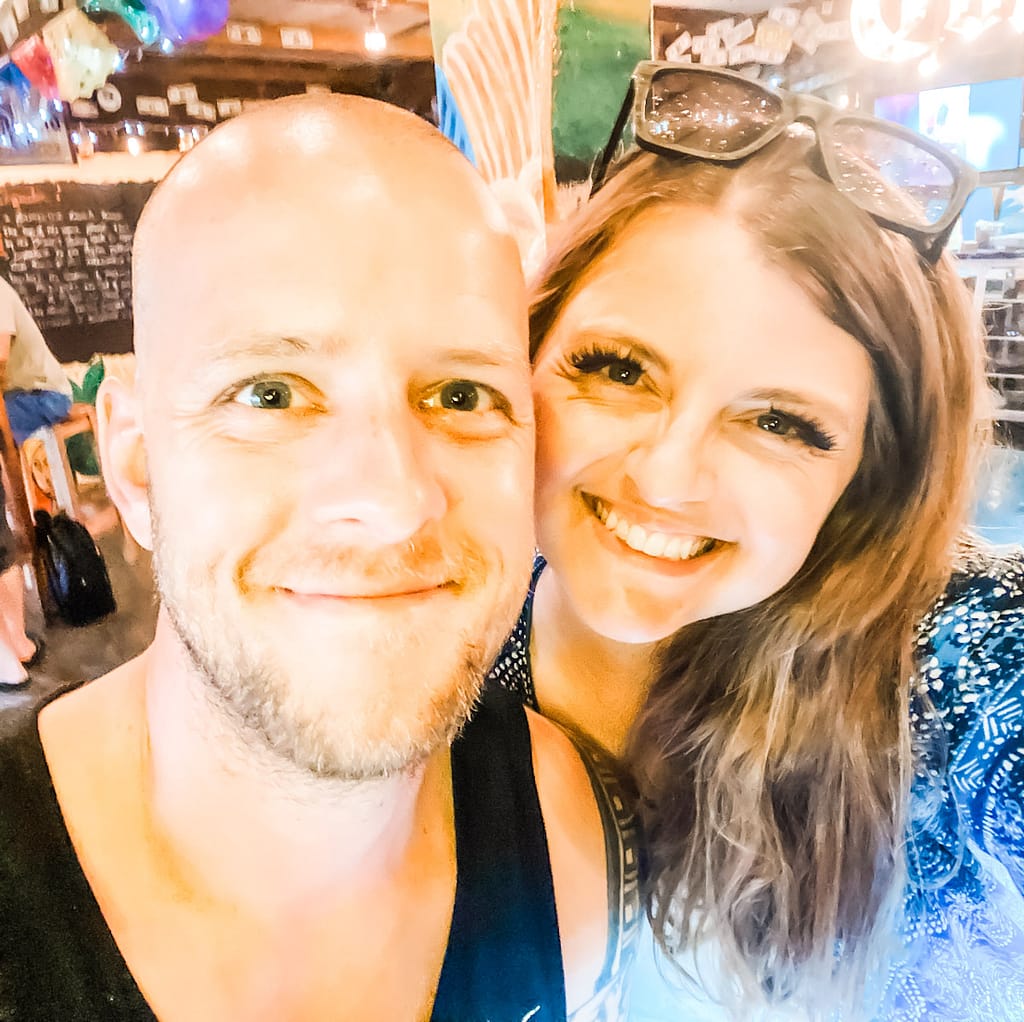 STAY IN TOUCH
If you're planning a trip to Bocas Del Toro, please let me know! Or maybe you've already traveled to the area and have some great tips of your own? I'd love to hear them! Chime in on the comments area below or shoot us an email!
If you haven't already, make sure you save this post for later on your Pinterest boards.
Check out these other posts & videos for more ideas for your visit to Bocas Del Toro.
BLOG POSTS
VIDEOS
FREE PACKING LIST FOR BOCAS DEL TORO! Just fill this out. It automatically goes to your email!
---
By submitting this form, you are consenting to receive marketing emails from: . You can revoke your consent to receive emails at any time by using the SafeUnsubscribe® link, found at the bottom of every email.
Emails are serviced by Constant Contact
SAVE THIS POST FOR LATER!