Skip the omelette! Make Bocas Scrambled Eggs!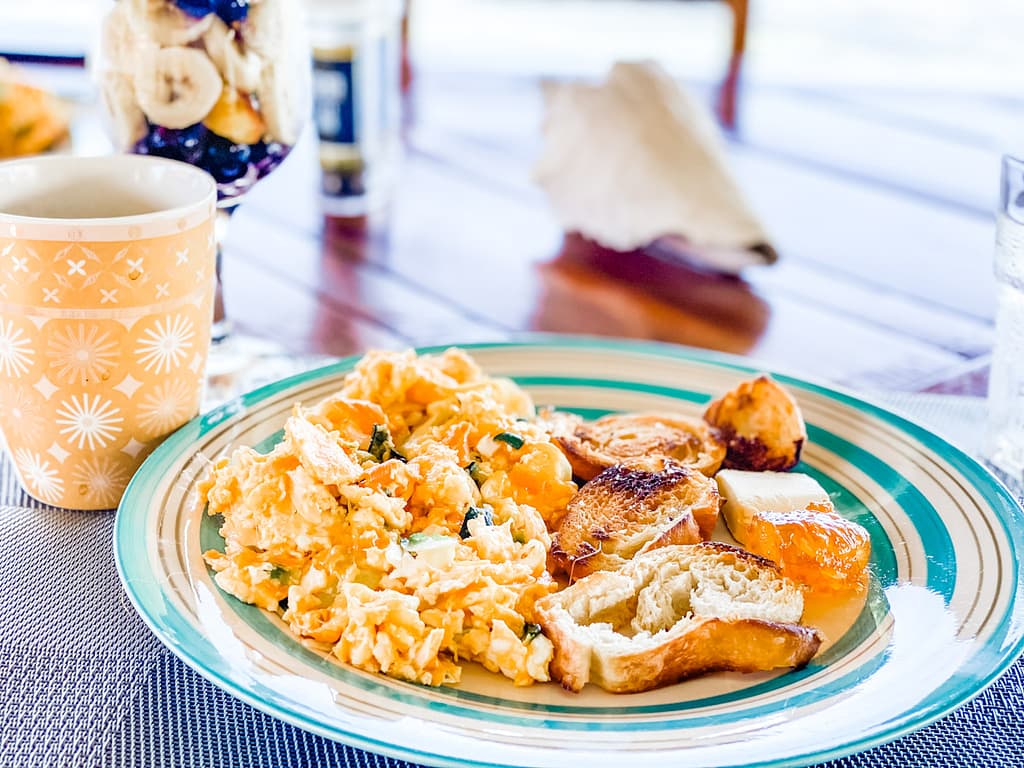 Deciding on scrambled eggs vs omelette for breakfast today? I'll show you home cooks how to make the best scrambled eggs inspired by our travels to Bocas Del Toro, Panama!
Scrambled eggs vs omelette
Decide which cooking technique is best
First of all, let's talk about deciding between these two cooking methods, scrambled eggs vs omelette. You certainly could make this recipe into an omelet with the fillings in the middle instead. However, I like using the cooking technique that doesn't require me to flip something to perfection. Especially before finishing my first cup of coffee. So for this recipe, I'll be making this recipe into scrambled eggs! But if you're debating between scrambled eggs vs omelette and you eventually choose the later, read on! I'll share how to make this same recipe just as delicious as an omelette.
Kitchen supplies you'll need
For each different technique, you'll want to have the best tools handy. Here's what you'll need:
Frying pan or non-stick pan
Cutting Board & Sharp Knife for cutting veggies
Whisk or long-tined fork (for fluffy eggs)
Wooden spoon OR rubber spatula / silicone spatula
Gather the food you'll need
You'll first want to determine how much food you'll be making.
The recipe I'm sharing today can be made for one person or a lot of people. My husband and I can each eat two to three eggs for breakfast when we have scrambled eggs. Remember, for this recipe we add in a lot of vegetables and some cheese. Plus we served some toast on the side with jam like they did in the restaurant in Bocas Del Toro. So for today's calculations, my recipe is with four beaten eggs for two people.
Next, assemble the filling ingredients you'll need.
Here's the list of ingredients we use for these Bocas Eggs:
Carrot
Zucchini
Bell Pepper
White Onion
Cheddar Cheese
Cooking oil of choice (extra virgin olive oil, coconut oil, cooking spray, or my fave with eggs is butter)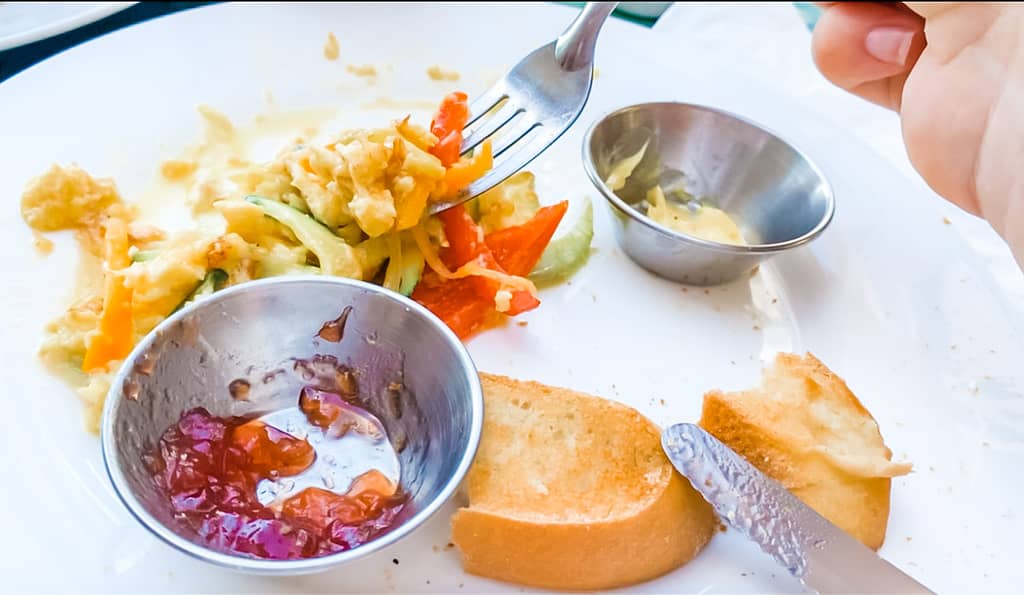 Let's make our Bocas Eggs
After you have gathered all your supplies, it's time to cook! Don't let these lists and directions fool you. This is one of the easiest ways to class up any cooked egg in the morning.
The cooking process I chose is scrambled eggs. After all, this is the way they were done at the restaurant in Bocas Del Toro! But you can choose to make yours as an omelette and add the veggie & cheese as a filling.
If you decide to make yours into an omelette, make sure you read the instructions below. Then check out my note on omelettes after for more info.
Let's get cooking!
Prep your supplies
Set your pan on the stove and set to medium-high heat to start warming up sometime in the middle of chopping your veggies. If you do too much heat, you'll risk burning your oil which will change the taste of your veggies and eggs.
Set your cutting board and knife on a flat surface.
Prep your veggies
Wash and quickly pat dry your veggies (except the onion). Then set them on your cutting board.
CARROT
Trim the ends off the carrot and discard.
Use the knife to cut into long, thin strips.
Cut the extra long ones into smaller pieces if you wish.
BELL PEPPER
Cut the stem and core out of the bell pepper, then discard.
Slice bell pepper in half from the stem, down the middle to the bottom.
Cut into ¼-½ inch strips
ONION
Trim the ends off the onion and remove the outer peel, then discard.
Lay one of the flat trimmed ends down flat on the cutting board.
Cut from the center of the top down through the middle.
Slice the onion into ¼-½ inch wide pieces.
Use your fingers to separate the pieces.
Cook your veggies
Now that you have a hot pan and prepped veggies, drop a tablespoon of butter onto the pan. Use your wooden spoon to move it around and help the butter cover the bottom of your pan. As soon as you have completely melted butter, add in your veggies.
I like to add my veggies all at once. You can choose to do them one by one. Adding your onions earlier, for instance, will make them have a more charred appearance and caramelized flavor.
As mentioned earlier, you can use a different oil than butter if you choose, but for this recipe, I personally prefer the flavor that butter adds to the eggs and veggies.
I like to start the next step right before my veggies start to turn brown on the edges. That way they still have a little crunch to the bite of them. Once your veggies are cooked to your preferred doneness, you're ready for the next step.
Cook your eggs
Now that your veggies are cooked to perfection, it's time to add your eggs. Start by turning down the temp to medium heat or even medium-low heat.
SHOULD I ADD MY EGGS DIRECTLY TO THE PAN OR A BOWL?
I personally like to crack my eggs directly into the pan with the veggies. This saves me the step of having another dish to wash by cracking my eggs in a separate bowl.
If you're not as confident in your egg cracking skills, I recommend cracking your eggs into a separate bowl before you add them. This allows you to better see eggshells that fall into the bowl so you can remove them before you add them to the pan. (This is how my husband does his eggs. He isn't as confident.)
If you prefer fluffier scrambled eggs, you should also crack them into a bowl before adding to the hot pan. Once you've got your raw eggs in the bowl, add a couple small splashes of milk. Whisk them together with a whisk or long-tined fork. This adds more air and richness to your eggs. Don't over mix though. Just until the colors of the eggs and milk are combined is fine.
ADD EGGS TO THE PAN
Pour your beaten egg mixture into the pan or crack the eggs directly into the bottom of the pan based on the instructions above. Season with some salt and pepper, adding more to taste once they are cooked through if necessary. Use your spatula or wooden spoon to give the eggs a stir occasionally so that the eggs are cooked evenly throughout.
Cook until they reach your desired doneness.
I personally can't stand scrambled eggs with any shine on them so mine need to be pretty well done. It's weird though because I can totally eat a fried egg with some runny yolk coming out of the center. Anyone else weird like me?
MAKE THIS RECIPE INTO AN OMELET
Want to make this recipe into an omelette? Just saute the veggies before in the same pan. Then you'll remove them, give the pan a quick wipe, and add another dollop of butter. Now just make your omelette with the sauteed veggie filling with cheese!
OPTIONAL (AMAZING) RECIPE ADDITIONS
There are still a couple final additions I would love to recommend to you. These are the little details that made this simple breakfast turn into one that really felt over the top while visiting Bocas Del Toro. Check them out:
FRESH FRUIT
Serve your eggs with a small fruit cup. The restaurant made ours with locally sourced fruits! They used sliced banana, watermelon, and orange slices. We did ours with what fruits we had on hand. We used bananas, mixed berries, and oranges. Both fruit cups were delicious!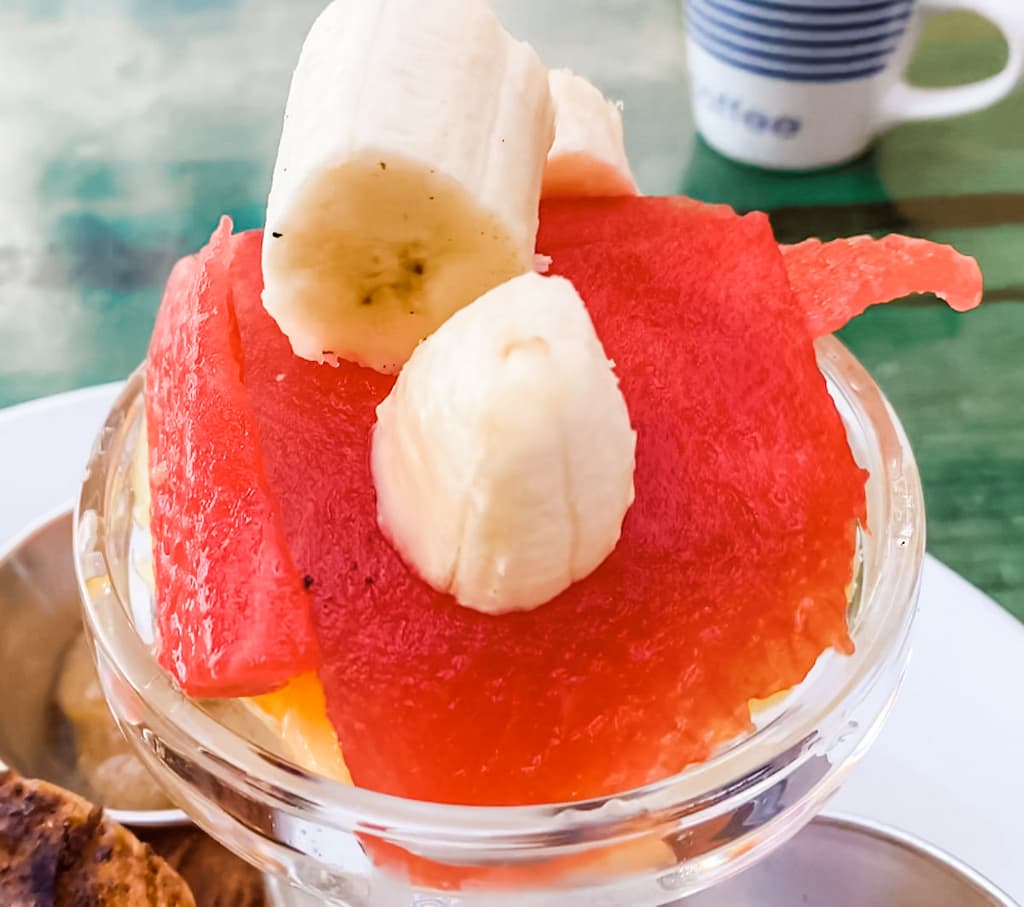 LITTLE TOASTS
We could throw a regular slice of bread in the toaster and it would taste great, sure! But the thing that made this a little more special was when the restaurant served us small slices of toast made out of skinnier, handmade bread.
When we recreated this, we used a baguette sliced into one inch slices. The bread we bought in Bocas del Toro had a big air hole in it so it didn't turn out as pretty as the restaurant's toasts. But in our attempts at making this dish from home, baguettes from the supermarket have worked great for us.
Just like Buena Vista did with their toasts, we served ours alongside some softened butter and jam. We used apricot with ours and it was fantastic! Really whatever jam you have and love will do!
FINAL THOUGHTS
Every single time I make these eggs the memories come rushing back. A gorgeous warm breeze, the sound of waves in the ocean, sunshine on my face, and the delicious flavors of locally sourced items. Even more special is that it was made into a meal I didn't have to make myself! But once in a while, I like to go back and experience the memories again in my own kitchen. I hope you enjoy this recipe too!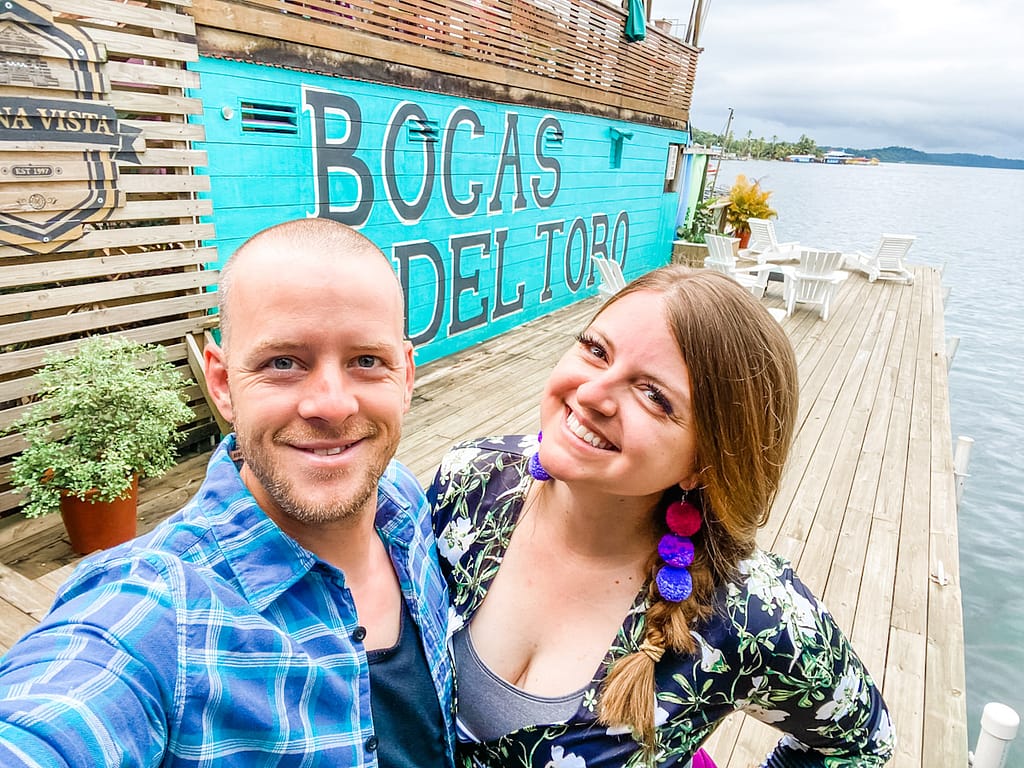 WANT MORE INFO ON OUR TRIP TO BOCAS DEL TORO?
Check out these other posts & videos for more ideas for your visit to Bocas del Toro.
BLOG POSTS
The BEST Guide to Beaches in Bocas del Toro (coming soon)
Travel Guide: Top Things To Do in Bocas del Toro (coming soon)
VIDEOS
SAVE THIS POST SO YOU HAVE IT LATER!