Easter Cinnamon Rolls: Quick Kids Breakfast Ideas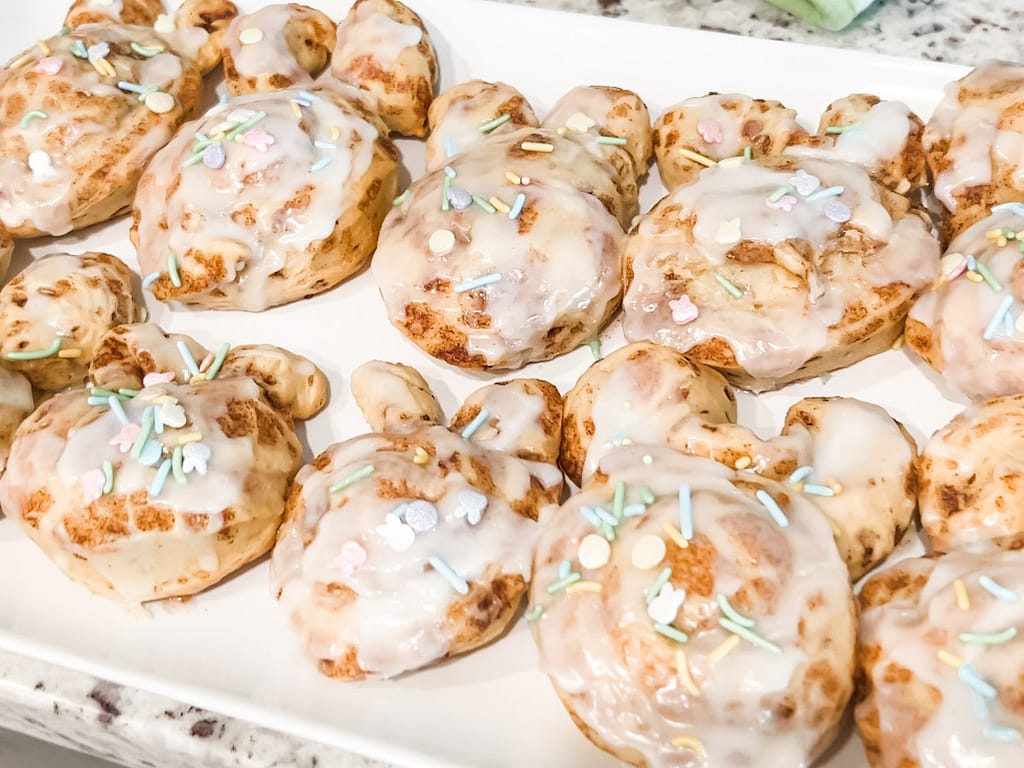 If you've been looking for an easy recipe to add your list of Easter breakfast ideas for toddlers and big kids alike, look no further! I'm pretty sure it's most kid's dream to get fresh baked cinnamon rolls absolutely covered in icing for breakfast, especially on Easter morning. And hey, really big kids like me love them too! They aren't a normal occurrence in our home because I try not to start the day with that much sugar on the regular. But I do love pulling them out when the occasion is right. Easter brunch for kids, young and old, seems like the perfect opportunity!
Store bought cinnamon rolls are an easy way to a quick, special Easter breakfast, which makes them perfect for holidays with family. Any time we have people over for any annual event, the amount of things to do seems to pile up. The last thing I want to be doing is cooking forever, but maybe that's just me. With just two small changes to the ready-to-bake rolls from the grocery store, you'll be able to create something absolutely adorable for a bunny brunch! And the best part? You'll save so much time that your holiday memories will be the time you spent with family instead of in the kitchen! If that sounds like a fun way to do your Easter holiday this year, then this post is for you! And trust me, you'll want to add this to your list of favorite cute Easter breakfast ideas.
What supplies you'll need
When considering kid-friendly recipes for Easter, this one is super simple and quite impactful! The only main ingredients you need for this Easter meal are the supplies mentioned on your store bought cinnamon rolls. Make sure you buy the kind that comes with the icing already included. For your Easter themed breakfast, we want this recipe to be simple so don't overthink it. You'll also need a baking dish, mine is one of the clear glass kind. I also make sure I have a butter knife handy for spreading the icing later.
The only thing you'll need outside of those basics is some cute sprinkles for a bit of extra Easter fun! Listen, life is way too short not to use the sprinkles so just go for it! I found some super cute ones at the grocery store that had Easter shapes on them like carrots and bunnies! That extra detail really makes these sweet treats one that every sweet tooth in the family will love. You could use any sprinkles you have on hand if you want but I personally like choosing something that will match the other decorations I have out. One of my favorite things to keep on hand is a container of sprinkles that has separate compartments, each with a different color and shape of sprinkle so I can customize the look when I go to decorate with them.
Bake the cinnamon rolls
Okay now this part is super simple! You will follow the exact baking directions on your cinnamon roll canister BUT you will change two things before sitting them on your baking dish. First, once you separate one cinnamon roll from the rest, unravel about 6 inches of the outside of the roll leaving it connected to the cinnamon roll strand but not as part of the main circle. Sit the circular part of the roll down on the baking dish where you want it, then shape the bunny's ears with the 6-inch piece. Leave the piece connected to the strand while doing this.
This is one of those projects that is difficult to mess up so much that it looks bad. Just do two quick swoops with the 6-inch piece. Then do a little pinch with the bent in portion of the middle of the ears and the outside of the circle where that part sits now to help keep it in place. Repeat the same pinching on the corners of the base of the ear shapes to the circle shape to make sure the ears stay where you want them during baking. Don't pinch hard, just a soft pinch to make them stick together slightly should be enough. When you're done, it will have the shape of a bunny!
Second, now that your cinnamon rolls are shaped, you're ready to drop them in the oven! Again, make sure to follow the baking directions on the can. The only exception to this rule for mine was that I separated my rolls instead of placing them side by side so that they keep the bunny shape while they bake.
Decorate the cinnamon rolls
Follow the directions as stated on your store bought cinnamon rolls for when and how to apply the icing. Once you get them completely iced, before they have time to cool when the icing may harden, get out those sprinkles we talked about earlier and sprinkle them all over as you see fit! This will help the sprinkles stay put by doing it while the icing is still a little wet to the touch. If you want to get the kids involved, this could be a step that would be perfect for them. To make Easter brunch with kids really special, let them put their personal touch on the cinnamon rolls.
Serving the cinnamon rolls
Once your cute bunny pastries are iced, sprinkled, and cooled, it's time to add them to your serving platter. Take a little extra care when you are pulling them up from the baking dish so you don't lose a bunny ear! I like to use a spatula so I can get it all picked up gently and in one piece. Move them to a serving platter or directly to the plates if that's your speed. Once you do, they're ready to eat!
Additional fun food ideas for the fam
Making these cinnamon rolls for a fun holiday Easter party, especially one with lots of kids? Then this could be the perfect time to add a fun twist! Here are two different options when making these cinnamon rolls to add to your Easter breakfast ideas for toddlers. One great way you can serve these rolls is by having a decorating party at the table. You could put the rolls straight from the oven onto individual place settings for everyone. Make sure to have the icing and multiple sprinkle options laid out at the table ready to go.
You could also do a hybrid of this idea and just add the icing to them yourself. When they are ready for sprinkles, put them on the plates for the kids to decorate with the colorful toppings. The great thing about this recipe is that it still tastes awesome if a bunny loses an ear or you run out of sprinkles.
How incorporating easy brunch recipes can save your sanity
Even though this recipe is an easier one, I want you to remember to make sure you go into the experience of baking anything for the holidays with an open mind and some grace for yourself. Your family will still love you if you mess something up. It doesn't have to be a Pinterest perfect, cookie cutter picture! But hey, I will virtually high five you when you make that happen!
Delicious food doesn't always have to mean difficult.
I've learned a lot as a mom of two little demanding children and being a hostess of family gatherings for a while now. You should absolutely take any and every opportunity to make your job easier. Use the simple ingredients when you need to take some stress away from the process. Delicious choices don't always have to be made from scratch. Add some store bought orange juice or pre-cut fresh fruit to save yourself some time and effort. If you want to save money on doing it all from home, just plan it out in advance. Try to cut fruit the night before. Plan out your Easter breakfast ideas for toddlers and the whole family at least a week in advance. Prep literally anything you can, as early as you can.
Is there a time and place for spending hours toiling over marinating something to perfection and spending half a day baking it? Yes! Absolutely! But time and experience has taught me that it's much better to just pick your battles. Trust this momma who has had her fair share of anxiety over little things when making holiday plans. That doesn't exist and we can only do the best we can. Might as well enjoy the process right?
Final thoughts
So what did you think? This recipe seems simple enough to try right? I hope it makes your short list of recipes when planning your Easter breakfast ideas for toddlers, kids, and the whole family! Simplicity equals bliss my friends!
Easter time means family, food, and fun this time of year! If you have the chance to make your life a little easier during the holidays, do it! Try it this Easter with a store bought roll of cinnamon rolls and fun sprinkles! Just go for it! You won't regret it and you'll find more joy making a delicious breakfast your family will love!
I hope you enjoyed this easy, Easter bunny breakfast idea! It's a great addition to any bunny inspired menu and makes such a wonderful family tradition! These little bunnies will be the star of any holiday breakfast. On my list of Easter breakfast ideas for toddlers and the whole family, this one is at the top for sure! Wishing you the best memories planning your holiday morning menu for your family! I hope this fun recipe makes your special breakfast this Easter one to remember. If you give this recipe a try for Easter Sunday, let me know how it went in the comments! I'd love to know if you tried anything new or have any suggestions!
If you're looking for more adorable Easter ideas, check out this list of other fun easter breakfast ideas! Go to EASTER: A GUIDE OF OUR FAVORITE IDEAS AND TIPS for more things to try during your Easter celebration this year. You'll find this list to be a wonderful way to save your time and sanity while helping your family fond memories together. Wishing you fun travels on all your life's adventures!
Save this post for later
Looking for more fun ideas? Check out my Pinterest board! Make sure you take a moment to pin this to your boards, too! Then you can find it easily when you're ready to bake all your Easter recipes!