Easter Ideas: How to Make an Easy Charcuterie Board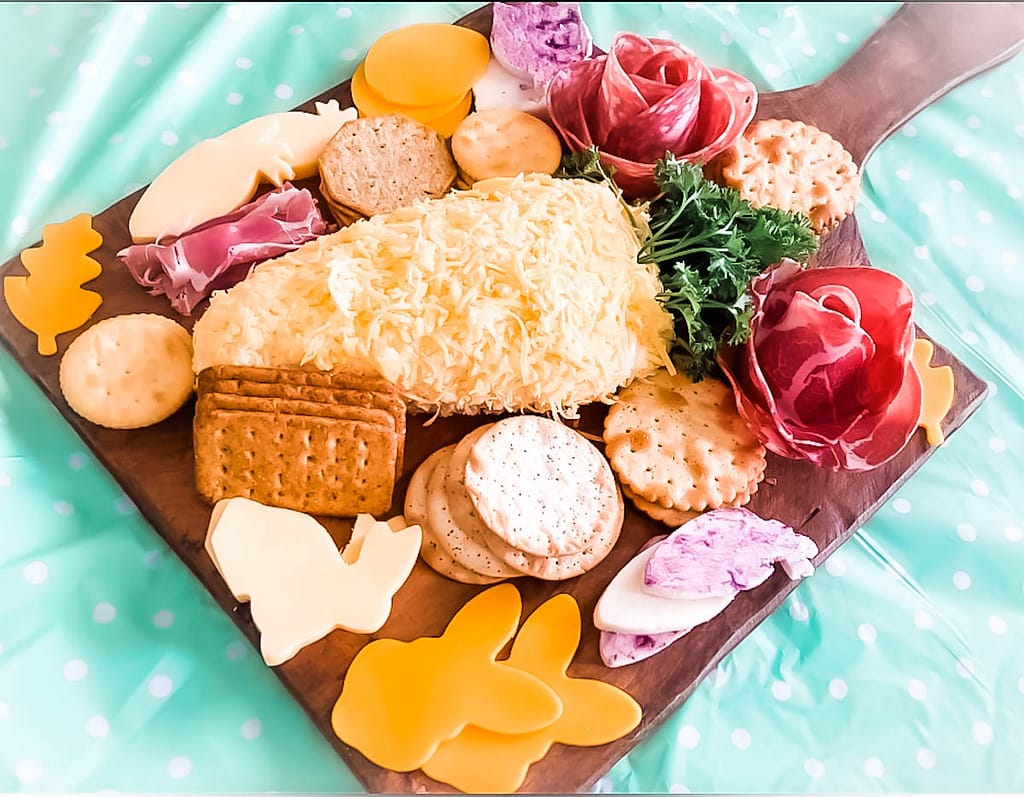 Looking for a great addition to your list of Easter charcuterie board Ideas? These easy to execute tips will be a huge hit at your next Easter party! I'm going to show you a simple way to dress up those little finger food items. Together, we'll turn them into a delicious grazing board worthy of any large gatherings. Once you've tried these fun ideas, I'm confident they'll become a new tradition for your Easter holiday in years to come!
Supplies for these Easter Charcuterie Board Ideas
Choosing the theme of board
You'll want to start by deciding what type of themed charcuterie boards you want to make! You could do traditional charcuterie boards filled with cheeses and crackers or maybe it's an Easter dessert board! Either one could be the perfect addition to your holiday spread. You may even choose to do both!
Choosing the type of Easter board to serve on
A great Easter charcuterie platter starts with a dish to serve it on. You can use a wooden board or maybe a pretty large platter. If you're planning a party for a very large crowd, you may forgo the board or platter altogether and just use a large table runner of parchment paper. If it's an intimate setting with just you and your spouse, use a small plate!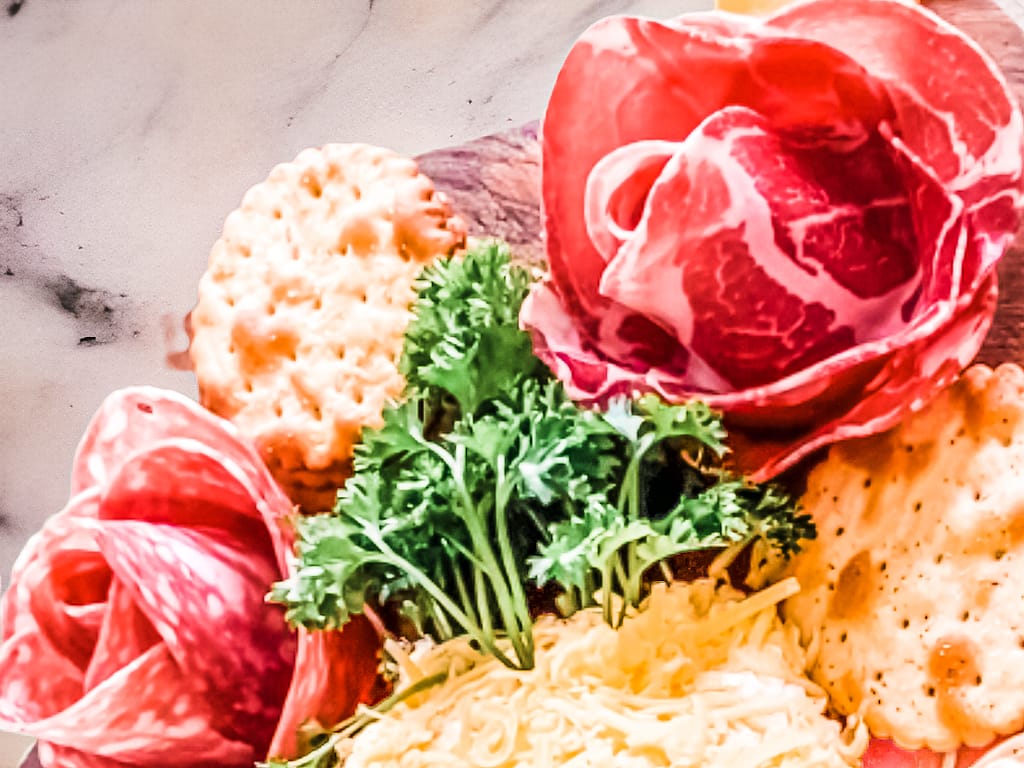 Choose food options for a delicious Easter charcuterie board
Check out these lists below for ideas of what you could add for an Easter celebration board by type! There are many more ingredients to consider using for your own charcuterie board. These mentioned below are just some great basics to go to if you're drawing a blank.
Appetizer board:
Fresh fruit
Variety of cheeses
Variety of meats
Hard boiled eggs / deviled eggs
Savory snacks
Cheese ball
Fresh vegetables
Nuts
Candy board:
Jelly beans
Chocolate bunnies
Marshmallow peeps
Chocolate eggs
Other colorful candies
When choosing your charcuterie board basics, you'll want to keep a few things in mind to make it come together nicely. First, choose things that color coordinate. During the spring season, for instance, maybe choose foods that come in pastel colors. Perhaps you want to make your board all one color theme. You could just choose one color for a monochromatic look. If it's orange, maybe do a few shades of orange in the cheeses, sweet potato chips, spiced nuts, and carrot sticks. These are just a few ideas to get your creativity flowing when choosing your basics.
Creative way to make a beautiful Easter charcuterie board
By now you've chosen your basic food options, the type of board you're going to use, and the overall theme of the board. Now we get to do the best part! Let's add a bit of flair with some of my own favorite things I use on Easter weekend.
Decorate with edible flowers
Here's another quick idea that adds some texture and personality to an easy Easter charcuterie board. Make edible flowers! This snack board addition can be made with many different types of meats. I go into more detail on how to make these on this blog post: HOW TO MAKE EASY CHARCUTERIE BOARD MEAT ROSES.
Use a cookie cutter
One of the easiest Easter charcuterie board ideas in my arsenal is simply using cookie cutters. You can use this same idea for any board for any occasion. For Easter, I like to use cookie cutters in the shape of a carrot, bunny, chick, and flower. I'm sure there are many more shape options out there that would work great for this holiday. These are just some of my favorites!
What items can you cut with a cookie cutter? Use them to cut different shapes into fruits and sliced cheese with ease! It's a very quick and simple solution to add some extra festivity to your board.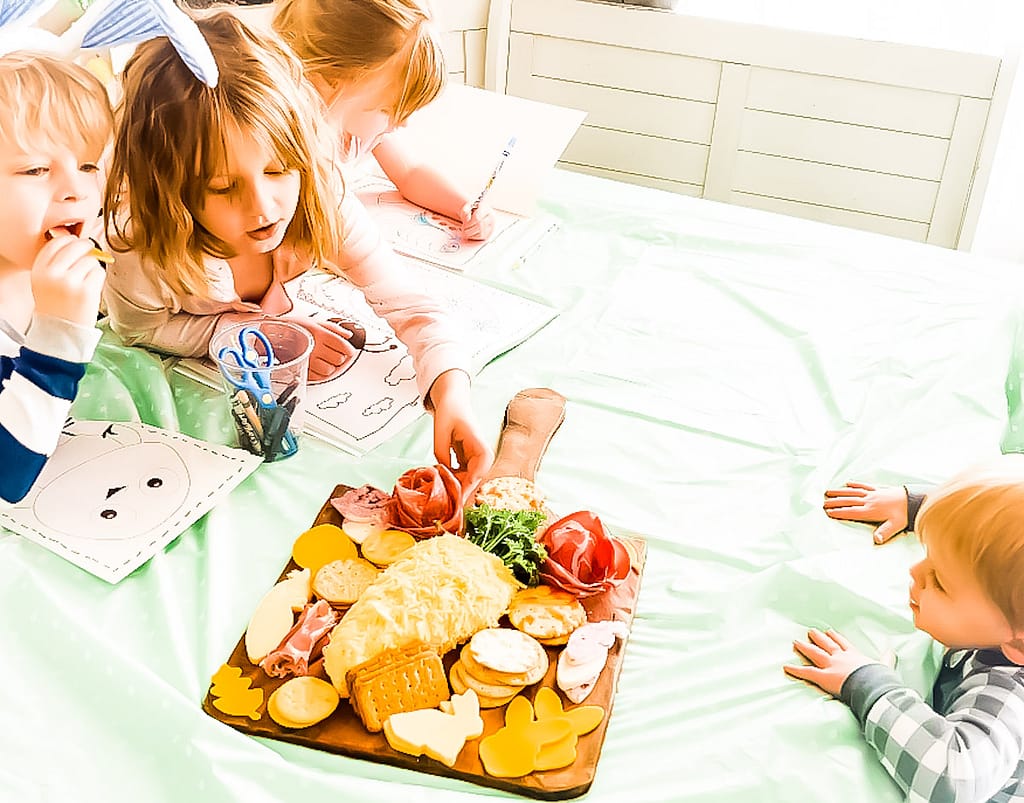 Add an easy carrot shaped cheeseball
There are so many great cheeseball recipes out there. One of these days I will share some of mine with you but for now, just choose your favorite go-to recipe that goes with the overall theme for your board. Make sure you choose one that will taste delicious with a shredded orange cheese around the outside.
Fun fact: cheese ball is a great party food! You can prep it days in advance if you want! This makes it a holiday hero in my eyes. So if you're looking for something simple to add to your holiday spread, grab for a cheese ball.
Now you've chosen your cheese ball recipe and made the cheese ball mixture. Typically you would roll it into a ball and put it into the refrigerator to chill. To make it perfect for this Easter cheese board, we're going to shape this one into a carrot! Once you've got your cheese ball mixture ready to go, drop it into some saran wrap, then roll it up into the general shape of a carrot. To achieve the carrot shape, roll it out where it is longer than wide. Then push some from one end to the other end so that one end is wider and one is thinner. Roll it around in the saran wrap until you achieve the carrot shape you like most. Put it in the fridge to cool for at least an hour. Remember that you can even prep this part a few days ahead of time.
Finish off your carrot shaped cheese ball just before serving it by rolling it in a shredded orange cheese. Once covered in cheese, place it where you want it to be on your appetizer tray. Last thing you'll do is add some sprigs of fresh curled parsley to give it the look of carrots pulled straight from a garden.
Final notes
Hopefully these tips will help you when the Easter bunny stops by this year. An Easter themed charcuterie board may seem difficult to achieve at first. By adding a few of these small details, it can really make your Easter meal come to life. If you give any of these tips a try or have more of your own ideas to share, please let me know in the comments below!
Looking for more great Easter ideas? Check out our ULTIMATE GUIDE TO EASTER post for a list of our personal holiday faves!
Save these Easter charcuterie board ideas for later
Pin now, make later! Use this pic below to save this to your PINTEREST BOARDS so it's easy to find when you're ready.