FAMILY BEACH VACATION MEALS
Planning your family beach vacation meals doesn't have to be hard!  In this post I'll show you exactly how I fed my family of four for only around $100!  We spent our over a week-long vacation in a condo by the beach! The whole family ate well!  And the best part was that I didn't spend the hours cooking in the kitchen making our own meals! Ready to see how we did it? Let's go! 
STRESS-FREE BEACH VACATION MEAL PLAN TIPS
DO YOUR MEAL PLANNING AHEAD
The best way to save money on groceries for your meals and snacks on family vacation is to plan ahead! For the first 24 hours of our trip, we determined that we could save money on road trip snacks, dinner at the hotel room the first night, and breakfast the next morning. All we had to do was pack a few groceries from home. I'll give you the full list of our meals and a grocery list further into the post.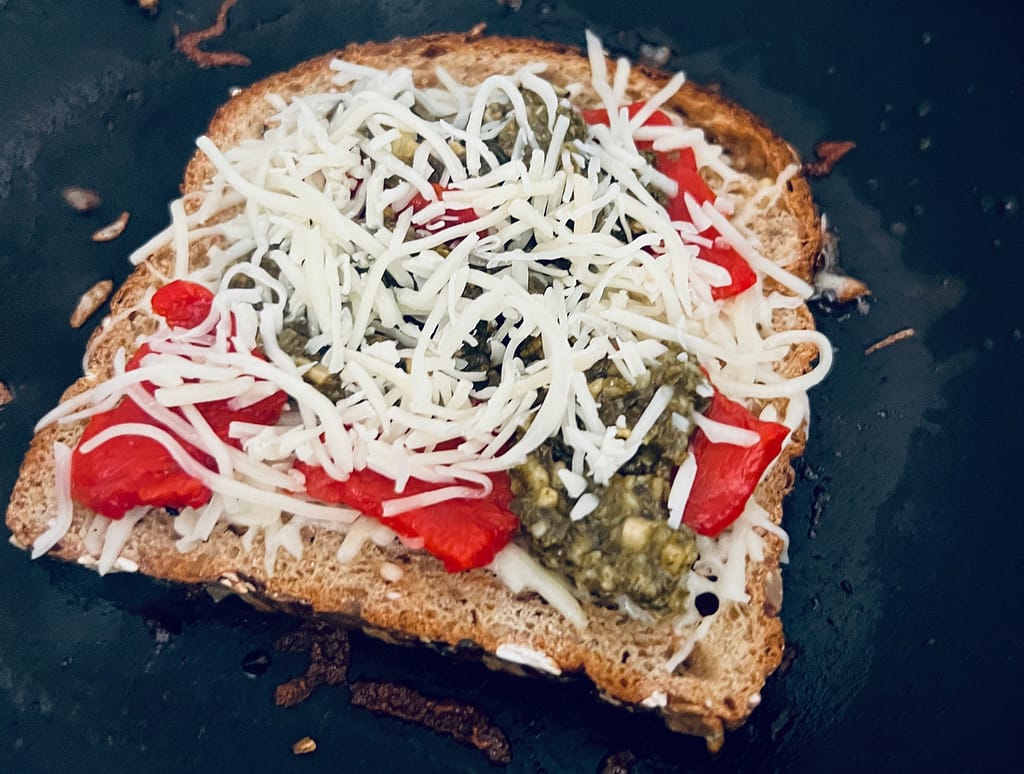 WHAT ACTIVITIES DO YOU HAVE PLANNED?
I then like to think through all the special activities on our agenda. On this trip, we actually stayed at a resort the first night half way to our destination.  We also had two days of excursions away from our beach condo. We had one on a boat for a kids fishing trip and another one at a farm doing goat yoga! I also wanted to prepare some beach food ideas, just in case we stayed at the beach during a meal a few days. I knew I'd want to choose some beach foods that would pack well with all our beach gear. 
Keep your activities in mind so you know what type of foods you'll want to have ready.  For example, I'm not going to make a large batch of spaghetti and meatballs to take those leftovers on excursion days.  Instead, knowing the activities tells me I'll need more temperature friendly foods, hydration options, and snacks for in between meals.
SNACKS & WHY YOU SHOULD PLAN THEM
Road trip snacks are almost always perfectly curated and sized at a gas station! However, you'll often pay triple or higher there than in the grocery store! If you only choose one of my money saving tips, grabbing snacks from the grocery store instead of gas station is a great option!
If you're looking for the perfect snack ideas, the best place to ask is your family. On our trip, I let everyone pick two regular size options of their favorite snacks. You'll spend at least half of what you'd pay for the smaller bags if you grab for regular sized snack bags instead. For instance, I'm a sucker for white cheddar popcorn! Instead of buying the individual serving size bags, I bought a regular bag of white cheddar popcorn.
I also packed a few Ziploc bags in all sizes from our pantry at home. I typically use reusable containers but having something disposable when traveling is the place I'll fudge a little on my house rules. Those disposable baggies always come in handy when traveling, especially with kids!  I use the Ziploc bags to separate out smaller portions of the snacks during our road trip, on the go, and for the frequent beach trip.
UTILIZE THE LOCAL GROCERY STORE
We purchased very few things in advance of our trip.  The things we bought ahead of time were items mostly for eating on the road.  The other items I added to a shopping list and scheduled the grocery pick up for the exact day and time that worked for our schedule.  
Using grocery pick up services at the local grocery store saved me at least one or two hours of time walking the aisles myself.  You'll gain more of your vacation time back by doing it this way.  You could save yourself even more time if you find a way to have the groceries delivered directly to you.  While grocery pick up is often free at most stores, grocery delivery could be a small additional charge but could be worth the money if it saves your vacation time. 
INEXPENSIVE, FAST, EASY VACATION MEALS IDEAS
You can grab my FREE $100 FAMILY BEACH VACATION MEALS GROCERY LIST below!
You could also use some of these quick ideas shown here if you'd prefer to build your own grocery shopping list!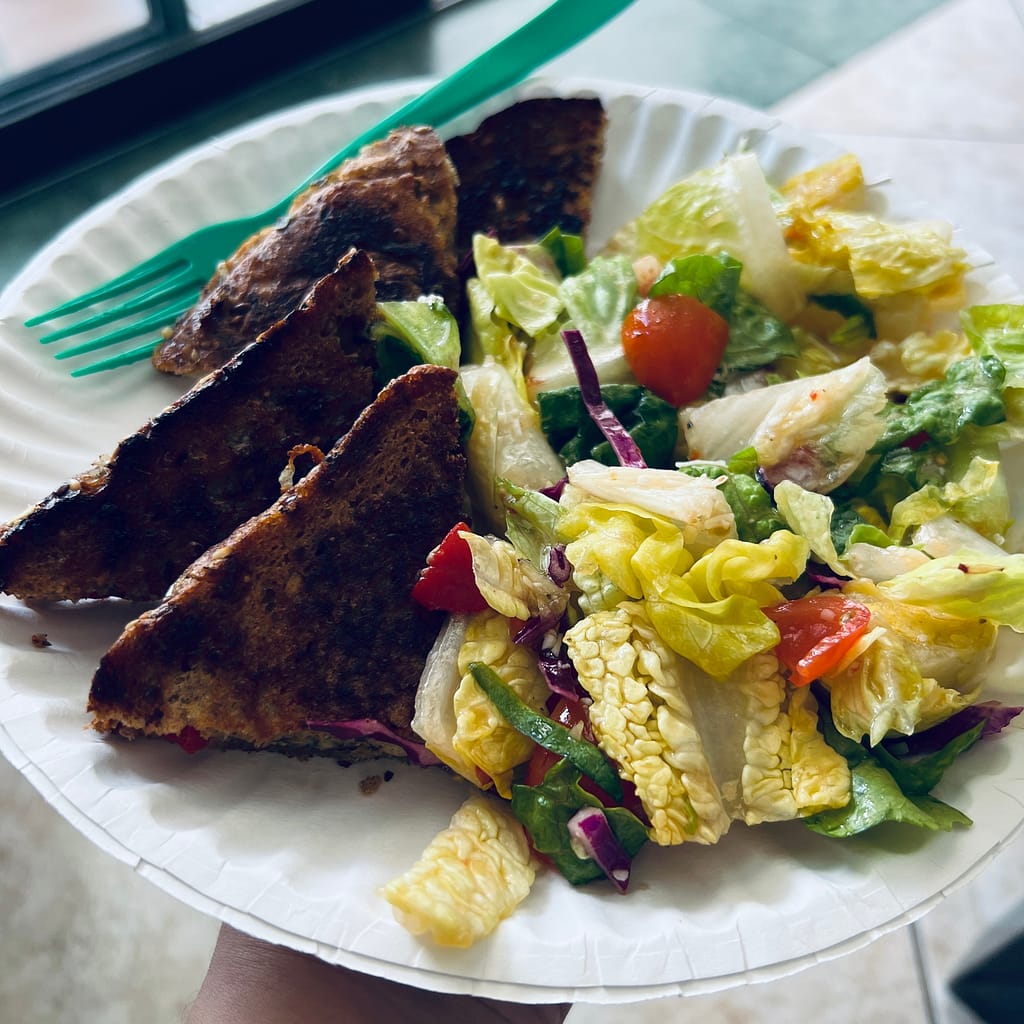 MEALS & SNACKS FOR A LARGE GROUP
Family Reunion Meals or Large Family Meals
Hot Dogs
Fresh Fruit
Raw Veggies
Tortilla Chips
When it comes to planing meals for a large group, I prefer minimal prep and simple recipes.  Sometimes it's best not to cook at all and just get things that come ready to throw over a bonfire or grill. You can always buy pre-made foods from local restaurants for cheaper than dining in. You can also purchase meals ready to serve from most grocery store deli departments like potato salad or pasta salad.  Buying food this way will cost more though so if you're looking to get something cheap and easy, a hot dog cookout is the perfect cheap meal idea for a big group.
BEACH DINNERS, LUNCHES, & QUICK MEALS
Sandwiches (temperature friendly)
Peanut Butter & Jelly / Banana Sandwiches
Pasta & Salad Mix with easy toppings** (See note below)
Chicken Salad Croissant Sandwiches
I made a delicious marinade with mozzarella pearls, Italian dressing, and some seasoning.  Most of the marinated mozzarella pearls were used for antipasto skewers. We mixed the remaining marinated mozzarella pearls and all the remaining marinade with pasta once and used some for a salad dressing.  Then we took some leftover cheese from another recipe and amplified the flavor of each.  If you can find a way to use the same item for multiple uses, you'll save more money and have less food waste at the end of your trip!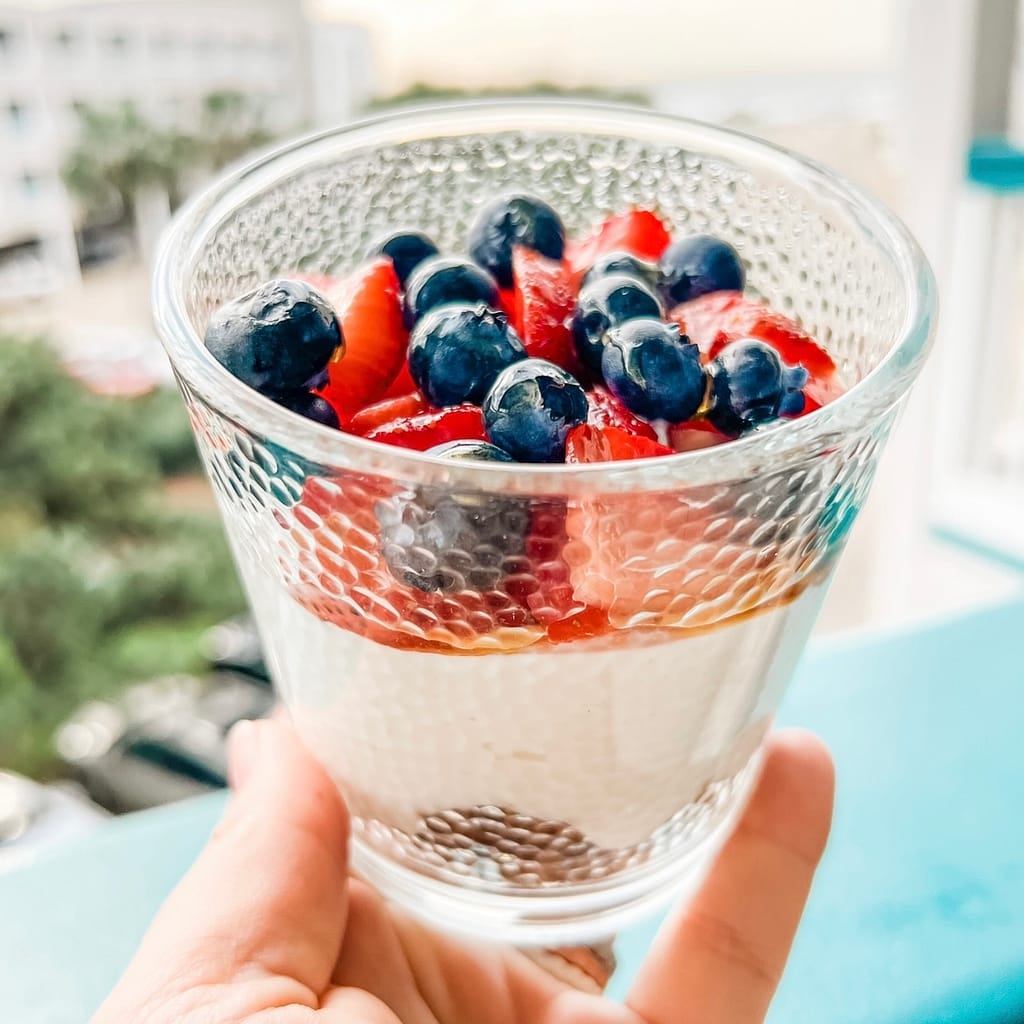 BREAKFAST IDEAS
If I'm on vacation, I don't want to spend a lot of time cooking and want to be doing as little work as possible.  A great way to keep costs low and vacation hours well spent high is to plan some easy meals that come together fast. Bagels or a Breakfast Parfait come together quick for breakfast with little to no prep and no dishes! These are perfect when you want to get the most time out of your day.
OTHER BEACH HOUSE DINNERS
Taco Night (meat of choice, flour tortillas, sour cream, red onion, etc)
Leftover Night
Sheet Pan Fajitas
Slow Cooker Recipes
Our vacation rental didn't offer a slow cooker and I really didn't want to pack one to go with us.  Make sure that whatever recipes you make won't be at the mercy of whatever basic tools your rental will or will not have available to you.  For my own meal planning list, I chose to skip over any meals that required more than a cutting board, knife, pan, or sheet pan.  I also always confirm with the property host what types of basic tools will be available for us.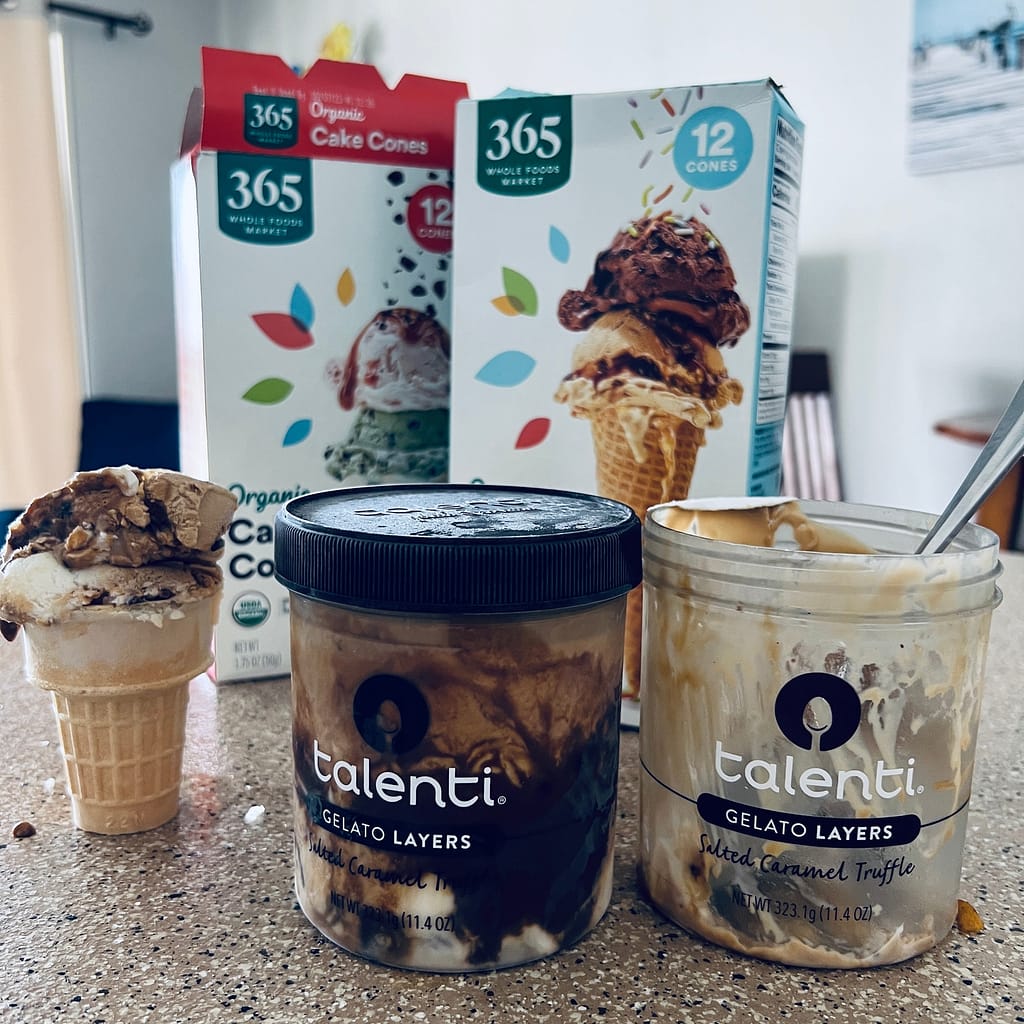 DESSERT RECIPES & OTHER FUN IDEAS
Ice Cream & Ice Cream Cones
Popsicles (long, skinny ones that are ok even when they melt)
​Cookies
A few unique drink options
Food on skewers (veggies, fruits, etc)
Just because you're saving money on meals doesn't mean you can't still have fun with the options.  One of the coolest parts about traveling is getting to experience different foods in the local restaurants.  You can recreate the same feeling when making your own meals by adding a few special touches.  For example, we used Swedish Fish to make drinks special sometimes. We used popsicle juice & Sprite, then added a Swedish Fish candy to each drink to look like fishes swimming in the ocean. We also bought special ice cream and the nicest cones we could find so it felt like a real treat we may get from a true ice cream shop by the beach. And guess what? Young children LOVE these special touches. The simplest things make it extra special and will be something they'll remember.  
BONUS TIP: Bring along an insulated water bottle that fits the stick popsicles! Even if you're at the beach for several hours, you can bust open your insulated canister and have perfect popsicles whenever you're ready for them!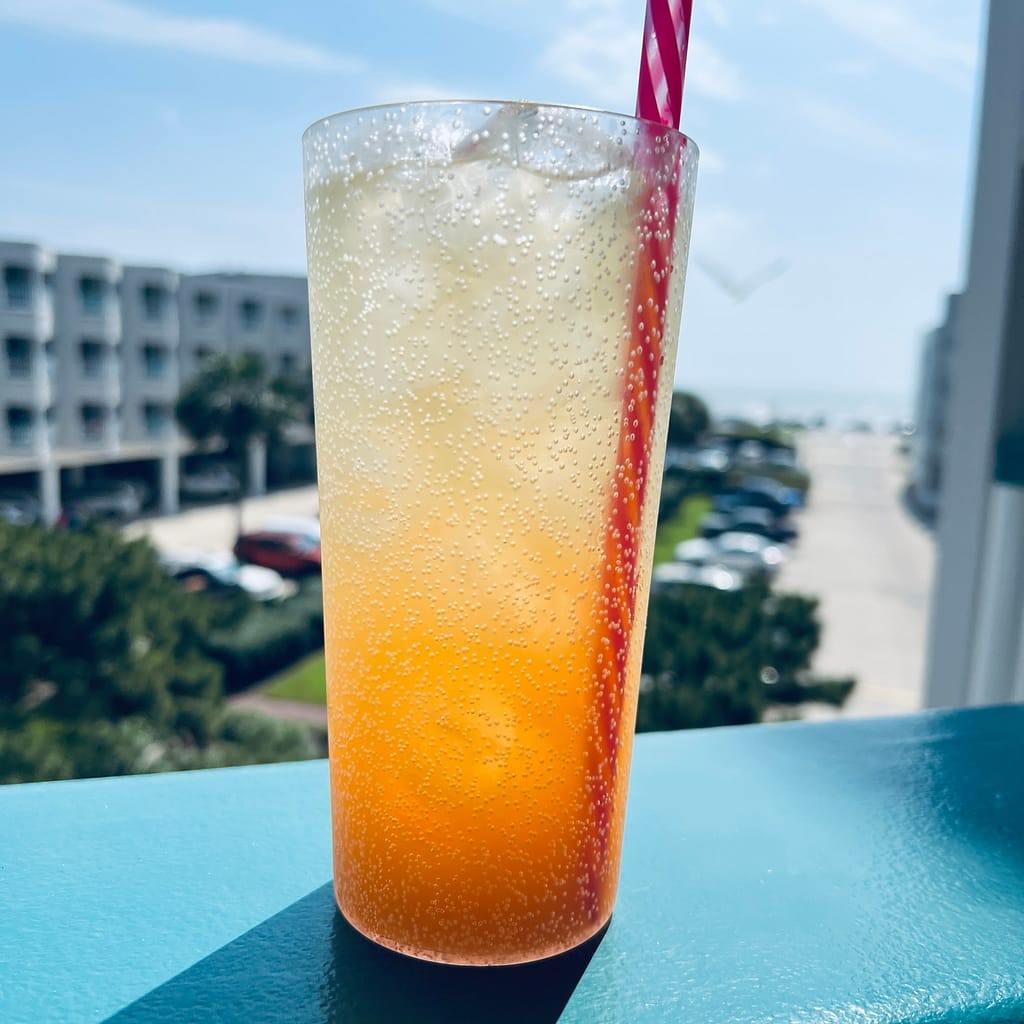 OUR LIST OF MEALS
BREAKFAST
Bagels + Cream Cheese
Oatmeal Packets
Eggs with Bell Pepper & Onion + Toast
Lunches & dinners
Salads (Assorted Toppings Based on What We Had On Hand)
Sandwiches (Assorted Toppings Based on What We Had On Hand)
Chicken Salad Sandwiches (Greek Yogurt + Apple + Grapes + Chicken)
Charcuterie (Jam + Bread/Crackers + Meat + Cheese)
Veggies & Rice (Squash + Zucchini + Onion + Rice + Pasta Sauce)
Pasta (With Italian Dressing + Cheese + Marinated Artichokes + Roasted Red Peppers)
snacks & desserts
Tortilla Chips + Guacamole (Avocados + Tomatoes + Garlic + Onion + Cilantro + Lime)
Antipasto Skewers (Roma Tomatoes + Marinated Artichokes + Mozzarella + Roasted Red Peppers)
Ice Cream + Toppings of Choice
Applesauce Pouches
Fruit Skewers
Apples
Cookies
Popsicles
Popcorn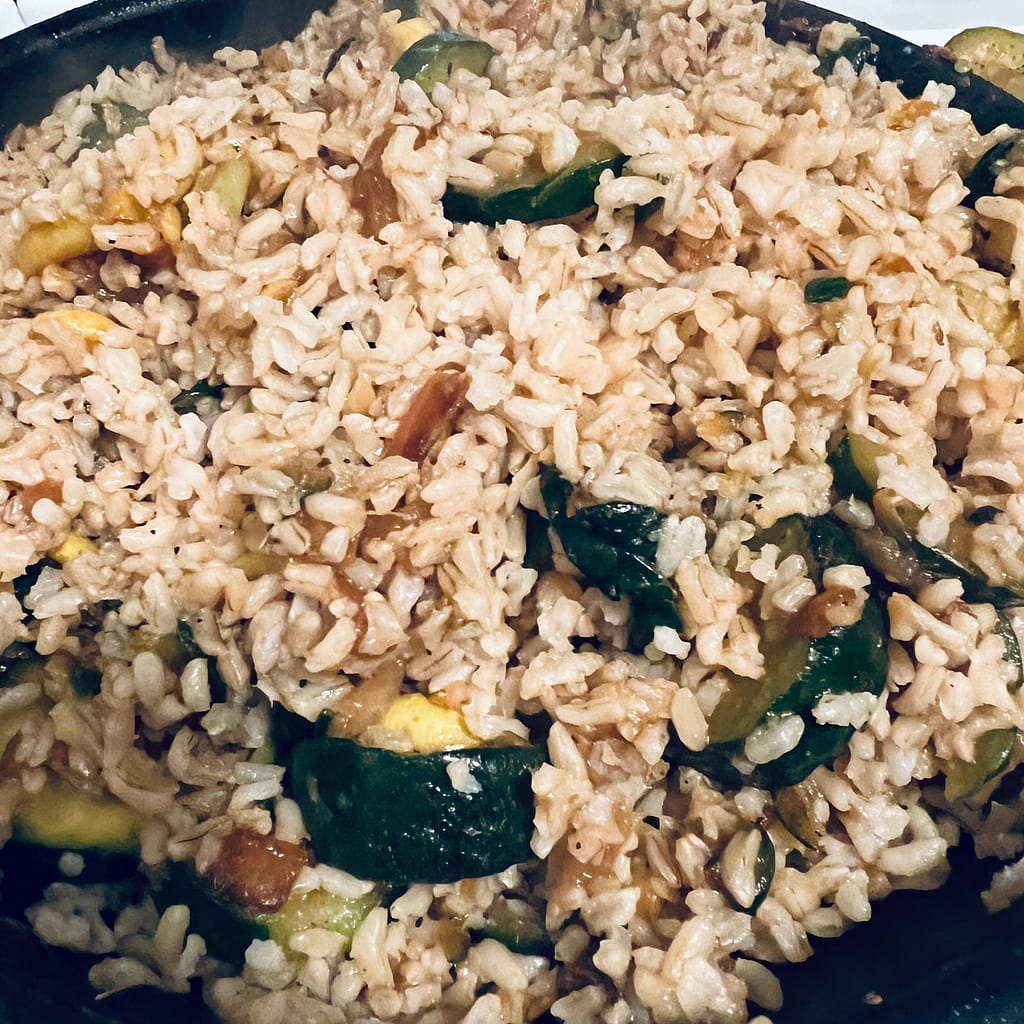 FINAL THOUGHTS
Vacation time should be relaxing for the entire family.  The last thing we want to do on vacation is to spend all the time we could be relaxing making meals for the family trip. The most important thing to remember when planning your family beach vacation meals is to plan ahead.  Use the tips I listed above and make a list that works well for you and your family.
If you want to use our list, you can get your FREE FAMILY BEACH VACATION MEALS GROCERY LIST below.  We also reference some recipes on our list that you can find on our blog.
Let me know in the comments if you found our list helpful! Have other great ideas to share? Tell us those too and we may add yours to our post! 
SAVE THIS FOR LATER
You may lose this page in the chaos of the rest of the tabs on your phone! Make sure you copy the link to this post, and use this image to save it to your favorite Pinterest Board so it's easy for you to find later!