Goat Yoga – What It Is & Why You Should Try It
If you find yourself looking for something unique to do on your next trip, try goat yoga!  We'll share our family members personal experience and what you can expect your first time. We'll also share how it compares to a traditional yoga experience and answer some common questions.  
​The Traditional Yoga Experience
Most yoga practice involves yoga mats and maybe a water bottle. You'll usually experience regular yoga in the privacy of your home with as little as a minute yoga class.  Or maybe you go to a yoga studio and have a yoga instructor.  Certified instructors typically give you detailed instructions on how to do each pose.  You also usually have a flow to the order in which you do them. Some of these things are still true when it comes to goat yoga.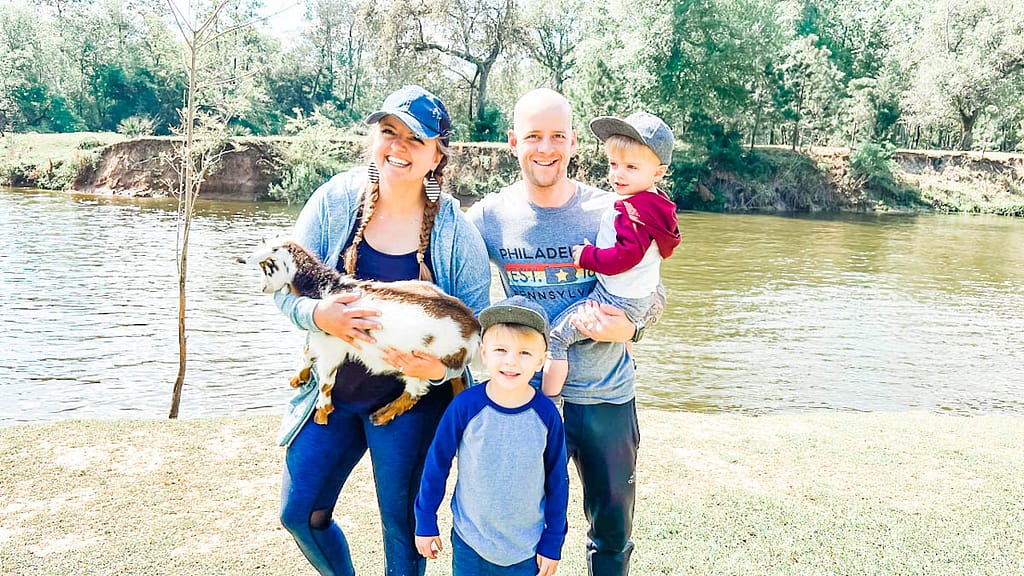 What Is Goat Yoga And How Is It Different? 
In our experience, goat yoga involves many of the things you'd find in traditional yoga, but this time you add in farm animals. For us, we still used a yoga mat, had a water bottle, and yoga teacher! Instead of an indoor yoga studio, we experienced the entire class outdoors in a grass-covered field by the water. There wasn't a traditional flow between the movements in our session, but ours was a little different since we were working around having our little ones involved.
These type of yoga sessions are perfect for any animal lover! During our experience, we encountered playful baby goats and other farm animals which led to laughter yoga for sure!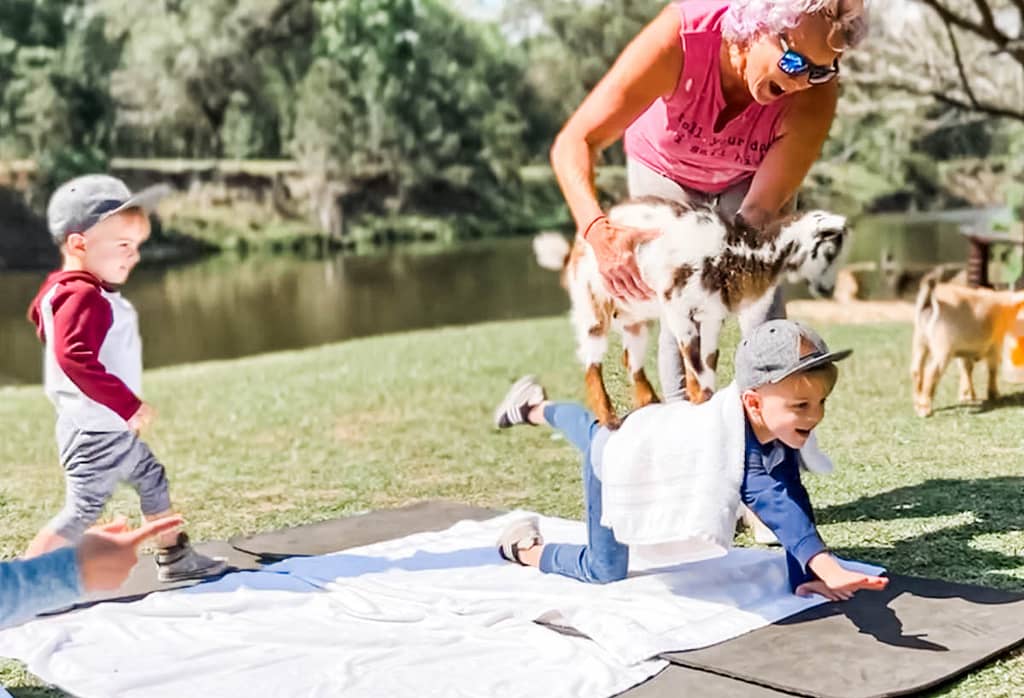 Goat-human interactions can be unpredictable so it is important to come into the experience with an open mind. If you are expecting a normal yoga class with a constant flow of poses, you may leave disappointed. Accepting the circumstances will lead to a kind experience between you and the yoga goats. You will leave your unique experience in a good mood with lower blood pressure. You'll also have the memory of adorable baby goats being your most cuddly yoga partners ever!
The type of goat yoga experience may vary by location so do some research beforehand to determine what is most important to you when booking. If you want a more advanced class, seek that out during your research. Ask the provider for in-depth information on the experience before you schedule your visit.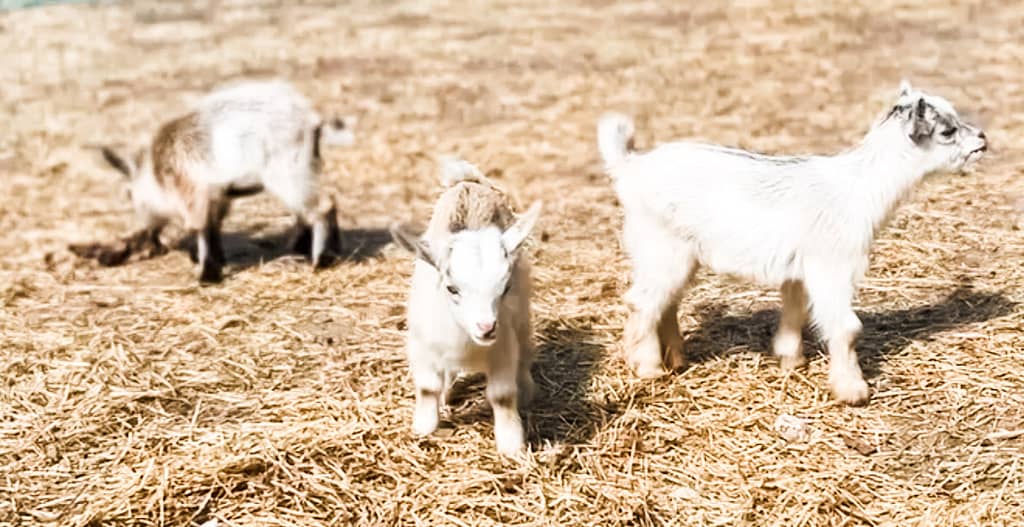 How To Plan The Ideal Goat Yoga Experience
Goat yoga has been gaining popularity and can be found popping up in some of the least likely places.  There's no need to overcomplicate your trip to experience this type of yoga.  Here are a few simple things to keep in mind when planning your first goat yoga class.
Is it Suitable for my Human Kids?
We chose to book one of the farm's private events because we were traveling with our six and three year old sons.  This meant having the hosts attention the entire time so our family had their full attention for safety of our kids.  Many locations may not even allow goat yoga with little ones so make sure to check with the facility before booking.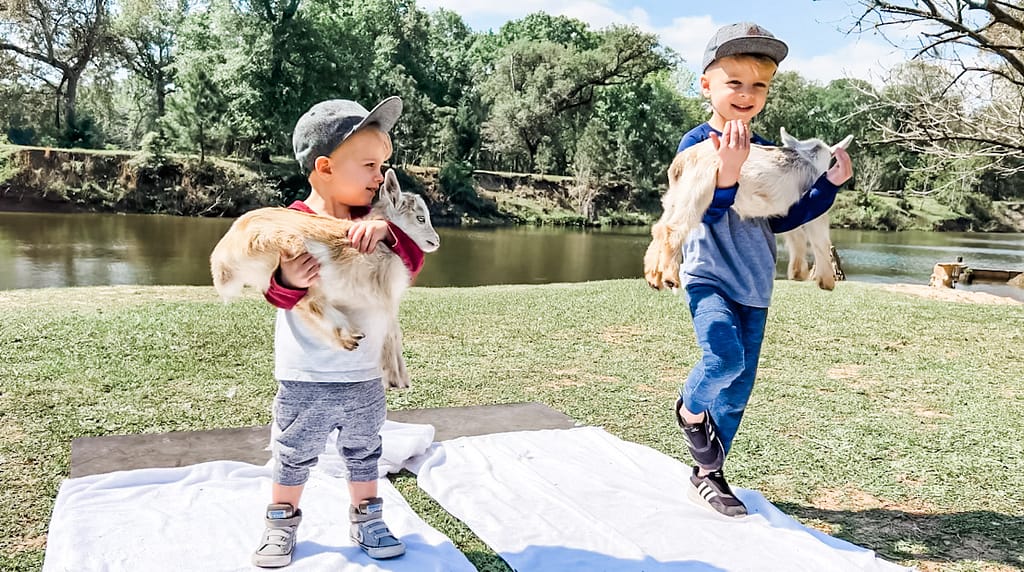 Are you beginners or advanced yogis?
Some goat yoga spots cater to one, either, or both.  Do research on the facility you have in mind to determine if they will be a good fit for your yoga experience level and expectations.
do you want public goat yoga classes?
Different goat yoga places have different rules.  If you're worried about being in a crowd, look for a spot that offers private goat yoga events. If it seems pricey, invite a few friends to join you and split the cost.  Then you can all have a memory that will stay with you forever! Some places may even allow you to rent the whole place for special events!
What if I want to see the goats but no yoga?
Many goat yoga places have Happy Hour times where you can come in and experience the farm animals without the pressure of trying any yoga moves.  Some places may offer a different type of Happy Hour event that does involve yoga so make sure to check with the facility for their details.  
Can I gift someone the experience?
Most goat yoga experiences either offer gift cards, gift certificates, or at least a way to pay for a class date in advance on behalf of someone.  You will want to contact the goat yoga provider for more details on any programs they offer to accommodate gifting the experience.  There may also be forms the gift recipient will be required to fill out. Get all the facts from the facility when you reach out to them.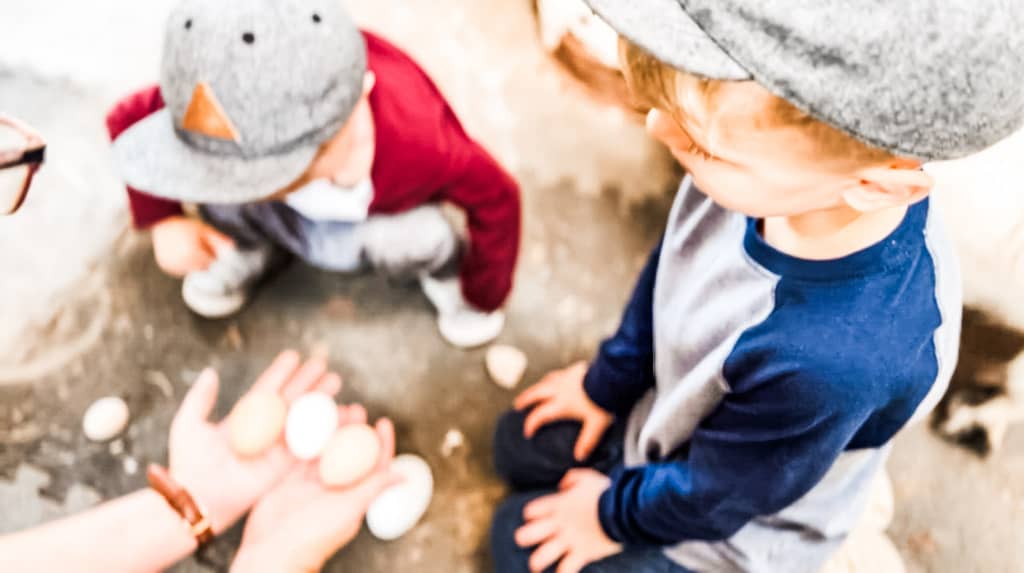 Looking for a goat yoga stay in southeast Texas?
Make sure you VISIT Goats on the Bayou in Alvin, TX if you're visiting Houston or Galveston area. We found them on our quest for a unique family experience during our recent road trip to the beach. The hosts were kind, attentive to our little ones, and made sure to include baby goat yoga with our little three year old. It was the perfect combination of educational and interactive petting zoo, family pets, and goat yoga.
Goats on the Bayou even offers lodging! Unique to many other places, this one is situated on Chocolate Bayou.  The hosts were so gracious to also allow my family to use their paddle boat to explore the bayou up close! 
Final Thoughts
Goat yoga can be a happy distraction from the monotony of regular daily activities or a traditional yoga class. It has become an exciting thing for people to add to their bucket lists, requiring an open mind to enjoy it to the fullest. My family was so thrilled to experience something this unique together. I know we'll be talking about it for years to come!
save this for later
Save this to your Pinterest board so you'll have it ready when you book your first goat yoga experience!