How to Make Chocolate Rice Crispy Treats – S'mores Style
Today I'm sharing with you how to make chocolate rice crispy treats – S'MORES STYLE! These delicious treats send me straight down memory lane to when I was a little girl!  Nothing beats a chilly night spent roasting s'mores on the bonfire.  Trust me, this is a NEXT LEVEL hack to your typical cereal treats. You'll find yourself making them over and over again! Ready to try this easy recipe for yourself? Let's go! 
Gather Supplies
There's a short list of supplies to gather before you start.  As with any recipe, getting prepared well before you begin can keep it low stress and fun!  
supplies quick list
Large pot
Rubber spatula
Square Pan or other Glass Baking Dish
Parchment Paper / Wax Paper
Sharp Knife
Cutting Board
Airtight Container for Storage
recipe prep
Making these on the stove top (my preferred method) you'll want to make sure you have a large pot and rubber spatula.  If you want to make yours in the microwave instead, I've shared more on that a little further down. 
You'll be keeping a close eye on your melting butter and gooey marshmallow mixture in a bit. That's why you should gather the rest of your supplies now to make the process fun and easy. Grab a square pan or really whatever kind of baking dish you have around. A 9×9 square pan, glass Pyrex or even a 9×3 will do the trick. If your pan has a lid, that's even better. You'll need an airtight container to store the finished treats in later. Using a glass baking dish with a lid means you can use the same dish to cool and store your treats once you've cut them. Who doesn't love less dishes to clean?
In the pan used to cool your chocolate rice krispies treats, preset a piece of parchment paper.  Give the pan a spritz of nonstick cooking spray on any edge of the glass pan that's showing. This helps keep the treats from sticking.  The parchment paper is usually enough for me, but when dealing with sticky marshmallows it doesn't hurt to be over prepared. 
Can I make these treats in the microwave?
Absolutely!  To make this recipe using a microwave, just use a microwave-safe bowl. Make sure you have a way to shield the contents of the bowl from splattering in the heat or you'll have a big clean up to do.  
Melt butter first, then stir marshmallows in. You can reduce spattering butter and burnt marshmallows by checking and stirring the contents using a 30-second interval at first.  Shortening the second intervals may be necessary, just keep an eye on it each time you give it a stir to make that call.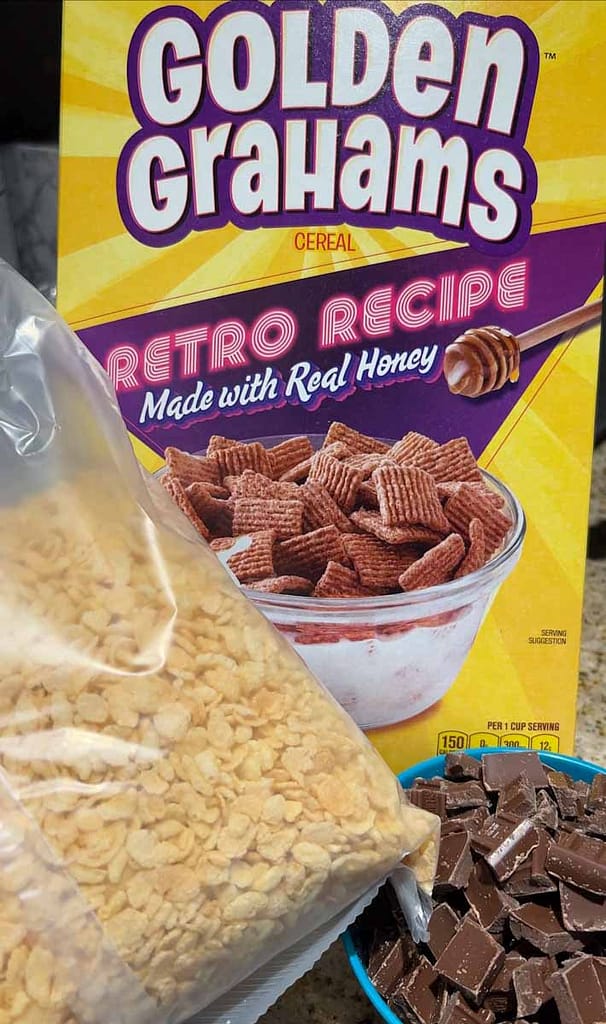 Making S'mores Rice Krispies Treats
A classic rice krispie treats recipe calls for butter, marshmallows, and crispy rice cereal.  This great recipe uses those same ingredients but just adds a few to make it over the top.  For a delicious, s'mores-style treat, we add Golden Graham cereal and mini-Hershey candy bars. 
S'mores rice krispies treats ingredients
Jumbo Large Marshmallows (12 oz bag)
Melted Butter (6 Tablespoons – I prefer salted. Unsalted butter is great too!)
Vanilla Extract
Rice Krispies Cereal (or similar brand is fine)
Golden Grahams Cereal
Mini Marshmallows (about 1/2 of a 10 oz bag)
Hershey Milk Chocolate Bars, Fun-Sized (12, use more or less if you like!)
time to make the treats
Melt Marshmallow Mixture & Prep Chocolate Bars
First, pop all the mini Hershey bars at their break lines, then pop each piece in half. While breaking the chocolate bars, melt the butter on the stovetop at medium-low heat.  
Once the butter is melted, add in the bag of Jumbo Marshmallows.  Make sure to stir it constantly so the marshmallows don't burn anywhere.  I start using my rubber spatula right here, make sure yours can handle the heat.  If not, a wooden spoon will be fine and just change to a rubber spatula later when the pan is off the burner.
After the marshmallows and butter are melted together and combined, remove the pan from heat and mix in a teaspoon of vanilla.  
There are other add-ins you could put in at this point if you want to make these your own.  Check out the section below, Important Side Notes and Variations, for ideas.
Add Cereals
Mix in Rice Krispies and Golden Grahams Cereals to the marshmallow mixture directly in the pan. I put about a third or a half of the cereals in at a time, mix, then add more cereal.  Otherwise it gets hard to stir and the marshmallow mixture may distribute unevenly.
If it starts to harden too fast, I put my pan back on the still-warm stovetop burner to warm my pan slightly and help me get to the finish line.  Once the cereals are in, add in the half bag of mini marshmallows, leave out a half cup or so to sprinkle on top later if you'd like.
Transfer to Pan
As soon as you're done mixing the ingredient above, it's time to transfer the gooey mixture to your pre-prepped pan.  I like to use a 9×9 square pan lined with parchment paper and a light spritz of cooking spray.  
Lightly spread half the mixture into the pan. Add half the broken chocolate bars and half the reserved mini marshmallows, spreading them out evenly across the top. Add the last half of the marshmallow and cereal mixture to the top of that, spreading it out softly and evenly.  As before, evenly distribute the mini chocolate bar pieces and mini marshmallows across the top. Tap lightly on the top of the mixture to get it set evenly throughout the pan, pushing too hard will make the bars dense.  
Important Side Notes and Variations
Don't burn the marshmallows – Make sure you stir them well and constantly. Keep it to a medium-low heat, lowering it a little still if you're worried it may burn. 
Don't push too hard – When adding your mixture to the pan to cool, don't push down too hard.  The harder you push the more dense the bars will be. 
Amp up the chocolate flavor – An easy substitution is to mix in cocoa krispies cereal instead of classic rice krispies. You can also add in some ingredients to the gooey marshmallow mixture before you mix in the cereal.  Try unsweetened cocoa powder or melted chocolate.  You can also add more chocolate by adding semi-sweet chocolate chips or mini chocolate chips during the end of mixing your marshmallow and cereal mixture together.  Chocolate lovers can also get more flavor by adding a melted chocolate drizzle over the top once the bars are fully made. 
Play with add-ins – Peanut butter lover? Try mixing in a 1/2 cup to the marshmallow mixture before mixing in the cereals!  Add-on some chopped Reese's candies, minis, or peanut butter chips for even more flavor.  Add more warmth to your melted marshmallow by mixing in a little maple syrup!
Try them warmed up – Pop them in the microwave for about 15 seconds!  For a moment you may feel like you're right there at the bonfire roasting s'mores biting into a warm, gooey bite of these treats!
Easy holiday tip – You can also add sprinkles for some extra color. I personally love adding sprinkles to everything I can for holidays and special occasions. The splash of color goes a long way to bringing the overall look of your table together.  
S'mores Rice Crispy Treats
Ingredients
6 Tablespoon Butter

12 oz Bag Jumbo Marshmallows

1 Tablespoon Vanilla

10 oz Bag Mini Marshmallows

4 Cup Rice Krispies Cereal

2 Cup Golden Graham Cereal

12 Fun-Sized Hershey Milk Chocolate Bars
Directions
Break Hershey bars at break lines. Break each block in half.
Melt butter over medium-low heat.
Add Jumbo Marshmallows to melted butter. Stir constantly to keep marshmallow from burning.
Once marshmallows are completely melted together with butter, remove from heat and mix in vanilla.
Stir in Rice Krispies and Golden Grahams cereals 1-2 cups at a time. Then, stir in all but 1/2 cup Mini Marshmallows.
Dump half the mixture into a parchment paper lined square pan. Flatten it out gently without pressing too hard. Spread half of chocolate bar pieces across the cereal marshmallow mixture.
Add the rest of the marshmallow mixture to square pan. Flatten it gently without pressing too hard. Spread remaining chocolate bar pieces
Spread remaining chocolate bar pieces and mini marshmallows across the top. Lightly press down to make them stick.
Once cooled completely, remove from pan, cut into squares, and store in an airtight container.
Notes
Don't press down too hard when placing ingredients in square pan or your treats will become dense.
Try different add-ins to mix it up. Add peanut butter to marshmallow mixture, peanut butter candy pieces, or other types of candies and chocolate chips.
Make them party ready by adding sprinkles in the color of your holiday or party theme.
Final Notes
These chewy treats are one of our family favorites! I think you'll love them too.  Let us know if you add anything different to yours that makes them extra tasty.  
Looking for more of our favorite recipes? Check them out HERE!
Take a minute to check out our Pinterest board for more recipes, family, and travel ideas!
Save this for later
Make sure to pin this to your favorite recipe board for later so you have it when you're ready to make them.