Charcuterie Board Rose: How to Make Easy Meat Roses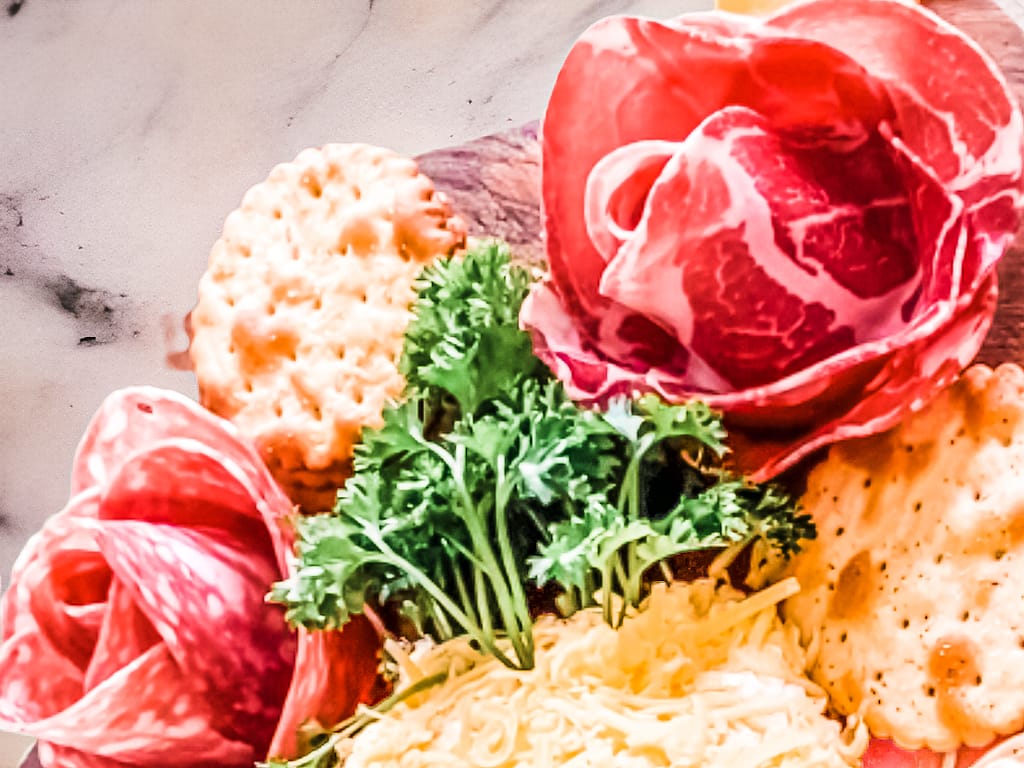 Today I'm showing you a great way to make an easy meat rose charcuterie board for your next party! Maybe you're like me? Ever seen those perfect charcuterie board photos on social media? Maybe you think, "no way am I going to be able to pull that off!" But I'm here to help you prove to yourself that you CAN do it! You just need a few great ideas with easy steps to make this, or any, project come to life! With just a little bit of help from me and a little practice, you'll be making charcuterie roses with ease! Let's dive into the details below! I'll show you how to absolutely crush this when making your gorgeous charcuterie board!
What supplies you'll need
First thing you'll want when making your meat flowers is to decide which meat you're going to use! You can make yours out of pepperoni slices or maybe you'll use slices of salami. There are a variety of meats you can use! The way you approach what meat you put on your grazing board is truly up to you! Something to remember when choosing your meat is that thinner meats need more layers to stand up well. If you choose a sturdier, thicker meat it will stand easier, requiring less layers to support it standing up. Don't worry about choosing the "wrong meat" for building your rose. I'm going to show you how to make any assortment of meats, thick or thin, work on your board!
Next you'll want a variety of round rimmed things to use as the structure for your rose. There really are so many things you can use to make your rose shape. You'll find that there are probably more options than what I list here. Some things I've used in my own charcuterie board ideas are a champagne glass, shot glass, rim of a wine glass, small bowls, larger glass bowls, and small ramekins. When you set out to make your first gorgeous meat flower you're probably going to want a few options. Just pick a few so you're ready to give it a try.
Choosing the size of the meat rose
If you're making a snack board you'll probably only need one little rimmed base to make your small flower. Alternatively, if you're making an appetizer tray for a big party, you may want to use a bowl. Consider using an assortment of sizes when making a large board so you have different sizes of roses on display.
For today's post, I am putting together a small charcuterie board that my husband and I are eating for lunch! I'll be placing the pieces of meat around this small plastic cup from our random kitchen assortment. The rim is a little wider than a champagne flute.
Assembling the meat rose
There are different ways to assemble the roses. I base mine on the thickness of meat and the rim size I'll be using. A good rule of thumb is that thinner meats take more pieces per row and will need placed closer together. Thicker meats can be more spaced out and will take less pieces per row.
The meat I'm using today is thin to medium thickness. Since my rim is smaller, I am using 4-5 pieces per row. I'll be overlapping each piece with a little less than half of the piece before it. It may seem a little flimsy looking when you're finished with the first layer. You may notice that even if you're using a thicker meat. Don't worry! When you add the second row of meat it will begin feeling sturdier and start looking like a rose.
To get that rose petals look, you'll want to alternate where you lay the pieces on every row. You'll notice in my photo there is a point where two pieces of meat on the row before come together. Use that point as the center of the piece you lay on the second layer. Continue that pattern all the way around. Repeat again with the third layer. Use the point where meat overlaps from the row before as the center for the pieces on the current row. Laying the rows of meat this way will make it sturdier and the end result will be a beautiful rose!
Wondering how many rows should you use? This is flexible based on the size of the rose and if you are using thicker cuts of meat. For a smaller salami rose you may only need two or three rows. For larger roses, you may need six, eight, or even ten rows.
Flipping the meat rose
Once it feels stuck together and sturdy at the base you are ready to flip it. I like to use my hand to hold the base together while I flip smaller roses.
If you're making a larger rose, you could put a flimsy cutting board on top. This will help hold it together when you flip it. Then just turn the rose over, slide it off the flimsy board and onto the snack tray. Then remove the glass or bowl once it is resting securely in place. If it falls apart, just try again! This time place your meat closer together, use a smaller rim, or maybe add an extra row or two.
Before flipping your large rose, consider adding some strength to a large rose with a wide center opening. It could be the perfect place to put a bowl to hold something else in the middle. If you decide to add a bowl to the center, add some strength to the structure before you flip it. You can achieve this by adding the bowl first. The rim of the bowl you're using to make the rose is facing up. That means you'll place the interior bowl face down. It will go right in the middle of the meat rimmed bowl. Then when you flip it, the large rose will be around the smaller bowl. Then you can then fill it however you wish! For my smaller cheese board, I made a small rose. Even inside that small of a rose, I am able to fit a crumbled cheese.
Finishing the charcuterie board
Add your meat rose to the charcuterie board before you add the other ingredients to your board. This makes it easier to place the meat roses exactly where you want them. Then you can add in other items like cheeses, breads, fruits, veggies, spreads, and nuts. Add each item to small clusters all around the board. This will add more visual interest. Or leave the same item together in one spot. Spreading out each thing in multiple places will give your board a more styled and collected look overall. This can give your board the look of more variety, especially if you're using only a few ingredients.
Next Level Tips & Ideas
Don't have much time? You can create a truly unique charcuterie board spread in just a few minutes with this simple idea! Do the prep early for your next party! Take some time the day before to make the charcuterie roses. Use a mixture of meats, make some larger and smaller flowers. Then just store them in an airtight container or cover them with saran wrap.
These meat roses make the perfect addition to special occasion boards too! I mean, how cute will these be served up on Mother's Day? Or use these as a way to gift some edible roses via charcuterie board on Valentine's Day! The possibilities are endless!
Final tips
Are you new to charcuterie or a seasoned pro? Either way, you can quickly add some flair to a simple charcuterie board with these quick meat roses. Looking for a fun way to incorporate them into a holiday spread? Check out EASTER IDEAS: HOW TO MAKE AN EASY CHARCUTERIE BOARD for how we used meat roses on another board!
Save this for later
Trust me, you'll want to save this one for later! Pin this photo to your Pinterest board so it's ready when you are! Share it with your friends and tell us how it worked for you!