BEST Things to Do in Bocas del Toro Panama
Looking for an honest list of the best & worst things to do in Bocas del Toro? Then we've got you covered!
YES, we'll be sharing things you should totally do! But we'll also cover what we'd skip, do again, and do differently. We have a cool perspective since we had the great opportunity to spend a full twelve days in the area.
We even link to other helpful posts and a local's blog about Bocas del Toro that may help when planning your own trip!
By the end you will feel extra prepared to make your travel decisions. Our hope is that this post saves you hours and even days of research like we had to do! You'll find loads of other great resources like a free packing list and videos to give you a closer look at some of our own experiences.
Want to get our completely FREE packing list for our vacation to Bocas del Toro? Click below!
Truthfully, we originally found Bocas del Toro by complete accident! I think we saw it on an episode of some island house hunting show. We're both extremely curious, so naturally we like to Google everything we have a question about. (Don't you love that we can find answers in a flash like that?!) … I obsessively searched for all the fun things to do in Bocas del Toro to see if this place was for real. If that's you and you feel seen right at this moment then HIIIII friend you have met your people!
Anyway, Bocas del Toro looked peaceful, exciting, and offered a truly unique experience for our trip! We saw photos of the beautiful islands, lush jungle, and turquoise waters. Instantly we knew this could be the perfect place to make some epic memories! Done! Time to pull out those passports and head directly to this great spot!
And friend that is exactly what we did! We hope you enjoy our list of Things to Do in Bocas Del Toro Panama!
VISIT BOCAS TOWN
FUN WAYS TO GET AROUND
The largest town on Isla Colón is Bocas del Toro itself, you may also hear it as Bocas or Bocas Town for short. This is truly the hub for things to do in the area. Travelers by boat, overnight bus, or plane to/from San Jose, Costa Rica, or Panama City visit the area from Bocas Town.
In addition to being a travel hub, it also functions as the hub for getting around the islands themselves. From Bocas del Toro, you can catch a water taxi to the other islands or land taxi across Isla Colon. (We mention more on travel costs in some of our other posts we linked near the end of this post.) There is only one road in the area and it's center is located in Bocas Town. From here you can also use the road to travel by rented bicycle or eBike. Just outside of town you can also rent an ATV.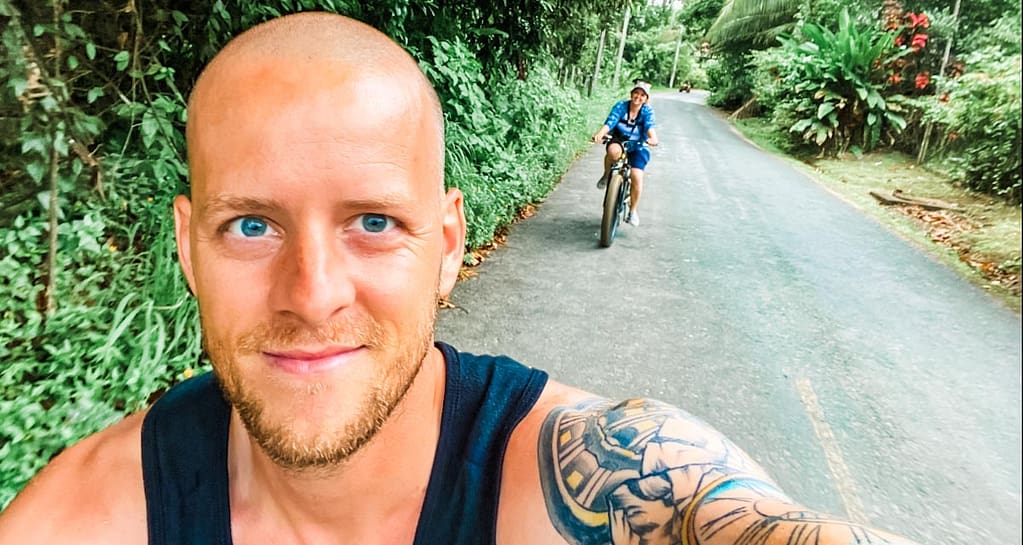 EAT & SHOP
Since Bocas Town is the hub for transportation around the area, it has the most places to stop in for a meal or shop for essentials.
GROCERY STORES
We found this pretty comical, but it seems there may be more grocery stores than places to eat. I'm not entirely sure on that, but just know that you shouldn't be worried about finding a spot to buy groceries. It's fun getting to experience the hustle and bustle of the town including the grocery stores.
RESTAURANTS
If cooking a meal is the opposite of fun on your vacation, check out some of the many local restaurants. After all our research, we were surprised to find several options in town that were influenced by other places in the world. You will find pizza, sushi, coffee, and awesome burger places just to name a few. Our favorite spot that is a long-standing local treasure is the Buena Vista Restaurant. We loved it so much that I even recreated one of their breakfast recipes to share with you all! You can get that RECIPE HERE.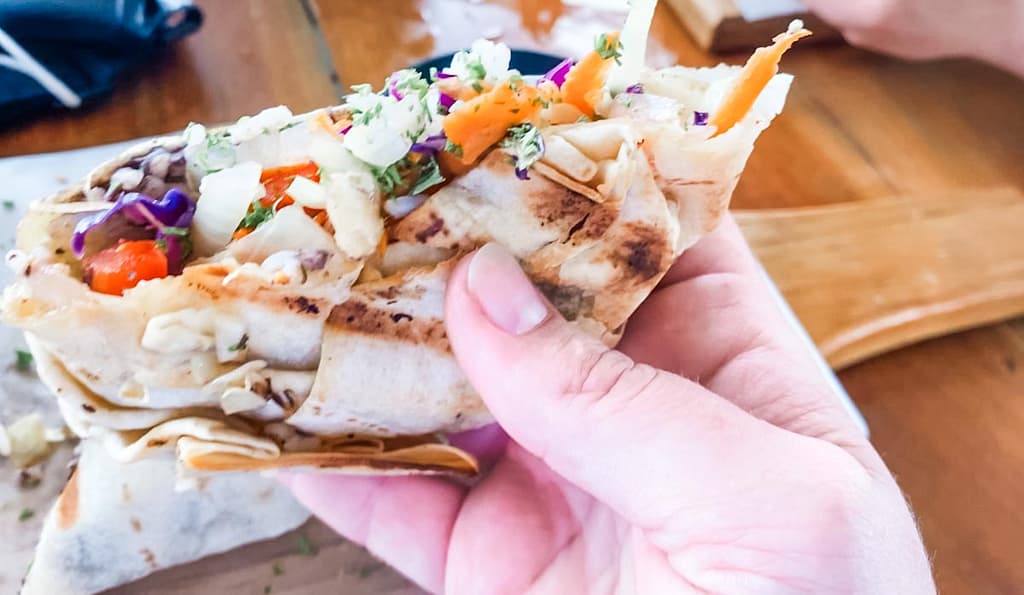 SHOPPING
When it comes to shopping, you'll usually find street vendors near the central park. We found a carved boat ornament by one of the street vendors that we absolutely loved. He even carved the year and date on it for us! The prices were very reasonable, too! There are also a few boutique type of shopping spots sprinkled throughout the streets of Bocas Town. I was surprised to even find a Billabong Surf Shop! Fun fact, we found out that Billabong shot a promo video with their collection in Bocas del Toro back in 2016! You can find it on YouTube if you want another peak at Bocas del Toro.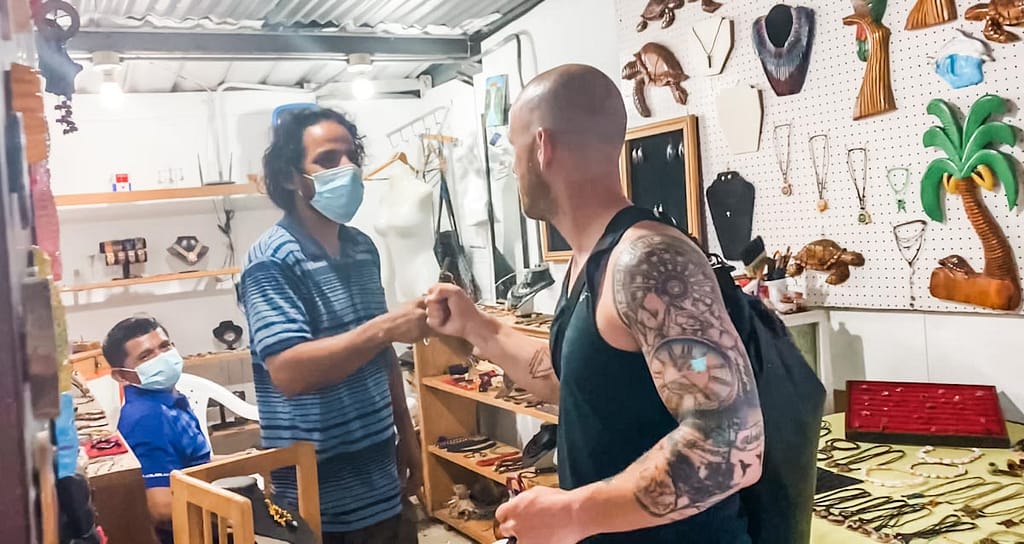 LIVE MUSIC
With all those great places to eat throughout Bocas Town, you're likely to find some live music from time to time. We noticed there seemed to be more live music happening in the central park area or in the restaurants closer to the evening hours. You might still be lucky to catch some during the day though.
VISIT THE OTHER ISLANDS
There are multiple other islands you can visit outside of Isla Colon. If you choose to stay in Bocas Town or on the main island, you can still visit most of the other islands in the area. It is less trouble than you may think.
You can take a day trip by guided tour to some of the more outer lying islands. Wanting to visit the closer islands of Bastimentos or Carenero? You can just take a quick 5 minute water taxi ride directly from Bocas Town. Taxis leave for these two islands frequently.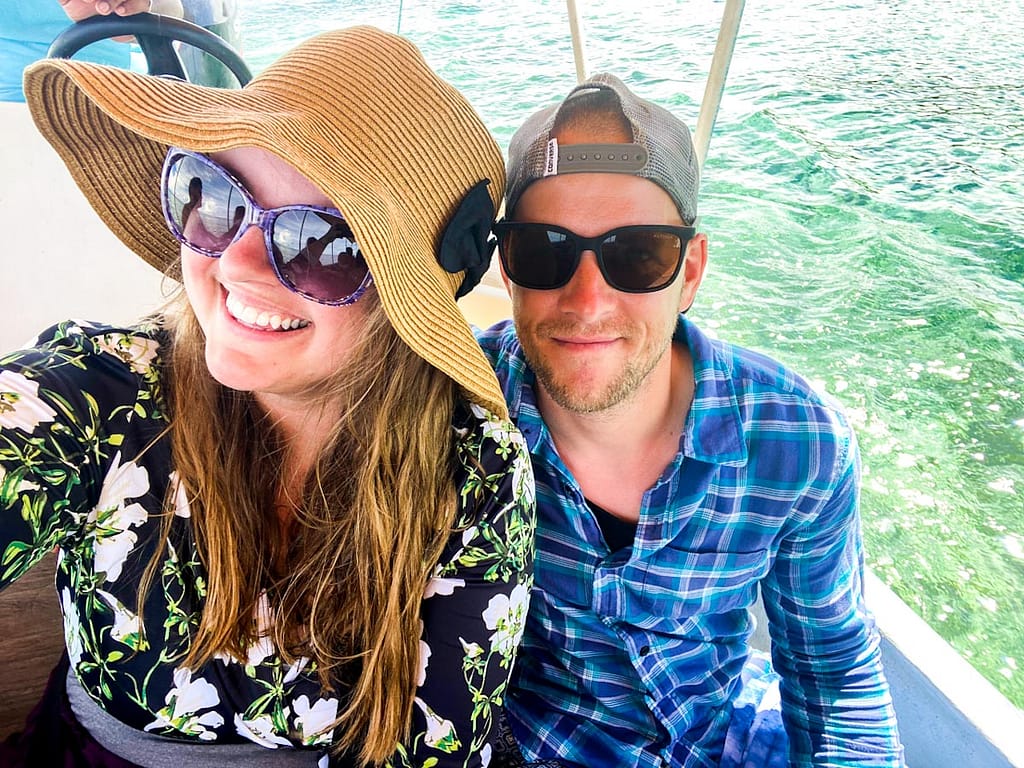 BASTIMENTOS
On Bastimentos, you will find Up in the Hill, which we cover more below, and the town of Old Bank, the second largest town in the area. This spot definitely gives the most authentic look at the local culture. There are a few restaurant options here so if you find yourself on Basimentos check them out.
CARENERO
On Carenero Island, you may feel like you can throw a rock and actually hit Bocas Town. It is a very short boat ride, straight across the water from there. Carenero has a more surfer vibe and it is for good reason because people enjoy the quick trip over to surf here. My favorite food spot on Carenero was Bibi's on the Beach. It is another local treasure that has been there for a while. If you go to Bibi's, try their ceviche! It's delicious!
GUIDED TOURS
There is a LOT to see in Bocas del Toro. Even with us having twelve days in the area, we didn't get to see and do all the things! If you want to truly get to experience everything possible during your time there, you'll probably benefit greatly from booking a guided tour.
There is no shortage of people to give you a tour of the Bocas del Toro area. Not gonna lie, the tour operators you come across in Bocas Town can be pretty smooth talkers. You may even find yourself with a full itinerary in minutes of talking to someone if you aren't careful. Our advice, if you are traveling to the area with a limited time to visit, decide which places are on the top of your list. From there, you can then find the right tour, date, or tour operator to help you make your travel dreams a reality.
I link to a blog written by some locals near the bottom of this post with more great recommendations on getting tours booked! We personally used Gambit Tours for a couple of ours and a smaller family owned company for another. There are more resources available now to people wanting to visit Bocas del Toro though. The blog we link to at the bottom of this post has great, current recommendations that I'm certain you'll find helpful!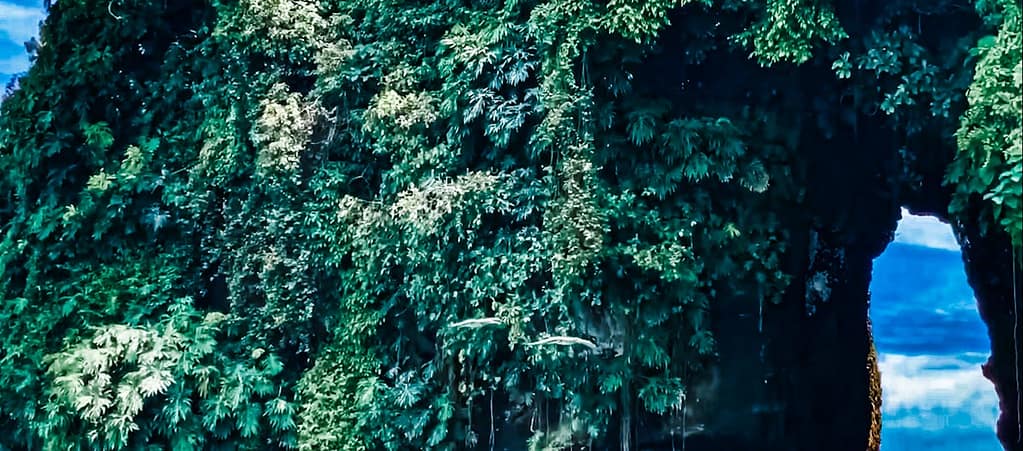 THINGS TO DO ON GUIDED TOURS
There are SO many tours filled with experiences throughout the Bocas del Toro archipelago. Some of the things we saw on our guided boat tours were visiting multiple beaches, dolphins in Dolphin Bay, snorkeling coral reefs, bioluminescence, and getting an up close look at Bird Island. We also saw multiple types of wildlife like sloths, poisonous dart frogs, and monkeys on our adventures. We go in more depth on a few of these below.
MORE ON BIOLUMINESCENCE
We highly recommend you do a bioluminescence tour if you find a reputable tour operator offering it. It may be hard to find the perfect conditions to experience it, but if the skies are dark and the waters are calm, you will experience something truly remarkable.
These tiny microorganisms navigating the waters together by the thousands and thousands put off a glow-in-the-dark reaction upon experiencing movement. By the simple wave of your hand you will see the water ripple created from that movement suddenly glow brightly.
It is something you absolutely must experience at least once in life. When we visited, we noticed that bioluminescence tours weren't widely available or advertised. There seems to be a few that may offer them more recently though! I recommend you check out the local's blog near the bottom of our post for ideas!
MORE ON LOCAL FARMS
We also got to check out a local organic farm, Up in the Hill, located on Bastimentos Island. This one was a walking tour located high up Bastimentos, literally up in the top of the hill. We learned how this family reinvigorated their land, bringing local wildlife back to the area as well as successfully feeding themselves and people who come to visit.
There are other great farm tours out there located on different islands. I wished we could have done one of the chocolate farm tours! If you go and get to experience this, please let us know how it goes!
A NOTE ON FLEXIBILITY
Some of our tours required sunshine instead of rain, calmness instead of wind, or clear skies with gentle waters. Be prepared for your plans to change, especially if you come in the stormier seasons. Make sure you have back ups, even if it means turning it into a special lazy day at your lodging so you aren't disappointed.
In one instance, Aaron wanted to take surf lessons while we were in Bocas del Toro. We sought out an instructor on the first day we were in town. He checked the surf conditions and weather for us daily. Despite our early jump on those plans, it never came to fruition, even with twelve days to make it work.
There were also a few days of heavy rainfall where a boat tour or bike rental would have been miserable. Sometimes we turned those days into chances to check out the restaurants and shops. We also spent a couple days at our over-water bungalow relaxing and enjoying the view of the storms rolling in from the mountains across the bay.
Keep an open mind and make whatever you get to experience, whether planned or unplanned, into something fun and memorable.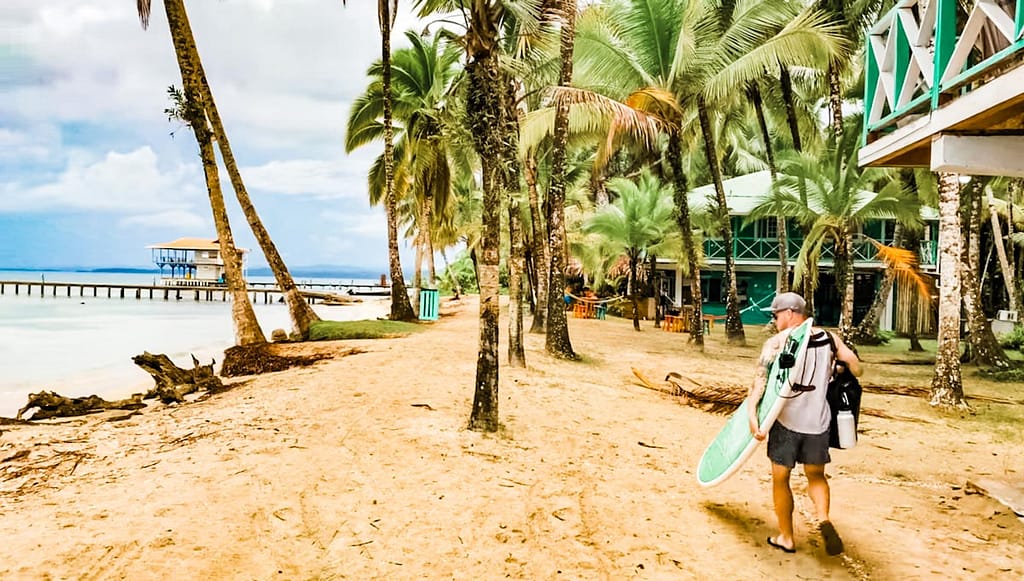 VISIT ALL THE BEACHES
In the archipelago of Bocas del Toro you will find some of the most beautiful beaches. Among many other things, you'll find white sand, calm waters, and spots with excellent surfing perfect for beginners and experienced surfers alike. You just have to be open to traveling around to get to visit the diversity of them all!
Want more info on how to get around to the beaches in Bocas del Toro? Check out our blog post CHOOSING THE BEST PLACES TO STAY BOCAS DEL TORO PANAMA. We cover cost, how to travel between the islands, and other helpful tips from our own experience.
Here's our personal favorite beaches short list in order of epic-ness:
Zapatilla Islands (Cayos Zapatilla)
Boca del Drago
Starfish Beach (Playa Estrella)
Bluff Beach (Playa Bluff)
There are other incredible beaches in the entire Bocas del Toro archipelago. Honestly, you can't go wrong choosing any of them! Other ideas are Red Frog Beach and Wizard Beach, but there are definitely more! (Want more info on Bocas del Toro beaches? Check out the links near the end of this post!)
Zapatilla Island
You can get to the small island of Cayo Zapatilla by hiring a water taxi if you wish. The most cost-effective way is by visiting on a guided tour that includes this stop.
Although this entire part of Panama is known for its crystal clear water, the shallow waters of Zapatilla Islands seem extra clear to us. This smaller island has some of the best beaches we've seen along the Caribbean coast. It features calm waters and a nice walking path that goes around the interior of the island. Zapatilla Island feels so removed from civilization that you may, for a moment, believe you're in actual uncharted territory.
In our opinion, Zapatilla Island is a must! It's a good distance from the town of Bocas del Toro though so be prepared for this trip to take a full day.
Boca del Drago
This small stretch is located on the main island right at the end of the road before getting to Starfish Beach. It's a great spot to stop and snorkel for a bit or to get a quick drink or snack. We came to this beach twice, once by ATV and once by guided tour boat. Both times the spots selling food and drink were closed.
Side note, we visited the area in one of the lesser traveled seasons, mid-June. If you happen to visit outside the high season as well, keep this note about things being closed in mind. We found that no matter where we were traveling throughout the different islands, it was always a good idea to pack a few shelf stable snacks and plenty of extra water.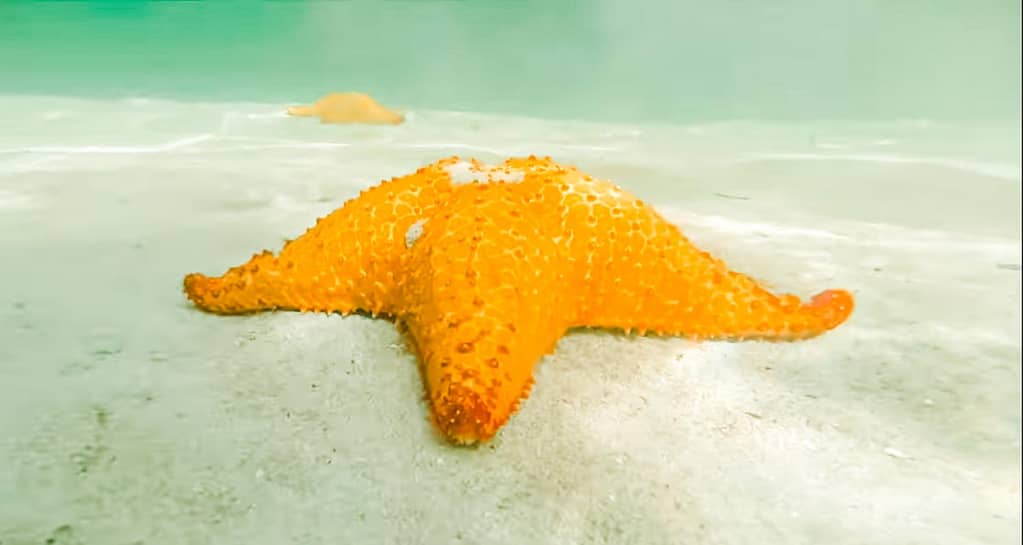 Starfish Beach
Starfish Beach, on Isla Colon, is probably the most noteworthy beach of the area. We visited this one twice! One time we visited by a guided tour that took us to Starfish Beach, Boca del Drago, and Bird Island. The other time we visited by starting on an ATV down the road from Bocas Town then hiking through a trail in the jungle between Boca del Drago and Starfish Beach.
The title of the beach pretty much gives it away. Just below the surface of the water, you'll find beautiful starfish scattered across the sea floor. You'll definitely want to bring some snorkeling gear to take advantage of seeing the starfish up close.
REMINDER: If you want our Bocas Del Toro Packing List, CLICK BELOW so you don't forget something important, like snorkeling equipment!
From what we understood, the starfish population had declined rapidly in recent years due to travelers accidentally harming the starfish. That can be prevented and it's actually a really easy solution. If you choose to make this beautiful beach one of your stops, DO NOT TOUCH THE STARFISH. Even worse, if you grab one and bring it above the surface of the water, it will likely die. Just don't do it. Otherwise, you may be the reason Starfish Beach becomes just "beach" a few years from now.
Bluff Beach
Sea turtles apparently love to nest on Bluff Beach at night, although we didn't get to experience this first hand. It is extremely peaceful here due to the raw, untouched look of the shoreline. It seems so far removed from civilization; however, it is located just off the road that goes across Isla Colon. Surfers love this area because of the roaring waves but it is known to be unsafe for swimming due to frequent rip tides.
Bluff Beach is still a great spot to visit even if you aren't a surfer though. I enjoyed taking in the beauty of the shoreline and enjoying the sounds of the waves. It would be a great spot to bring a picnic lunch and lay in the sun.
We actually visited this beach on eBikes from Bocas Town. That took WAY longer than we anticipated by the way and the ride there was pretty miserable on rough, bumpy, washed out roads with big hills. You can't guarantee if the roads will be in a good condition when you visit since they need grated to maintain a level surface. We're only sharing to put it in perspective in case you are planning the same type of excursion. Would we take an eBike to Bluff Beach from Bocas Town again? Yes, absolutely we would. But mind you, this was actually our first time on eBikes and there was definitely a learning curve. Not to mention, the terrain was a bit challenging if you aren't experienced at using an eBike.
MORE THINGS TO DO IN BOCAS DEL TORO
VILLAGE MADE OF PLASTIC BOTTLES
If you find yourself traveling along the road to Boca del Drago / Starfish Beach, take a moment to stop and see the village made of plastic bottles! If you're coming from Bocas Town, you will notice it shortly after going left at the fork in the road on your way to the beaches. It was a project started in 2012 which has since resulted in multiple structures promoting the use of plastic bottles as building materials for housing.
In years past, Bocas del Toro struggled greatly with knowing what to do with single use plastics and other single use materials. While they still have plenty of work to do in this area, this project helped show the locals that there could be a reuse and recycle type of approach to waste problems.
HIKING
I briefly mentioned hiking in another spot in this post. However, it is important to note that there are tons of opportunities to hike all across the Bocas del Toro archipelago. Most commonly, people will take a short hike between Boca del Drago and Starfish Beach. Another common hike is the one from the water taxi drop off point for Red Frog Beach across Bastimentos to the other side where you will end up at the beach.
Remember that you can get a copy of our PACKING LIST DOWN BELOW. We make sure to include what essential items you need for your trip, including things that could help you when hiking through the area.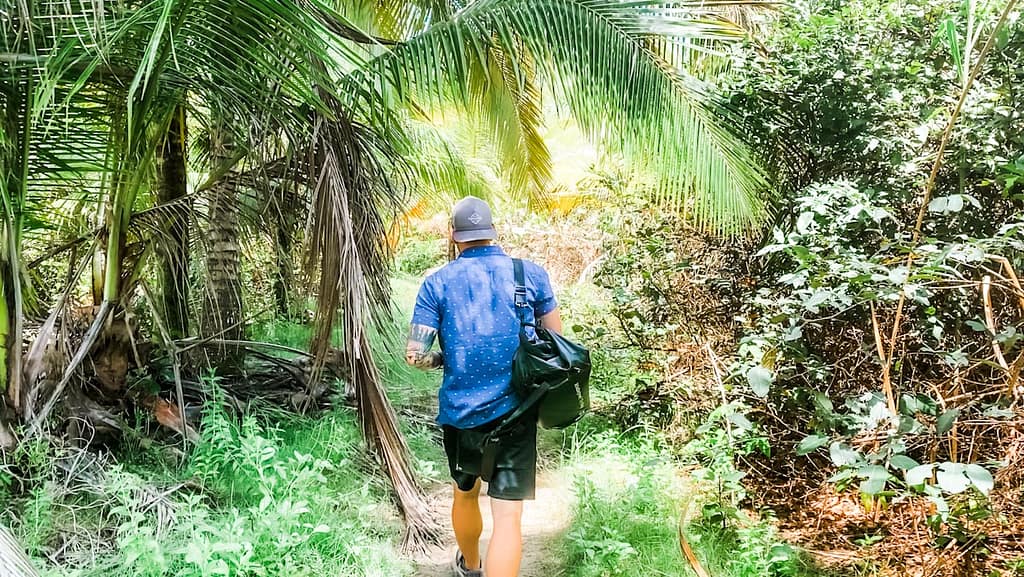 ​A LOCAL'S BEST TIPS
Our friends at Sol Bungalows have a fantastic collection of information from a local perspective that I highly recommend! Make sure once you check out our tourist point of view, you go check out their site! Trust me, once you binge our content and theirs, you will absolutely be ready to make all your plans!
There wasn't much Bocas del Toro inspiration out there during our own trip planning session. But, funny story, these guys were super cool to share their family memories on YouTube. Their video was one which actually inspired us when making our trip a reality!
When we started our blog earlier this year, we were doing additional research on Bocas del Toro and found them again at Sol Bungalows where they now blog about Bocas del Toro! We had a great laugh about it and reached out to them to let them know how much they inspired us to take this epic trip!
We took a very close look at their blog. You. Guys. They share a SUPER comprehensive guide to the area and update it regularly. Please, once you've finished here make sure you go check out all their resources. We have links to their page in this section and links to more of our own resources further down!
FINAL NOTES + A SUMMARIZED LIST
Of all the Caribbean islands, Bocas del Toro Panama is definitely one of the less known. But don't let its more muted reputation fool you! It is a great place to visit for thrill seekers and chill vibes alike!
We hope by sharing our own personal list of things to do in Bocas del Toro that you'll be able to confidently make your travel plans! If you end up taking a trip to Bocas del Toro, please let us know in the comments! If you experience anything else on your travels to Bocas del Toro that is worth sharing, let us know! We may add it to our post as a guest recommendation!
THINGS TO DO IN BOCAS DEL TORO – Quick List
BEST THINGS TO DO:
BEACHES (Swim, Surf, Sightsee, Tours)
Zapatilla Island
Boca del Drago
Starfish Beach
Bluff Beach
WILDLIFE (Hiking & Tours)
Sloths
Poisonous Dart Frogs
Monkeys
Birds
MARINE LIFE (Snorkel, Scuba Diving, Tours)
Starfish
Bioluminescence
Dolphins
SO MANY Amazing Fish
More…
LOCAL CULTURE
Restaurants
Shops
Bastimentos
Local Farms
Live Music
GET AROUND
Water Taxi
Guided Tours
Land Taxi
eBike
ATV
Bicycle
WORST THINGS TO DO:
Visit or stay on only one island
Avoid tours, especially eco-friendly
Bring credit cards and no cash
Make plans with no flexibility
Pack without a list – get ours below
OUR OTHER BOCAS DEL TORO POSTS & VIDEOS
Check out these other posts & videos for more ideas for your visit to Bocas Del Toro.
BLOG POSTS
VIDEOS
OUR FREE PACKING LIST (IN CASE YOU MISSED IT ABOVE)
SAVE THIS FOR LATER!
Make sure you save this post to your Pinterest board to reference when you're ready to plan your adventure to Bocas del Toro!